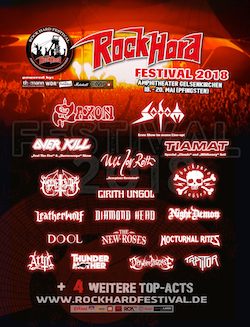 Die Vorfreude steigt: Es sind nur noch knapp drei Monate bis zum diesjährgen Rock Hard Festival, das wie gewohnt zu Pfingsten (18. bis 20. Mai 2018) im Gelsenkirchener Amphitheater stattfindet.
Das bisherige Billing:
SAXON
SODOM (Erste Show mit neuem Line-up!)
OVERKILL ("Feel The Fire" & "Horrorscope" Show)
TIAMAT (Special "Clouds" & "Wildhoney" Set)
ULI JON ROTH ("Scorpions Revisited")
MARDUK
CIRITH UNGOL
BACKYARD BABIES
LEATHERWOLF
DIAMOND HEAD
NIGHT DEMON
DOOL
THE NEW ROSES
NOCTURNAL RITES
ATTIC
THUNDERMOTHER
DAWN OF DISEASE
TRAITOR
Weitere hochkarätige Acts werden wir in Kürze bekannt geben!
Pünktlich zum Wochenende haben wir noch einen schicken Trailer für euch: