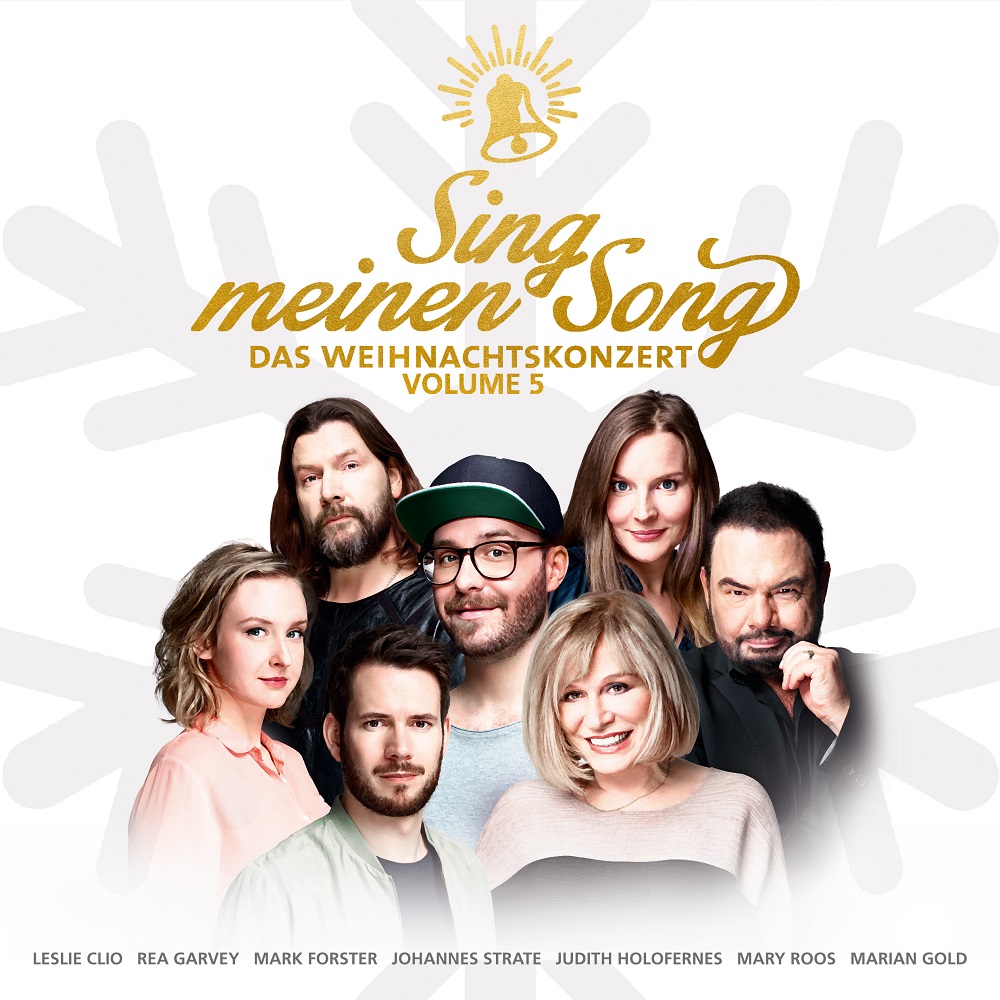 Für weihnachtliche Stimmung sorgt nicht nur Kerzenschein und Dekoration sondern auch die Hit-Bescherung von Rea Garvey, Leslie Clio, "Alphaville"-Sänger Marian Gold, Judith Holofernes, "Revolverheld"-Frontmann Johannes Strate, Mary Roos und Mark Forster in dem fünften "Sing meinen Song Das Weihnachtskonzert".
In der gemütlichen Berghütte im österreichischen Ellmau stimmten sich die Künstler der fünften Staffel "Sing meinen Song Das Tauschkonzert" in fröhlicher Runde auf das Fest der Liebe ein. Mit dabei natürlich die traditionellen Wichtelgeschenke und die Möglichkeit sich einen Songwunsch erfüllen zu lassen sowie seinen persönlichen Weihnachtssong zu performen.
Johannes Strate erzählt von Plätzchenfreude "In der Weihnachtsbäckerei", Mary Roos wünscht sich mit "Lass es schneien" eine weiße Weihnacht und Rea Garveys Interpretation von "Fairytale of New York" gemeinsam mit Leslie Clio entführt in ein wunderbares Weihnachtsmärchen. Mark Forster überrascht mit dem Bing-Crosby-Song "White Christmas" und Leslie Clio überzeugt die Kollegen mit "What a Wonderful World". Judith Holofernes und Johannes Strate sorgen mit ihrem Duett von "Baby it's cold outside" für das richtige Gefühl, was dieses Weihnachtskonzert so besonders macht.
VOX zeigt "Sing meinen Song Das Weihnachtskonzert" am Dienstag, den 27.11. um 20.15 Uhr. Am gleichen Tag wird auch das Album "Sing meinen Song – Das Weihnachtskonzert Vol. 5" zur Sendung überall im Handel erhältlich sein (27.11.2018). Eine Wiederholung der Sendung wird es zudem dann am 22.12. um 22 Uhr auf VOX geben!
Ein Weihnachtsspecial mit persönlicher Note, herausragenden Stimmen, bewegenden und überraschenden Interpretationen sowie jeder Menge Emotion.
Tracklist:
01. LAST CHRISTMAS – MARK FORSTER
02. HOME FOR CHRISTMAS – MARY ROOS
03. STARMAN – MARIAN GOLD
04. PERFECT DAY – REA GARVEY
05. WHITE CHRISTMAS – MARK FORSTER
06. IN DER WEIHNACHTSBÄCKEREI – JOHANNES STRATE
07. LASS ES SCHNEIN – MARY ROOS
08. WHAT A WONDERFUL WORLD – LESLIE CLIO
09. BABY, IT'S COLD OUTSIDE – JUDITH HOLOFERNES MIT JOHANNES STRATE
10. FAIRYTALE OF NEW YORK – REA GARVEY MIT LESLIE CLIO
11. LOVE WILL FIND A WAY – MARIAN GOLD
12. LOVE THE ONE YOU'RE WITH – JUDITH HOLOFERNES
13. THIS IS THE NEW YEAR – JOHANNES STRATE
Review:
Normalerweise ist in der Show ja Emotion und guter Geist vorhanden, weil die Stars sich um Songs von anderen Stars "kümmern". Auf der nun erschienenen Weihnachts- CD 2018 hat man allerdings das Gefühl das die Stars, nicht so richtig Lust darauf haben.
Mark Foster der sich den allzeit Klassiker "Last Christmas" vorgenommen hat trällert ihn so Emotionslos daher als gäbe es nichts schlimmeres. Wie soll man einen Song auch mit Leidenschaft und Emotionen singen wenn man diesen Titel als Zonk der Musikwelt bezeichnet. Mit Mary Roos und dem Song "Home for Christmas" treffen zwei Welten auf einander, die nicht recht passen wollen eher sie es mit "Lass es schneien" wieder sicheres terrain betritt. Gibt es kleine schmollende Kinder im Wohnzimmer unterm Weihnachtsbaum,  so gehört Johannes Strate mit der Version von "In der Weihnachtsbäckerei" dazu. Wenn man doch keine Lust hat soll man es doch sein lassen.
Ich glaube wenn so viele Stars, die während des Jahres mit der Show und der CD Sing meinen Song, gut Geld und Publicity machen, sollten Sie dabei bleiben denn die Weihnachts CD ist nicht deren Fall. Mary Roos brachte es in der Sendung auf den Punkt:" Mark am Ende mit "White Christmas" da habe ich geheult, ich habe zwar nicht geheult aber es war zum heulen.