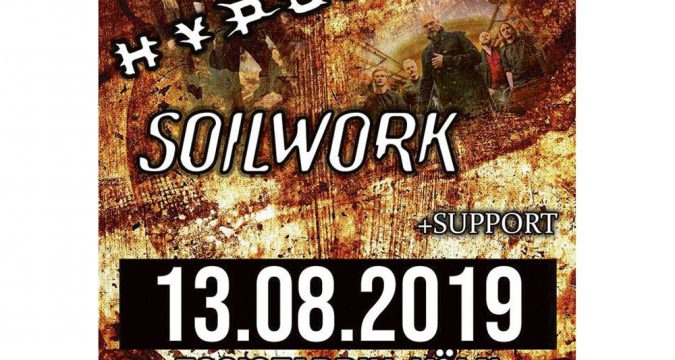 Nach der Tour ist vor der Tour und so sind Soilwork auch im Sommer unterwegs u.a. am 13.08.2019 in Köln in der Essigfabrik.
Nach ihrer unvergleichlich erfolgreichen Co-Headliner-Tour mit den Label-Kollegen von AMORPHIS (18 ausverkaufte Shows) im Rahmen ihres weltweit gepriesenen neuen Albums »Verkligheten« (Album des Monats in Metal Hammer, Rock Hard, Aardschok und Scream), haben die schwedischen Metal-Visionäre SOILWORK folgendes Statement veröffentlicht:
"»Verkligheten« has been out almost two months now and we keep getting amazed by the recognition it gets. We just finished off a succesful EU tour with our friends in AMORPHIS, JINJER and NAILED TO OBSCURITY. Once again we want to thank everyone for attending our shows and making it memorable. 
To sum up our journey through Europe, we chose to make a live video out of 'Sålfågel' as the crowd reaction, when playing it live, was just INSANE!!!
»Verkligheten» is a new era of SOILWORK and we are ready to take this journey with our fans. We cannot wait to get back on the road this summer and bring »Verkligheten« to life again!!! See you all soon!!!"
Das Album sowie dazugehöriges Merchandise ist ab sofort in verschiedenen Formaten (Deluxe Box Set mit Digipack CD, Lanyard mit edler Metall-Applikation, Metall-Pin, Patch, Aufkleber, signierter Fotokarte und Poster, Digipack CD + T-Shirt Bundle, Digipack, schwarz/orange/lila Vinyl sowie als Download/Stream) erhältlich.
»Verkligheten« Album Tracklist:
01. Verkligheten
02. Arrival
03. Bleeder Despoiler
04. Full Moon Shoals
05. The Nurturing Glance
06. When The Universe Spoke
07. Stålfågel
08. The Wolves Are Back In Town
09. Witan
10. The Ageless Whisper
11. Needles And Kin  (feat. Tomi Joutsen/AMORPHIS)
12. You Aquiver
»Underworld« Bonus EP Tracklist:
13. Summerburned and Winterblown
14. In This Master's Tale
15. The Undying Eye
16. Needles And Kin  (original version)
SOILWORK live
14. – 15.06. E        Zamora – Z! Live Rock Fest
19. – 22.06. FIN     Nummijärvi – Nummirock
03. – 06.07. D        Ballenstedt – Rockharz Open Air
07.07.         SRB    Novi Sad – Exit Fest
25.07.         SLO    Tolmin – MetalDays
26./27.07.   P         Vila Nova de Famalicão – Festival Laurus Nobilis Music Famalicão
01. – 04.08. RO      Rasnov – Rockstadt Extreme Fest
03.08.         F         Saint-Maurice-de-Gourdans – Sylak Open Air
06.08.         SK       Bratislava – Majestic Music Club (w/ HYPOCRISY, DOOMAS)
09./10.08.   B         Kortrijk – Alcatraz Metal Festival
11.08.         UK       Derby – Bloodstock Open Air
14.08.         D         Dinkelsbühl – Summer Breeze
16. – 18.08. F         St. Nolff – Motocultor Festival
22. – 24.08. D         Sulingen – Reload Festival
29.10.         SGP     Singapore – EBX Live Space (Ebenex)
31.10.         AUS     Brisbane – The Triffid
01.11.         AUS     Sydney – Manning Bar
02.11.         AUS     Melbourne – Max Watt's
04.11.         JP        Osaka – Umeda amHall
05.11.         JP        Nagoya – Reny Limited
06.11.         JP        Tokyo – Shinjuku Blaze