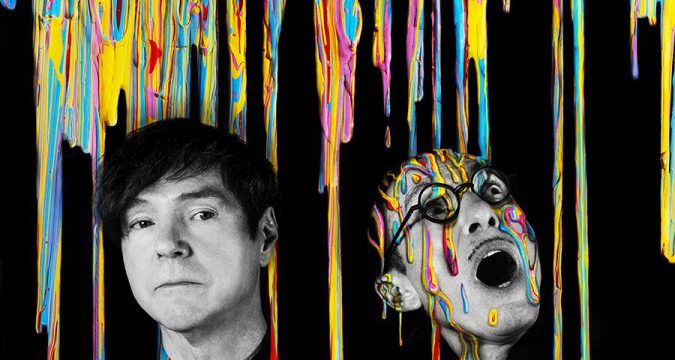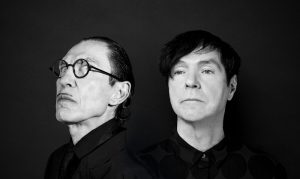 In einem intakten Universum würde man Ron und Russell Mael ganze akademische Studienreihen widmen. Ebenso, wie man es heute mit Dylan, Bowie oder den Beatles tut. Städtische Einrichtungen oder Parks wären nach ihnen benannt, Denkmäler würden ihnen zu Ehren errichtet. Im Denken eines Wissenden käme ihnen eben diese Bedeutung zu.
Mit "One For The Ages" kündigen die Pop-Pioniere von den Sparks – namentlich die aus Los Angeles stammenden Brüder Ron und Russell Mael – eine neue Single aus ihrem 24. Studioalbum "A Steady Drip, Drip, Drip" an, die ab sofort via BMG auf sämtlichen Streaming-Plattformen erhältlich ist.
Der unter der Regie des estnischen Animationskünstlers Chintis Lundgren entstandene Animations-Clip zu "One For The Ages" feiert nun seine Premiere auf YouTube, hier zu sehen: https://sparks.lnk.to/AgesPR
"One For The Ages" ist HIER https://sparks.lnk.to/OneForTheAgesPR als Stream und Download erhältlich.
"Wer von uns würde sich nicht wünschen, die Zeiten zu überdauern? Sei es in seinem kreativen Bestreben, in einer persönlichen Beziehung oder vielleicht als der nächste Michael Jordan?" – Ron Mael
"One For The Ages" ist die nächste Auskopplung aus dem dem 24. Studioalbum "A Steady Drip, Drip, Drip" der Sparks, das ab 15. Mai auf sämtlichen digitalen Plattformen und ab dem 3. Juli als CD, Vinyl und Kassette erhältlich sein wird. Bei einer Preorder erhält jeder Käufer Instant-Grat-Downloads der Vorab-Tracks "One For The Ages", "I`m Toast", "Self-Effacing" und "Please Don`t Fuck Up My World". Zusätzlich sind noch weitere Formate wie CD, Doppel-Picture-Disc-Vinyl und Kassette sowie limitierte Editionen inklusive handsignierten Drucken, einer Deluxe CD-Buchausgabe und einem Sparks-Barett erhältlich. Ein Überblick über sämtliche Formate ist auf www.allsparks.com zu sehen.
https://sparks.lnk.to/PleaseDontPR
https://sparks.lnk.to/Self-EffacingPR
Zudem haben Sparks am vergangenen Wochenende eine Video-Reihe zu ihren Lyrics auf Youtube gestartet… hier wird es nun in kurzen Abständen von Ron Mael Statements und Erläuterungen zu den Texten auf dem Album geben… den Start machte am Wochenende "Self Efacing", hier zu sehen: https://youtu.be/AZmApy1gNcU
Mit ihrer beispiellosen Karriere demonstrieren Ron und Russell Mael eindrucksvoll, wie man sich auch nach fünfzig Jahren seine kreative Faszination bewahrt. Am Beginn ihrer sechsten Schaffensdekade feiern die Sparks ihr kommendes Album "A Steady Drip, Drip, Drip" mit einer Reihe ausgesuchter Europa-Shows, bevor sich das Duo im kommenden Jahr auf eine ausgedehnte Welttour begibt. Hierzulande machen die Sparks am 15.10. im Berliner Metropol Station. Ebenfalls bestätigte die Formation die Veröffentlichung des von den Sparks geschriebenen Musikfilms "Annette" mit Adam Driver und Marion Cotillard. Regie führte Leos Carax ("Holy Motors"). Zusätzlich kündigt man eine momentan noch unbetitelte Sparks-Documentary an, bei der Edgar Wright ("Shaun Of The Dead", "Hot Fuzz", "Baby Driver", "Spaced") Regie führte.
Weiter aktuell…
Lryic Video zu "I'M TOAST" an: https://youtu.be/owGPg8nVQ8k
Lyric Video "Self Effacing", hier zu sehen: https://youtu.be/WkEAhNJC-zE
Trackliste "A Steady Drip, Drip, Drip" (VÖ: 15.05.2020 & 03.07.2020):
01           All That
02           I'm Toast
03           Lawnmower
04           Sainthood Is Not In Your Future
05           Pacific Standard Time
06           Stravinsky's Only Hit
07           Left Out In The Cold
08           Self-Effacing
09           One For The Ages
10           Onomato Pia
11           iPhone
12           The Existential Threat
13           Nothing Travel Faster Than The Speed Of Light
14           Please Don't Fuck Up My World
SPARKS EUROPA TOUR 2020:
OKTOBER
11 – Oslo, Norwegen – Rockefeller Music Hall
12 – Stockholm, Schweden – Cirkus
14 – Kopenhagen, Dänemark – The Koncerthuset
15 – Berlin, Deutschland – Metropol
17 – Amsterdam, Niederlande – Paradiso
18 – Brüssel, Belgien – AB Flex
20 – Paris, Frankreich – Casino de Paris
21 – London, UK – The Roundhouse
23 – Manchester, UK – Albert Hall
24 – Glasgow, UK – Barrowland Ballroom
26 – Belfast, UK – Limelight Club
27 – Dublin, Ireland – Vicar Street