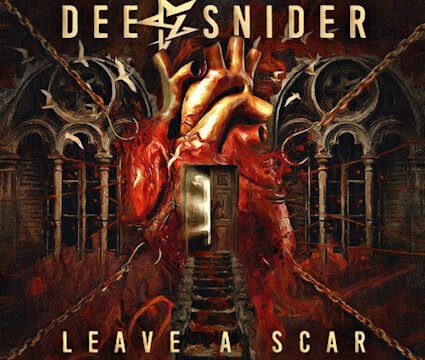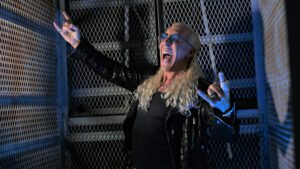 Mit seinem chartbrechenden 2018er Album For The Love Of Metal hat DEE SNIDER, der legendäre Heavy Metal Sänger und eine der absoluten Säulen der Popkultur, die Heavy Metal Welt um ihre eigene Achse drehen lassen. Produziert von HATEBREED Frontmann Jamey Jasta und ausbalanciert zwischen modernisierter Meisterschaft und "Take No Prisoners" Attitüde, zementierte das Album die unbestreitbaren Fähigkeiten des ikonische Twisted Sister Sängers.
2021, drei Jahre später – mitten in einer der turbulentesten Zeiten seit Langem, kehrt DEE SNIDER mit dem triumphalen Nachfolger Leave A Scar zurück. Erneut produziert von Jamey Jasta und co-produziert, gemischt und gemastert von Schlagzeuger Nick Bellmore, mischt die neue Platte einfangende Modernität mit einer Dosis klassischem Heavy Metal – eine packende Kombination, die nicht nur langjährige Fans begeistern wird. Leave A Scar ist eine auditive Zeitkapsel, die geschrieben wurde, um die Wut, das Unbehagen und den Schmerz auszudrücken, die DEE SNIDER während des Lockdowns erlebte und diese entpuppt sich nicht nur als blitzartig schwer, sondern auch als unerbittlich kraftvoll. Bereits der Opener "I Gotta Rock (Again)" wird so einige Köpfe verdrehen und bereitet den Hörer ideal auf die kommenden Tracks vor.  Tracks, wie das brutale "Time To Choose" – mit dem Gastgesang von Cannibal Corpse's George "Corpsegrinder" Fisher – und das mosh-taugliche "The Reckoning" zeigen die absolute Härte des Album auf, ohne dabei die harmonische Kraft von Tracks, wie dem unerbittlichen, hymnischen Thrasher "All Or Nothing More" und dem melodischen, vom Metalcore inspirierten "In For The Kill" zu opfern. Die energiegeladene Single "Down But Never Out" bringt die klobigen Riffs und treibenden Drums auf den Punkt, während das brennende "Before I Go" einen der massivsten und einprägsamsten Refrains des Albums und einen erschreckenden Text bietet. Das Album schließt mit der siegreichen Ballade "Stand", einem Aufruf an die Zuhörer, Stellung zu beziehen und ihrer Stimme Gehör zu verschaffen. Jeder der 12 Tracks auf Leave A Scar untermauert nicht nur DEE SNIDERs Position als einen der meistgefeierten Frontmänner aller Zeiten, sondern zeigt auch, dass seine Stimme und sein souveränes Auftreten so stark sind wie eh und je.
Wenn For The Love Of Metal DEE SNIDERs Aufbruch in eine neue Ära eingeleitet hat, dann setzt Leave A Scar diese in Flammen.
Release Date: July 30, 2021
Leave A Scar tracklisting:
1) I Gotta Rock (Again)
2) All Or Nothing More
3) Down But Never Out
4) Before I Go
5) Open Season
6) Silent Battles
7) Crying For Your Life
8) In For The Kill
9) Time To Choose
10) S.H.E.
11) The Reckoning
12) Stand