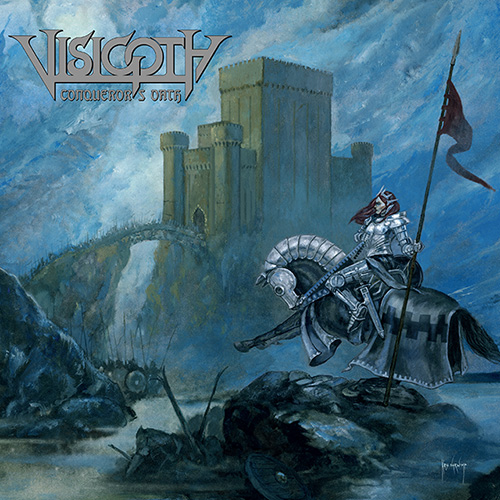 Launchen erste Single 'Warrior Queen'!
Am 9. Februar veröffentlichen die Salt Lake City Metal Champions VISIGOTH ihr neues Album 'Conqueror's Oath' via Metal Blade Records. Um einen ersten Eindruck von 'Conqueror's Oath' zu gewinnen, könnt ihr die erste Single 'Warrior Queen' jetzt hier streamen: metalblade.com/visigoth – dort könnt ihr das Album auch in den folgenden Formaten vorbestellen:
–CD
–180g black vinyl
–silver vinyl (limited to 400 copies – USA exclusive)
–clear with white/blue smokey swirl vinyl (limited to 300 copies – USA exclusive)
–opaque blue vinyl (limited to 300 copies – USA exclusive)
–cool grey marble vinyl (limited to 300 copies – EU exclusive)
–white/blue splattered vinyl (limited to 200 copies – EU exclusive)
–sky-blue marble vinyl (limited to 200 copies – EU exclusive)
–purple red marble vinyl (limited to 100 copies – EU exclusive)
* exclusive bundles with a shirt, plus digital options are also available!
Statt das Rad neu erfinden oder ein Genre neu definieren zu wollen, fallen VISIGOTH lieber vor dem zeitlosen Altar des Heavy Metal auf die Knie und sind einzig darauf bedacht, Musik zu schreiben, die von ihren Lieblingsalben inspiriert wurde. Ob fiebriger klassischer US Power Metal oder NWOBHM-Hymnen, versonnener Epic Metal oder schwerfällige Doom-Momente – diese Barbaren aus Salt Lake City kehren ihre Einflüsse stolz hervor.
Mit ihrem neuen 2018er Longplayer 'Conqueror's Oath' werden VISIGOTH dem Titel gerecht und überwinden die Katerstimmung, die mancher vor dem zweiten Album hat, mit acht stählernen Gassenhauern der unverfälschten Sorte – reine Metal-Magie, die den Hunger der Rock-Horden unter Garantie stillen wird! Die Aufnahmen fanden erneut im Boar's Nest in ihrer Heimatstadt Salt Lake City statt, wo ihnen abermals Ausnahme-Techniker Andy Patterson (Subrosa, Deathblow, Dreadnought) unter die Arme griff. 'Conqueror's Oath' entstand reibungslos innerhalb eines Monats und wurde von Dave Otero von Flatline Audio (Satan's Host, Nightbringer, Khemmis) gemastert. Das atemberaubende Cover stammt von Underground-Legende Kris Verwimp (der u.a. für Absu, Bewitched, Desaster, Horna, Moonsorrow, Skullview oder Arkona arbeitete) und ist im klassischen Sword-&-Sorcery-Stil gehalten. 'Conqueror's Oath' hält jeglichen Vergleichen stand und passt wie die Faust aufs Auge aller Ungläubigen; 'The Revenant King' mag Visigoth einem skeptischen Publikum vorgestellt haben, doch 'Conqueror's Oath' wird sich zweifellos im Hirn jedem Metal Maniacs einbrennen, dass diese Band gekommen ist, um zu bleiben und für den wahren Stahl einzustehen!
Festentschlossen, ihren Sound in die Welt zu tragen, werden diese Unholde aus Utah im Februar und März nach der Veröffentlichung auf Europatournee gehen, um unter anderem beim Metal Assault und Hell Over Hammaburg zu zocken. Live blüht die Band erst richtig auf; VISIGOTH sind bedacht darauf, ihren Schneid zu beweisen und jede Bühne zu zertrümmern, die sie besteigen, sei es auf Open Airs und Festivals oder in einer schummrigen, schmierigen Kneipe -auf Ohrensausen ist bei diesem amerikanischen Quintett Verlass! Bereitet euch auf eine gehörige Portion Salt City Steel vor!
'Conqueror's Oath' track-listing
1. Steel and Silver
2. Warrior Queen
3. Outlive Them All
4. Hammerforged
5. Traitor's Gate
6. Salt City
7. Blades in the Night
8. The Conqueror's Oath
VISIGOTH Europatour:
Feb. 17 – Wurzburg, Germany – Metal Assault Festival
Feb. 18 – Oldenburg, Germany – MTS Records Store
Feb. 19 – Berlin, Germany – Cortina
Feb. 20 – Leipzig, Germany – Four Rooms
Feb. 21 – Wien, Austria – Escape Metal Corner
Feb. 22 – Innsbruck, Austria – Livestage
Feb. 23 – Dornbirn, Austria – Schlachthaus
Feb. 24 – Lunen, Germany – Swordbrothers Festival
Feb. 25 – Genk, Belgium – Flashback
Feb. 27 – Barcelona, Spain – Rocksound
Feb. 28 – Zaragoza, Spain – Sala Lopez
Mar. 1 – Madrid, Spain – Sala Live
Mar. 2 – Ljungby, Sweden – Turbofest
Mar. 3 – Niederjossa, Germany – Full Metal Fest
Mar. 6 – Goppingen, Germany – Zille
Mar. 7 – Leiden, Netherlands – De Noble
Mar. 8 – Marburg, Germany – Szenario
Mar. 9 – Weiher, Germany – Live Music Hall
Mar. 10 – Hamburg, Germany – Hell Over Hammaburg Festival