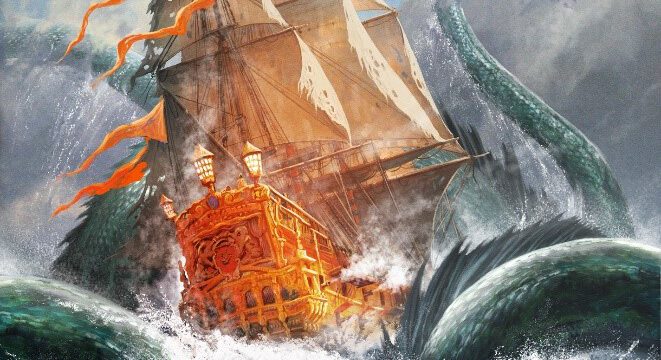 "Mit »A Symphonic Journey To Remember« beweisen Visions Of Atlantis, dass sie nicht nur im Studio, sondern auch auf den großen Bühnen mit zum Besten zählen, was es im Symphonic Metal zu entdecken gibt – diesem Quintett gehört die Zukunft!"
(Rock IT – GER)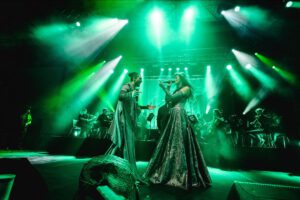 Setze die Segel für einen symphonischen Tagtraum, getragen durch die imposante, orchestrale Untermalung des Bohemian Symphony Orchestra Prague: 
VISIONS OF ATLANTIS
 veröffentlichen heute die dritte Live-Single 
"Wanderers"
 von ihrer kommenden, allerersten LIVE-Blu-Ray/DVD/CD, 
A Symphonic Journey To Remember 
(VÖ: diesen Freitag, 30. Oktober via Napalm Records) – begleitet von einem atmosphärischen Musikvideo.Die sanften Geigenmelodien und bezaubernden Pianoklänge verschmelzen in 
"Wanderers"
 mit Clémentine Delauneys außergewöhnlichem Klangspektrum, das ihre Position als absolute Ausnahmesängerin erneut unter Beweis stellt. Getragen von den malerischen Tönen des Orchesters werden die Zuschauer und Hörer in die fernen Tiefen des maritimen Universums entführt.
Nach dem Charterfolg des letzten Studioalbums, Wanderers (#17 UK, #30 US, #39 DE), begeistern die Vorreiter des Symphonic Metal nun mit einer Show der Extraklasse und beweisen mit A Symphonic Journey To Remember, dass sie in der unbestrittenen Königsdisziplin ihres Genres angekommen sind.
https://www.youtube.com/watch?v=3xkF5H0CJNs&feature=youtu.be&utm_source=Presse+News+-+GAS&utm_campaign=e346e0b95e-EMAIL_CAMPAIGN_2019_05_24_09_58_COPY_01&utm_medium=email&utm_term=0_762a7d4576-e346e0b95e-16122655
VISIONS OF ATLANTIS verwirklichen ihren Traum: Eine unvergessliche Reise durch die maritimen Weiten der Bandgeschichte untermalt durch das Bohemian Symphony Orchestra Prague
2019 konnte die Band endlich einen lange gehegten Traum verwirklichen und ihre unverkennbaren Interpretationen symphonischer Härte, untermalt durch das Bohemian Symphony Orchestra Prague, mit einem exklusiven Headliner-Set auf die Bühne des Bang Your Head!!! Festivals zaubern. Dieses einzigartige Live-Erlebnis haben die Vorreiter des Symphonic Metal in ihrem neuen Werk A Symphonic Journey To Remember, jetzt auf CD, DVD und Blu-Ray, für die Ewigkeit festgehalten. Monumentale Klang- und Bildkulissen getragen von schweren Gitarrenriffs unterstreichen die bezaubernden Duette von Clémentine Delauney und Michele Guaitoli und begleiten den Hörer mit 17 einzigartigen Songs quer durch die Historie von VISIONS OF ATLANTIS.
Clémentine Delauney über A Symphonic Journey To Remember:
"Wir freuen uns unglaublich, dass wir endlich unsere allererste Live-Blu-ray/DVD A Symphonic Journey to Remember veröffentlichen können. Unsere gemeinsame Show beim Bang Your Head!!! Festival 2019 mit dem Bohemian Symphony Orchestra Prague bat den perfekten Zeitpunkt und die perfekte Kulisse, um den Traum, mit einem Orchester zu spielen, wahr werden zu lassen. Wir hoffen, dass Euch dieses audiovisuelle Erlebnis so viel Freude bereitet, wie uns die Erinnerung an diese Show noch klar vor den Augen ist."
Das außergewöhnliche Live-Erlebnis wird als CD, DVD, Blu-Ray, Doppel-LP, als exklusive Deluxe Box und auf allen Streaming Services verfügbar sein.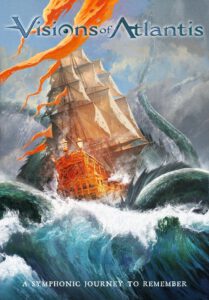 Tracklist:
1. Intro
2. The Deep & the Dark
3. New Dawn
4. Ritual Night
5. Lost
6. The last Home
7. Memento
8. Release my Symphony
9. Words of War
10. Heroes of the Dawn
11. Wanderers
12. Seven Seas
13. A Journey to Remember
14. The Grand Illusion
15. Nothing Lasts Forever
16. Passing Dead End
17. Return to Lemuria
Erlebe die einzigartige Erfahrung in folgenden Formaten:
– Blu-ray / DVD / CD Digipak im Hochformat
– Blu-ray / DVD / CD Digipak im Hochformat + Shirt Bundle
– 2LP Vinyl Gatefold Black + DVD
– 2 LP Vinyl Gatefold Splatter Blue/White (incl. DVD)
– Deluxe Fan Gym Bag (inkl. Flag, Blu-ray/DVD/CD Digipak Bundle + signed Booklet, VIP Pass & Lanyard)
– Digital über alle Streaming-Anbieter
Erlebe die symphonische Reise von VISIONS OF ATLANTIS live:
w/ YE BANISHED PRIVATEERS & AD INFINITUM
*Support: DRAGONY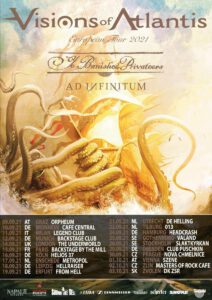 09.09.21 AT – Graz / Orpheum
10.09.21 DE – Weinheim / Cafe Central
11.09.21 IT – Mailand / Legend Club
12.09.21 DE – München / Backstage Club
14.09.21 UK – London / The Underworld
15.09.21 FR – Paris / Backstage By The Mill
16.09.21 DE – Köln / Helios 37
17.09.21 NL – Enschede / Metropol
18.09.21 DE – Leipzig / Hellraiser
19.09.21 DE – Erfurt / From Hell
21.09.21 NL – Utrecht / De Helling
22.09.21 NL – Tillburg / 013
24.09.21 DE – Hamburg / Headcrash
25.09.21 SE – Gothenburg / Valand
26.09.21 SE – Stockholm / Slaktkyran
29.09.21 DE – Dresden / Club Puschkin
30.09.21 CZ – Prag / Nova Chmelnice
01.10.21 AT – Wien / Szene*
02.10.21 CZ – Zlin / Masteres of Rock Cafe
03.10.21 SK – Zvolen / DK ZSR
Mehr Informationen über VISIONS OF ATLANTIS:
Über VISIONS OF ATLANTIS:
VISIONS OF ATLANTIS ist eine österreichisch-französisch-italienische Symphonic Metal-Band, die Ende 2000 in Österreich gegründet wurde. VISIONS OF ATLANTIS Handschrift sind harmonische Duette  aus männlichen und weiblichen Stimmen, die ihnen einen charaktervollen Wiedererkennungswert bescheren.  Die Band besteht aus Clémentine Delauney (Gesang), Michele Guaitoli (Gesang), Christian Douscha (Gitarre), Thomas Caser (Schlagzeug) and Herbert Glos (Bass).