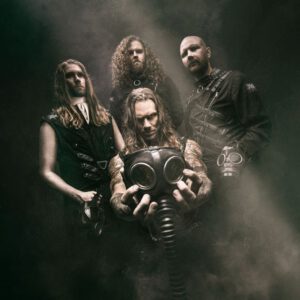 Die Symphonic Extreme Metaller von ZORNHEYM haben einen neuen Track aus ihrem kommenden Album "The Zornheim Sleep Experiment" veröffentlicht, welches am 22. Oktober über Noble Demon erscheinen wird! Nach der bereits veröffentlichten ersten Single "Keep The Devil Away", liefert die Band mit "Slumber Comes In Time" einen weiteren atemberaubenden Vorboten des neuen Albums, der sowohl mit Folk-Elementen als auch mit orchestralen Arrangements beeindruckt!
"Der epische Refrain von Slumber Comes in Time basiert auf einer Folk Melodie aus dem 16. Jahrhundert, die die Wallonen nach Schweden brachten. Der Männerchor und die epischen Orchesterparts zeigen eine neue Seite von Zornheyms erdrückendem Sound" kommentiert die Band.
Außerdem fügen ZORNHEYM hinzu: "Wir freuen uns auch, offiziell bestätigen zu können, dass es eine zweite Graphic Novel geben wird! Ihr mochtet die erste? Schaut euch das Lyric-Video an und seht, wie Anu sich mit diesem neuen Video selbst übertroffen hat."
Taucht ab in die düstere Welt von ZORNHEYM und schaut euch hier das Lyric-Video zu "Slumber Comes In Time" an:
Zornheym – Slumber Comes In Time (Official Lyric Video) | Noble Demon – YouTube
Gegründet und geleitet von Multi-Instrumentalist und Songwriter Zorn (ex- DARK FUNERAL), entwickelte sich ZORNHEYM schnell von einer ehrgeizigen Idee zu einem musikalischen Konzept, welches von den Schrecken einer psychiatrischen Anstalt und deren Insassen erzählt. Das von der Kritik gefeierte Debütalbum der Band, "Where Hatred Dwells and Darkness Reigns", öffnete 2017 die Türen der Einrichtung und stellte das erschreckende Konzept und die grausamen Charaktere darin vor. Mit 10 neuen Tracks, macht das neue Album von ZORNHEYM da weiter, wo sie mit dem Vorgänger aufgehört haben und lädt den Hörer auf eine verstörende Reise in die Tiefen der Anstalt.
"The Zornheim Sleep Experiment" erscheint am 22. Oktober auf Noble Demon und kann HIER vorbestellt werden
ZORNHEYM live:
18.09.21 Musikhuset Posten – Odense (DK)
Bhaal Fest – w/Demolizer and The Vice
Tracklist:
01. Corpus Vile
02. An Evil Within
03. Dead Silence
04. Keep The Devil Away
05. Slumber Comes In Time
06. Black Nine
07. The Veiling Of Bettelheims Eye
08. The Revelation
09. Keep Cutting
10. The Madness That Lurks Within (Epilogue)