Zum Abschluss der diesjährigen ROCK MEETS CLASSIC Tour gab es ein Stelldichein im Bochumer RuhrCongress. Diese Tour war gleichzeitig das 10 jährige Jubiläum dieser Tour, die Jahr für Jahr mit der MAT SINNER BAND dem RMC SYMPHONIE ORCHESTRA und einigen hochgradigen Musikheroes der Branche für 3 Wochen auf Tour ist. Dieses Jahr gab es 2x 50 Jahre zu bestaunen. Mit THIN LIZZY und THE SWEET waren Rock Urgesteine dabei, aber der Rest war nicht minder interessant. Ein Meister seiner Zunft, IAN GILLAN (DEEP PURPL), KEVIN CRONIN (REO SPEEDWAGON), MIKE RENO (LOVERBOY) sowie der Classic-Musical-Weltstar ANNA MARIA KAUFMANN, rundeten die gut zweieinhalb Stündige Show ab.
Am Anfang gab es erstmal Diskussionen zwischen dem Publikum und dem Veranstalter da ein paar Reihen ihre Sitze an der Kasse gegen andere, etwas billigere Tickets tauschen mussten. Muss man sich Stundenlang darüber aufregen und dann noch Zwiegespräche mit seinem Partner ausführen, obwohl noch eine große Menge an Leuten draußen steht die auch in die Halle will, ich glaube nicht.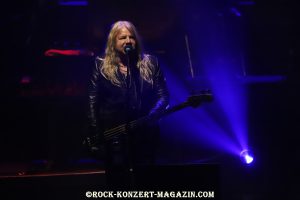 Nachdem dies dann alles geklärt war ging es in der Halle um Punkt 20:00 Uhr mit einem Riffklassiker los. MAT SINNER und seine Band brachten "Rock you like a Hurricane" den man sich immer wieder gerne anhört, so auch in der Interpretation an diesem Abend. Nach einer weiteren Orchestralischen Einlage kamen nun der langjährige Gitarrist Scott Gorham und Sänger Ricky Warrwick, der 2009 den legendären Phil Lynott ersetzte, von THIN LIZZY auf die Bühne. "The Boys are back in Town" und "Waiting for an Alibi" waren die Stücke die sie im Teil präsentierten und das obwohl es da keine Unterstützung vom Orchester bedurft hätte. Die Gitarren spielen die markante Harmonie voll aus.
Mit "Waiting for the Weekend" präsentiert von Mike Reno von LOVERBOY war der nächste auf der Bühne. Danach gab es ein Duett um den Schmachtfetzten "Almost Paradise" aus dem Film Footloose richtig geil rüber zu bringen. Was nur auffiel war, das Mike Reno am Ende jeder Strophe das Mikro vom Mund immer nach oben riss, so das er eigentlich kaum zu verstehen sein müsste. Die Tontechnik hat dies aber auch sehr gut hinbekommen.
Mit der nächsten Nummer kam Bewegung in das nicht mehr ganz so junge Publikum. Mit THE SWEET kamen Sänger Peter Lincoln und Gitarrist Andy Scott auf die Bühne um dieSongs "Action" und "Blockbuster" zum Besten zu geben. Was erstaunlich ist, ist die Tatsache das Andy Scott stark auf die 70 zu geht aber sein Haar immer noch so trägt wie vor 50 Jahren. Respekt vor der Leistung eines starken Musikers. Neben den Gitarren Riffs gibt er auch noch die Backing Vocals und die sitzen, Musiker was willst Du mehr.
Breites Grinsen, gelbe Brille und weißes Haar, so kam Kevin Cronin von REO SPEEDWAGON auf die Bühne und hielt dies bis zum Ende auch durch. Er sang "Take it on the Run" und erzählte dem Publikum das Liebe Jung hält. Dazu passte der Song "Keep on living you", welches er seiner Frau widmete, die im Chor mit sang.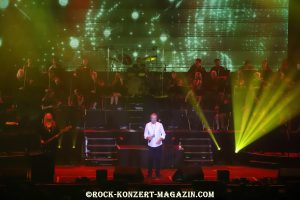 Jetzt wurde es aber auch Zeit für den Headliner des Abends, wenn man es so nennen kann. Das vierte Mal ist Ian Gillian von DEEP PURPLE schon dabei und da merkt man das er der Gentlemen des Hard Rocks ist. Ian gibt gesanglich alles und es passt wie die Faust aufs Auge, was man bei den Songs "Highway Star" und "Black Night" eindrucksvoll erleben durfte. Die Zuschauer fanden es auch stark und feierten  Ihn. Wenn Klassik und Rock zusammen treffen gibt es zu 90% immer ein geiles Ergebnis. Manchmal hört man die Klassik gar nicht manchmal steht sie im Vordergrund. Ergänzt haben sich beide Welten beim Song "Anya" und die Nummer zu einer der besten der gesamten Show werden lassen. Beim abschließenden "Hush" sang jeder in der Halle mit, bevor dann noch mal alle Stars auf die Bühne kamen um den ultimativen Song "Smoke on the Water" zu spielen und zu singen. Warwick, Kaufmann und CRONIN teilten sich den Gesangspart mit Ian Gillian, was für ein Finale.
Bilder zu Rock meets Classic: http://rock-konzert-magazin.com/konzertfotos-2019-m-s/rock-meets-classic/
Setlist Rock Meets Classic
Mat Sinner Band
Rock You Like A Hurricane
Thin Lizzy: Scott Gorham & Ricky Warwick
The Boys Are Back In Town
Waiting For An Alibi
Don't Believe A Word
Loverboy: Mike Reno
Working For The Weekend
Almost Paradise
The Sweet: Andy Scott & Pete Lincoln
Action
Blockbuster
REO Speedwagon: Kevin Cronin
Take It On The Run
Can't Fight This Feeling
Rocks Meets Classic Symphony Orchestra
Karneval der Tiere: Der Schwan
Anna Maria Kaufmann
The Last Unicorn
Phantom Of The Opera  (mit Pete Lincoln)
Mat Sinner Band
Here I Go Again
Thin Lizzy: Scott Gorham & Ricky Warwick
Jailbreak
Whiskey In The Jar
Loverboy: Mike Reno
Lovin' Every Minute Of It
Turn Me Loose
The Sweet: Andy Scott & Pete Lincoln
Ballroom Blitz
Fox On The Run
REO Speedwagon: Kevin Cronin
Keep The Fire Burnin'
Roll With The Changes
Keep On Loving You
Rocks Meets Classic Symphony Orchestra
Pomp & Circumstance
Deep Purple: Ian Gillan
Highway Star
Black Night
Anya
When A Blind Man Cries
Perfect Strangers
Hush
Alle
Smoke On The Water