Die italienischen Symphonic Metal-Legenden RHAPSODY haben ihre »20th Anniversary Farewell Tour« durch Europa vergangenen Bologna, Italien begonnen. Als Support sind die Senkrechtstarter von BEAST IN BLACK sowie die rumänische Kombo SCARLET AURA mit an Bord. Die Frankreich-Shows sind sogar bereits ausverkauft. Eine Station auf Ihrer Tour war das MS Connexion Complex in Mannheim. Eins habe ich auch wieder an diesem Abend nicht verstanden. Wenn der Veranstalter, die Vier Saiten Agentur das Konzert ab 20:00 Uhr ausschreibt, verstehe ich nicht warum das Konzert dann schon um 19:30 Uhr beginnt. Kann das mal einer erklären. Es bringt doch niemanden was früher an zu fangen als zur ausgeschriebenen Uhrzeit, zumal SCARLET AURA doch darunter leidet weil noch nicht alle Fans in der Halle sind.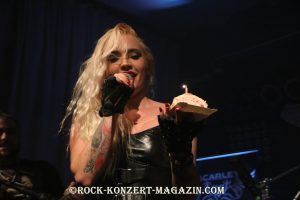 SCARLET scheint es aber nicht die Laube verdorben zu haben denn die Band um Frontfrau Aura Danciulescu hatten richtig Spaß an dem was Sie auf der Bühne machten. Mit Songs wie "You're Not Alien" oder "Falling Sky" schafften es SCARLET AURA für Stimmung unter den Fans zu sorgen. Wie es ja meistens so ist haben die kleineren Bands, zu denen SCARLET AURA sicherlich noch zählen, nur 30 Minuten Zeit um sich der Masse zu präsentieren. Mit einem Song aber knallten Sie so richtig durch. SCARLET AURA präsentierten in einer Cover Version den Song von den CRANBERRYS "Zombie". Was für eine Stimmung und SCARLET AURA wurden zu Recht gefeiert von den Fans im MS Connexion Complex.
Wer im letzten halben bis Dreiviertel Jahr keine Gelegenheit hatte BEAST IN BLACK zu sehen und zu hören bekam nun die Gelegenheit. Sie waren eigentlich im letzten Dreivierteljahr mit jeder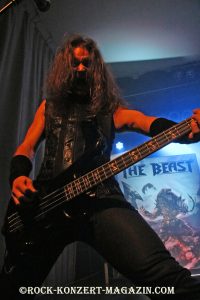 Band auf Tour die zu ihrem Genre passen. So präsentierten Sie sich an diesem Abend Kraft und Druckvoll denn das was aus den Boxen kam war schon richtig geil. So dürfte es auch nicht anders sein als das der Opener kein geringerer als "Beast In Black" war.  Da BEAST IN BLACK erst mit einem Album am Start sind spielten Sie ihre aktuelle Scheibe "Berserker" den Fans vor. Ein kleines Highlight war beim Song "Crazy, Mad, Insane" das Kasperi Heikkinen an der Gitarre, Anton Kabanen auch an der Gitarre und Mate Molnar am Bass jeweils eine Brille aufhatten, auf den jeweils ein Wort des Songs in Leuchtschrift lief. Ja man muss sich was einfallen lassen um im Geschäft zu bleiben. Den Power den BEAST IN BLACK auf der Bühne verbreiten geht aber auch auf die Fans über und so feierten die Fans schon mal eine Party für sich.
Setlist:
BEAST in Black
Eternal Fire
Blood of a Lion
The Fifth Angel
Born Again
Crazy, MAD, Insane
Blind and Frozen
End of The World
Um 21:00 Uhr wird es dunkel und es ist Zeit für den Headliner des Abends. RHAPSODY sind auf Tour um sich in der Besetzung von 2001 bis 2011, leider ohne Keyboarder Alex Staropolis, von Ihren Fans zu verabschieden. 20. Jahre nach Erscheinen des Albus "Symphony of Enchanted Lands" steht diese Scheibe auch im Fokus dieser Tour.
RHAPSODY haben an diesem Abend richtig Lust zu spielen, das merkt man gleich beim ersten Song es Abends "Dawn of Victory" aber auch danach waren Rhapsody nicht Müde den Fans Feuer untern Hintern zu machen, welches Sie auch selber haben.
Luca Turilli ist schon etwas komisch und wenn man es nicht vorher wusste, so würde man sich beim erstmal sehen echt fragen warum er die Gitarre so weit oben trägt. Dies bleibt so glaube ich sein Geheimnis. Auf jeden Fall fegt er über die Bühne und schwingt die Gitarre so dass man aufpassen muss dass er niemanden damit verletzt. Den Song "Riding the Winds of Eternity" widmet Sänger Lione dem verstorbenen Schauspieler CHRISTOPHER LEE, der RHAPSODY öfters im Studio unterstützt hat. Zur Höchstform läuft Lione beim ANDREA BOCELLI Cover "Time to Say Goodbye" auf. Nach "Holy Thunderforce" gehen die Jungs erstmal von der Bühne um kurz zu Verschnaufen, um dann nochmals auf die Bühne zu kommen um dich gebührend von den Fans zu verabschieden. Mit den Songs "Rain of a Thousand Flames", "Lamento Erioico" und "Emerals Sword" und sehr guten 1 ¾ Stunden Bühnenpräsents war es dann vorbei. Man muss Abschließend sagen das der Sound bis zum Song "The Village of Dwarves" gut war, sowohl bei BEAST IN BLACK, SCARLET AURA und RHAPSODY aber dann hatte man das Gefühl das der Ton techniker einen im Tee hatte denn das was dann aus den Boxen kam war gequirlte Musikpampe, Schade, so hätte das Konzert nicht zu Ende gehen dürfen.
Setliste:
Intro In Tenebris
Dawn of Victory
Wisdom oft he Kings
The Village of Dwarves
Power oft he Dragonflame
Beyond the Gates of Infinity
Knightrider of Doom
Wings of Destiny
Riding the winds of Eternity
Symphony of Enchanted Lands
Drum Solo
Land of Immortals
The Wizard´s last Rhymes
Bass Solo
Con te Partiro
Holy Thunderforce
———————————————
Rain of a thousand Flames
Lamento Eroico
Emerals Sword + Finale