Es war schon richtig kalt an diesem Mittwochabend und hinzu kam das es auch noch geschneit hatte aber die Metal Gemeinde ist hart im Nehmen und so war doch eine recht große Schlange vorm Eingang der Turbinenhalle zu verzeichnen.
Heute gab es Black,-Death Metal und das nicht zu knapp.
Der Grund für die proppenvolle Halle ist die Tour der Ecclesia Diabolica Evropa Tour von BEHEMOTH. Mit den großen Worten "Wir hören Dein Flehen, Europa! Zusammen mit At The Gates und Wolves In The Throne Room werden wir die unheilige Dreifaltigkeit und einen Schwarm der Verwüstung über den alten Kontinent bringen!" wurde die Tour bereits im Voraus von Sänger Adam "Nergal" Darski angekündigt. Dementsprechend hoch sind die Vorfreude und die Erwartungen an diesem Abend.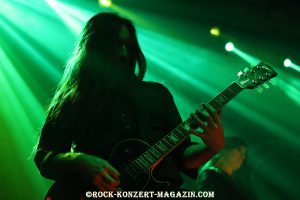 Den Abend eröffnen durften  WOLFES IN THE THRONE ROOM. Die meist überlangen Songs sind teilweise nicht gerade dazu bestimmt total aus zu rasten, so war es jedenfalls heute Abend. Mit einer Mischung aus Crustcore, Trash Metal und Postrock, weiß man so manchmal nicht genau in welche Richtung es jetzt gerade geht. Hinzu kam das WITTR, wie sie abgekürzt heißen, in ein total dunkles Licht getaucht wurden. Wums war schon drin in den Songs aber wie gesagt sie waren teilweise zu langatmig. 3 Songs spielten WITTR und die dauerten zusammen 25 Minuten.
Bilder von WITTR hier: http://rock-konzert-magazin.com/konzertfotos-2019-t-z/wolfes-in-the-throne-room/
Setlist:
01. Angrboda
02. The Old Ones Are With Us
03. Born From The Serpent's Eye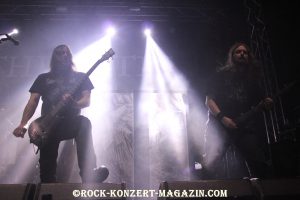 Nun sind die 5 Jungs von AT THE GATES an der Reihe. Gleich von der ersten Minute zeigten die Schweden den Fans mal was alles möglich ist und das war eine Menge. Hatte Riffs, fette Drums und ein Sänger namens Thomas Lindberg der richtig gut drauf war. Die Stimmung in der Halle war sehr gut und die Auswahl der Songs wurde gut von den Fans angenommen. Headbangen und Mosch Pits bis der Arzt kommt, was will man mehr. Man könnte sehen und hören das AT THE GATES richtig viel Spaß hatte an dem was Sie den Fans heute Abend rüberbrachten und so war es dann auch keine Überraschung das AT THE GATES geile 45 Minuten das Feld beackerten  und BEHEMOTH es nur noch abwarten musste.
Bilder von At the Gates hier: http://rock-konzert-magazin.com/konzertfotos-2019-a-f/at-the-gates/
Setlist: 
01. Der Widerstand
02. To Drink From The Night Itself
03. Slaugther Of The Soul
04. At War With Reality
05. A Stare Bound In Stone
06. Cold
07. El Altar Del Dios Desconocido
08. Death And The Labyrinth
09. Heroes And Tombs
10. Suicide Nation
11. Daggers of Black Haze
12. The Book Of Sand (The Abomination)
13. Blinded By Fear
14. The Night Eternal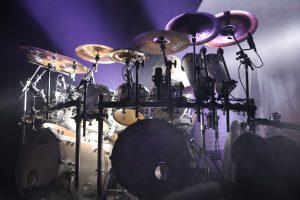 Nun war es dann soweit und um 21:40 ging das Licht aus und das Intro erklang. "Elohim! I shall not forgive! Adonai! I shall not forgive! Living God! I shall not the forgive! Jesus Christ! I forgive thee not!", ertönen die Lyrics von Solve wie eine Predigt aus den Lautsprechern und auf dem schwarzen Vorhang, der die Bühne verhängt, werden passende okkulte Symbole projiziert. Konnte man es jetzt nicht mehr erwarten, so viel der Vorhang auch schon und BEHEMOTH legten unter tosenden Applaus mit "Wolfes ob Siberia" los. Das BEHEMOTH heute Abend keine Gefangenen machen bringen Sie mit "Diamonos" und "Ora pro Nobis" zum Ausdruck. Hart, Brutal und gar nicht leise. So waren schon mal Songs vom neuen Album "I Loved you at your Darkest" präsentiert worden.
Ältere Songs wie "Conquer All" oder "Decade of Therion" durften in der Setliste nicht fehlen. Die Fans feierten was das Zeig hielt und die Security bekam nun auch was zu tun. Warm war es in der Halle eh schon aber die Show von BEHEMOTH hatte nicht nur akustisch was zu bieten nein es gab auch immer wieder Wärme aus der Feuerkanone oder dichten Nebel der aus der Nebelmaschine kam. Im Hintergrund war eine große Pyramidenartige LED Leinwand, auf der immer wieder Bilder oder kleine Filme gezeigt wurden.
Ohne viel Schnickschnack und Worten zogen BEHEMOTH von einem Song zum anderen ohne mal eine kleine Verschnaufpause zu machen. Tja und dann war es auch schon vorbei das Konzert der dunklen Satans Messe. Bei den Fans war jedenfalls klar dass sich das heute Abend megageil angehört und auch megageil zum Anschauen war.
Ich muss sagen ich habe schon lange nicht mehr so ein geiles Highspeed Konzert gehört, wo vom Sound und vom Licht her alles gepasst hat, wenn man mal das Licht bei WITTR außen vorlässt.
Bilder von Behemoth hier: http://rock-konzert-magazin.com/konzertfotos-2019-a-f/behemoth/
Setlist: 
 01. Solve
02. Wolves Ov Siberia
03. Daimonos
04. Ora Pro Nobis Lucifer
05. Bartzabel
06. Ov Fire And The Void
07. God = Dog
08. Conquer All
09. Ecclesia Diabolica Catholica
10. Decade of Therion
11. Blow Your Trumpets Gabriel
12. Slaves Shall Serve
13. Chant For Ezkaton 2000 E.V.
14. Lucifer
15. We Are The Next 1000 Years
16. Coagvla