"Tour Number 7" so lautet die 2018 Tour von VAN CANTO.   Die Zahl 7 ist schon seit dem Altertum reich beladen mit versteckter sowie auch offensichtlicher kultureller, magischer und religiöser Symbolik. Gewissermaßen waren Van Canto auch schon immer in so herausragender Weise besonders. VAN CANTO sind die einzige a Kapella Heavy Metal Band die schon seit 10 Jahren große Erfolge feiern. Heute sind sie in der Rockfabrik in Ludwigshafen zu Gast und haben mit MOON SUN und EVERTALE zwei Bands für das letzte Deutschland Konzert von VAN CANTO dabei.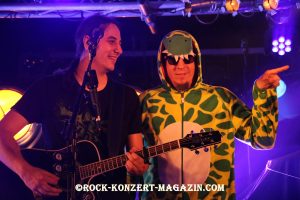 Pünktlich um 19:30 Uhr kamen MOON SUN auf die Bühne. Da es sich bei MOON SUN nur um Sängerin Susanne Scherer und Gitarrist  Thomas Kolbing handelt ging es da ganz schnell. Viele der gut 250 Fans feierten kräftig und Susanne bekam das Grinsen nicht mehr aus dem Gesicht. Nach dem Song "Fight and Pray", kamen ein paar von VAN CANTO auf die Bühne um MOON SUN einen Banner zu geben, wonach sie nun MONSUN oder Monsun heißen. Beim Einspieler "Durch den Monsun" war Thomas allerdings sehr Textsicher, was einem dann zu denken gibt. Damit hatte von den beiden keiner gerechnet und so war die Überraschung beim letzten Konzert gelungen. Etwas aus dem Konzept gebracht ging es mit "Return Home" von der EP "Rise and Shine" im Programm weiter. Jan von VAN CANTO kam mit auf die Bühne um den Song "The Dragonborn comes" zu performen. Während des Songs kamen EVERTALE in Drachenkostüm bzw. Drachentöter uniform auf die Bühne um Susanne aus den Klauen des Drachen zu befreien. Sie schafften es und so konnten Susanne und Thomas diesen Song und auch Ihren letzten Song noch zu Ende singen. Riesen Spaß zum Abschluss einer Tour für Susanne, Thomas , EVRTALE und JAN von VAN CANTO.
Bilder von Moon Sun hier: http://rock-konzert-magazin.com/konzertfotos-2018/moon-sun/
Setliste:
 1. Desire
 2. Fight and Pray
 3. Return Home
 4. The Dragonborn Comes
 5. Don't like To me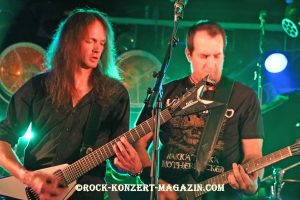 Kurze Umbaupause und dann ging es mit EVERTALE weiter. Jetzt gab es ein anderes Kaliber zu hören denn EVERTALE stehen für Powermetal. Das brachten Sie auch zum Ausdruck denn mit knackigen, harten Riffs begeisterten Sie das Publikum die es Ihnen mit viel Applaus dankten. Mit Songs wie "The great Brotherwar" oder "Chapter 666" oder "The Swarm" hatten EVERTALE die Fans auf ihre Seite gebracht. Auch Mathias "Matze" Graf bedankte sich bei allen die an dieser Tour mit gearbeitet haben. Zum Abschluss von EVERTALE gab es eine Coverversion des Songs "Take To The Sky" den außer dem Rakataka Fanclub wohl keiner in der Rockfabrik kannte, so zumindest machte es den Anschein als Matze fragte wer den Song kennt. Zum Schluss kamen dann VAN CANTO auf die Bühne um kurz mal mit zu singen und sich dann gebührend von EVERTALE zu verabschieden.  Auch hier waren große Momente einer unvergesslichen Tour zu Erkennen.
Bilder von Evertale hier: http://rock-konzert-magazin.com/konzertfotos-2018/evertale/
Setliste:
 1. Firestorm
 2. The Swarm
 3. Chapter 666 (We are the Hammer)
 4. The Crownguard's Quest
 5. The Great Brotherwar
 6. Take To The Sky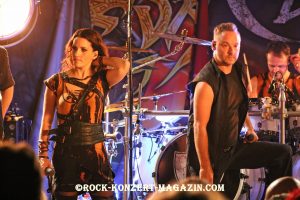 Man war gespannt was uns nun zum Abschluss der Deutschland Tour bei VAN CANTO erwartet. Bisher kann man sagen war es ein richtig geiler Abend wo alle Bands bisher ihren Spaß hatten. Mit neuem Leadsänger kamen Sie dann auf die Bühne. Hagen Hirschmann heist der Gute und musste laut Stefan bei der Bewerbung 3 Fragen beantworten. 
1. Kannst Du singen?
2. Kannst Du schreien?
3. Kannst Du growlen? 
Alle 3 Dinge führte uns Hagen vor und so war man überzeugt dass er der Richtige ist. So konnte es dann im Programm weiter gehen und Stefan erklärte uns auch noch dass sie zu der Tour Nummer 7 auch 7 Sänger auf der Bühne sein sollten. So kam Jan mit der tiefen Dan-Dan Stimme noch hinzu. Ohne große Verzögerung sangen sich VAN CANTO durch ihre Set Liste bis zum Song "Desert Snake". Hagen wollte was sagen aber da ertönte die Musik vom Klassiker Gameboy Spiel Snake und MOON SUN kamen als Hip Hopper verkleidet auf die Bühne und sangen den Song "Snakes" von DJ SERIOUS.
Die Stimmung stieg wieder und MOON SUN hatten genauso wie VAN CANTO ihren Spaß dabei. Dies war eine kleine Rache für das was VAN CANTO beim Auftritt von MOON SUN gemacht haben. Danach gaben Sie den Klassiker von HELLOWEEN "Ride the Sky" zum Besten. Was an diesem Abend auffiel war, der bei allen drei Bands sehr gute Sound und das gute Licht. Super geile Stimmung, feiernde Fans und Bands die trotz des letzten gemeinsamen Konzertabend verdammt viel Spaß hatten. VAN CANTO verabschiedeten sich nach guten 1 1/2 Stunden mit "Fear of The Dark" von ihren Fans. Dabei kamen kurz vor Schluss alle Bands auf die Bühne teils verkleidet, teils nicht, um gemeinsam einen geilen Abend und eine geile Tour zu beenden und sich nochmals von allen und den Fans zu verabschieden. Groß artig. 
Bilder von Van Canto hier: http://rock-konzert-magazin.com/konzertfotos-2018/van-canto/
Setlist:
 1. If i die in Battle
 2. To sing a Metal Song
 3. Neverland
 4. Badaboom
 5. Rebellion
 6. To The Mountains
 7. Bardcall
 8. Bard's Song
 9. Dragonwake
10. Desert Snake
11. Ride the Sky
12. Neuer Wind
13. Heading Home
——————————
14. Hells Bells
15. Mission
16. Fear of The Dark