Sicherlich gibt es Bands, die sich noch höher in den Charts platziert konnten, mehr Alben verkauft und größere Hallen gefüllt haben als Anvil. Trotzdem genießt kaum eine andere Metal-Formation so viel Respekt unter Kollegen wie die kanadische Gruppe um Sänger/Gitarrist Steve ´Lips` Kudlow und Schlagzeuger Robb Reiner. Zu den namhaftesten Anvil-Bewunderern gehören unter anderem internationale Stars wie Metallica oder auch der leider verstorbene Lemmy von Motörhead, die immer wieder ihre uneingeschränkte Hochachtung äußerten. Die Gründe für diesen offenkundigen Respekt liegen auf der Hand: Seit 1978 sind Anvil der Inbegriff einer leidenschaftlichen Heavy Metal-Band, die sich auch von Nackenschlägen, widrigen Umständen und geschäftlichen Ungereimtheiten nicht vom Kurs haben abbringen lassen. Ihr neues Album Pounding The Pavement, das Anfang 2018 über Steamhammer/SPV veröffentlicht wurde, gibt diesem bravourösen Durchhaltevermögen Recht: Nie zuvor klangen Anvil so vielseitig, entschlossen und inspirierend.
So sind ANVIL nun mit Ihrer neuen Scheibe "Pounding the Pavement" auf Club Tour in Deutschland. Mit dabei aus London NEONFLY und aus Island GREY ATTACK.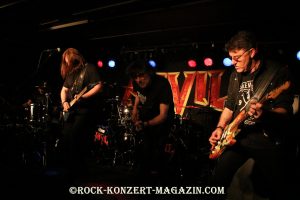 Ein knackiger Abend voller Rock n'Roll erwartete die gut 150 Fans im Nachtleben, der um 20:00 Uhr durch GREY ATTACK eröffnet wurde. Klare, knackige Beats und Riffs knallten uns die Jungs entgegen. Aufgrund des Platzmangels auf der Bühne, hatten GREY ATTACK einen Radius wie auf einem Bierdeckel aber davon ließen sich die Jungs nicht
beirren und spielten mit viel Freude und Elan Songs wie "Over The Rainbow", "Black Rose" oder "I still miss you". Die Jungs bringen alles mit was Du auf der Bühne brauchst. Mitreißende Dynamik auf der Bühne, echte Erfahrung und die
radikale Lust auf Rockmusik.
30 Minuten konnten wir uns davon überzeugen dann würde umgebaut für NEONFLY.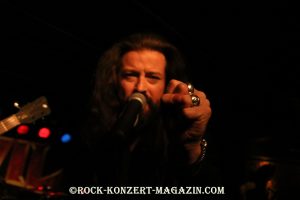 Wie aufgescheuchte kleine Fliegen, wuseln NEONFLY über die nun etwas größere Bühne und haben dabei
mächtig Spaß. Mit Ihrem neuen Album "Straingers in Paradise" machen die Jungs mächtig Dampf auf der Bühne. Sänger Willy Norton flitz von links nach rechts und macht mit den Gitarristen die ein oder anderen Faxen. Klar, knallig und durchdringend kommen Songs wie "The Revenent", "Highways To nowhere" oder "A Gift to Remember" bei den Fans an die richtig gut in Stimmung sind. Willy lässt es sich nicht nehmen sogar während dem ein oder anderen Song auf einen Boxenturm zu steigen, fasst mit ihm um zu fallen um dann doch lieber wieder auf die Bühne zu gehen wo er weiter eine geile Show abzieht oder er lässt sich Huckepack durch das Nachtleben tragen. Was für ein positiv verrückter Typ. Jede Show geht mal zu Ende und so verabschiedeten sich NEONFLY nach 45 Minuten mit dem Song "Morning Star" und hinterließen einen sehr guten Eindruck bei den Fans.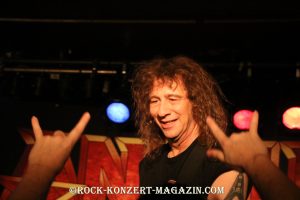 Umbaupause machen Spaß und Durstig also nicht wie ran an das Bier um dann weiter auf Empfang zu sein für ANVIL. ANVIL kamen um 21:50 Uhr auf die Bühne und das Nachtleben platzte aus allen Nähten, die Stimmung war sofort da auch weil Sänger, Gitarrist und Mr. ANVIL himself Steve "Lips" Kudlow von der Bühne gleich erstmal ins Publikum
sprang und dort die ersten Minuten auf seiner Gitarre spielte inmitten der Fans. Mit dem Opener "March of the Crabs" holten sich ANVIL dann die letzten Fans mit ins Boot und es wurde ausgelassen gefeiert. Mit "666" und "Ooh Baby"
schickten ANVIL gleich noch 2 weitere Klassiker hinterher um dann ein wenig vom neuen Album den Fans zu präsentieren. Was für eine Spielfreude da auf der Bühne stand. Steve hatte immer ein Grinsen im Gesicht obwohl im die ganze Zeit ein Fan auf den Keks ging der Ihn dauernd versuchte an zu fassen. Ein paarmal gab Steve Ihm zu verstehen er solle es bitte unterlassen sonst gibt es eine Dusche kaltes Wasser. Daraufhin lies der Fan es und wir konnten uns wieder auf das wesentliche konzentrieren.  "Free as the Wind", "This is Thirteen" oder "Daggers and Rum" waren nur einige der Songs die knackig aufs Hirn der Fans gedrückt wurden. Auch wenn die Jungs schon über 60
sind können sich so manche junge Leute daran ein Beispiel nehmen was Power und Energie angeht, denn die haben alle 3 noch in rauen Mengen.
Wir konnten heute ein Konzert genießen welches noch ein paar Zuschauer mehr verdient gehabt hätte, denn egal ob GREY ATTACK, NEONFLAY oder ANVIL von allen 3 Bands gab es eine geile Vorstellung an diesem Abend mit knackiger, klarer Musik die von der ersten bis zur letzten Minute voll auf die zwölf ging.
Setliste Anvil:
1.       March of the Crabs
2.       666
3.       Ooh Baby
4.       Badass Rock 'n' Roll
5.       Doing What I Want
6.       Winged Assassins
7.       Free as the Wind
8.       On Fire
9.       This Is Thirteen
10.   Mothra
11.   Bitch in the Box
12.   Daggers and Rum
13.   Swing Thing (incl. Drum Solo)
14.   Ego
15.   Die For a Lie
16.   Metal on Metal