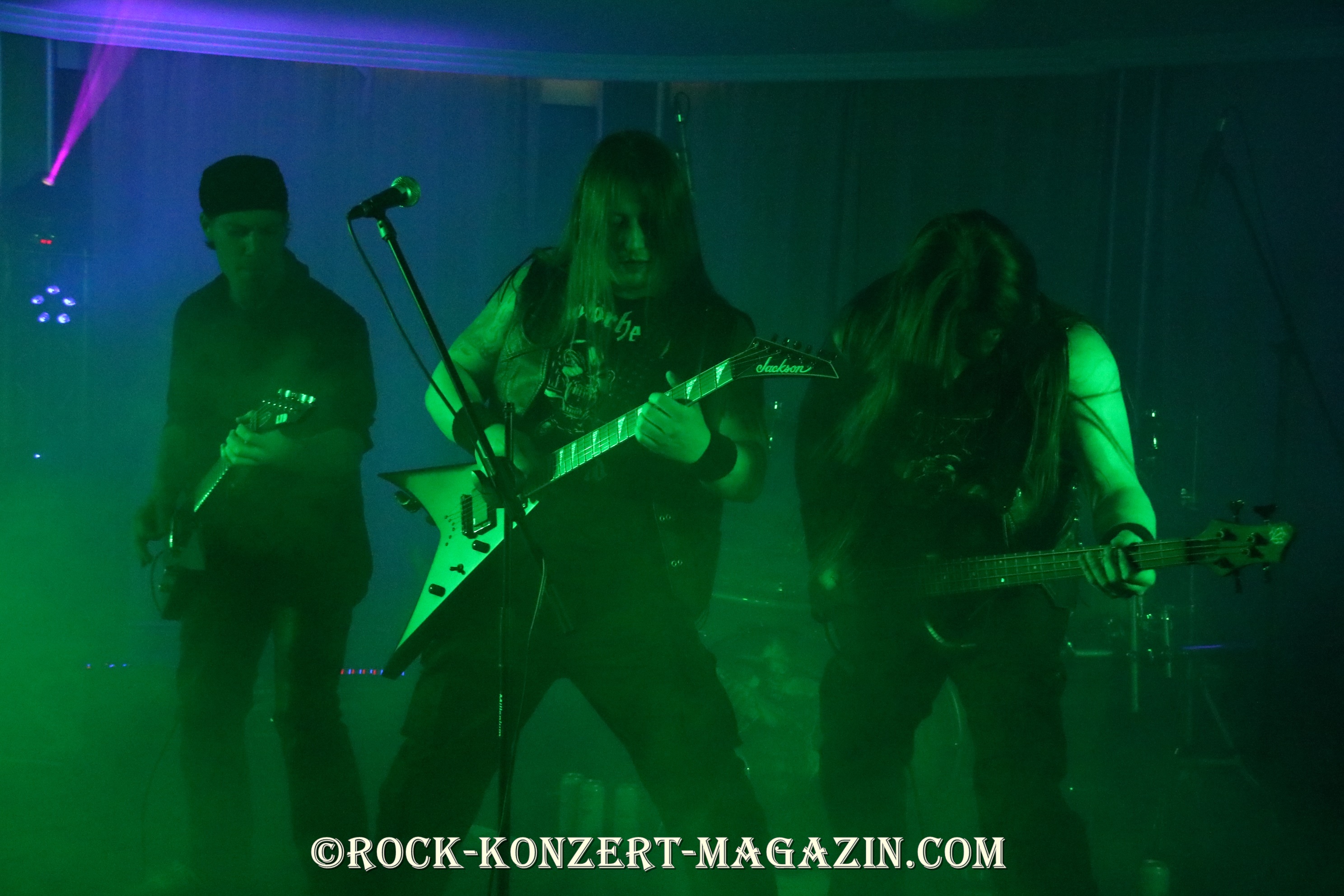 Samstagabend am Rhein in Koblenz. Es ist Dunkel und Ruhig in den Rheinanlagen in der Nähe des Deutschen Ecks. Nur an einem Schiffs Anleger in der Nähe des Pegelhauses, steht das Schiff Loreley Elegance und wartet auf die Headbanger die an diesem Abend auf dem Schiff ein Konzert anschauen und anhören wollen das es so noch nicht gab. Das erste METAL SHIP auf dem Rhein sollte an diesem Abend seine Prämiere mit den Bands STEELPREACHER und FINAL FORTUNE feiern.
Als das Schiff um 19:00 Uhr den Anleger Richtung Bingen verlies waren etwas über 100 Kutten Träger an Bord und stimmten sich schon mal mit Bier auf den heutigen Abend ein. Als Support an diesem Abend starteten um 19:30 Uhr die aus Koblenz stammenden FINAL FORTUNE. "Das ist absolut neu für uns und wir freuen uns riesig auf diesen Abend", hatte Gitarrist Eric uns im Vorfeld gesagt. Nicht nur das Sie sich riesig darauf gefreut haben, nein sie spielten auch einen Gig der richtig Spaß gemacht hat. Da sich FINAL FORTUNE vor kurzem erst von Ihrem Bassisten Izzy und von Ihrem Drummer Benny getrennt haben, sprangen Marcel von den CAT EATERN als Bassist und Marcel von SPECTRAL an den Drums ein, bis FINAL FORTUNE wieder vollzählig mit neuem Drummer und Bassisten sind. Einen gelungenen Mix aus Glam Rock und Metal präsentierten uns die 5 Jungs aus Koblenz und so gab es an diesem Abend auch eine Premiere, denn den allerneusten Song "Power of the Lightning" präsentierten uns FNAL FORTUNE.  Auch wenn es an diesem Abend nicht so voll war hatten auch die Fans Ihren Spaß und feierten eine große Party mit den Jungs auf der Bühne.
Setliste:
1.       Intro
2.       Power of Lightning
3.       Reaching for the Sky
4.       All through the Night
5.       Hungry for Love
6.       Suicide Attack
7.       Electric Lover
8.       Coming Home
9.       Raised on Rock
10.   Dirty Nights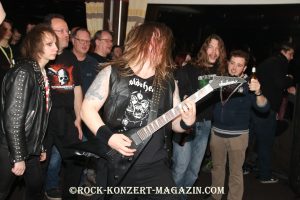 Auch auf einem Schiff muss man ein wenig umbauen und aufräumen und so kamen dann STEELPEACHER auf die Bühne. Auch STEELPREACHER hatten richtig Bock auf dieses Konzert in dieser Location und das zeigten Sie von der ersten bis zur letzten Minute auf und neben der Bühne, denn nicht nur Andy sondern auch Preacher suchten zwischendurch immer wieder den ganz engen Kontakt zu den Fans, die Ihre helle Freude an diesem Konzert hatten. "We don't get Drunk" lautete die Eröffnungs Botschaft an diesem Abend und wie man es von STEELPREACHER gewohnt ist haben Sie Ihre eigenen Büchsen Bier mit auf der Bühne, die Sie während der Show leerten. Zwischendurch versetzten uns Mu und Preacher an die Hamburger Küste und erzählten leichte Seemans Geschichten. "Atlantean Dawn", "Forces of Hell" oder "Hell bent for Beer" waren nur einig Songs die STEELPREACHER den Fans auf Hirn dröhnten. Beim Song "Metal Health" hatten STEELPREACHER eine kleine Überraschung für die Fans parat. Kirsten die Frau von Hendrik dem Drummer von STEELPREACHER performte den Song in einer Art und Weise was Lust auf mehr machte. Leider gab Sie nur diesen Song zum Besten. Obwohl STEELPREACHER noch gute 30 Minuten hätten spielen können, gingen sie nach 90 Minuten völlig entkräftet und fertig von der Bühne. Sie haben halt richtig Gas gegeben während Ihrer Show.
Damit war das 1. Metal Ship auf dem Rhein Geschichte und man kann sagen das ein gelungener Einstand war, der aber mehr Fans als Zuspruch verdient gehabt hätte. Stimmung war da hätte aber mehr sein können und so werden die Veranstalter dieses Event am 03.11.2018 nochmals ausrichten. Seit gespannt was euch da erwartet. Alle Infos könnt Ihr auf Metal-Ship.org entnehmen.
Setliste:
1.       We don't get Drunk
2.       Hammered and Down
3.       Bitchcraft
4.       Too old for Dying young
5.       When the Iron Calls
6.       El pollo Diabolo
7.       Atlantean Dawn
8.       The Dreamweaver
9.       Forces of hell
10.   Drinking with the Devil
11.   Start Raising Hell
12.   Rock'n Roll on my Mind
13.   D:O:A
14.   Hell bent for Beer
15.   Metal Hangover
16.   We want Metal
17.   ———————————————
18.   Metal health
19.   Dirty Deeds