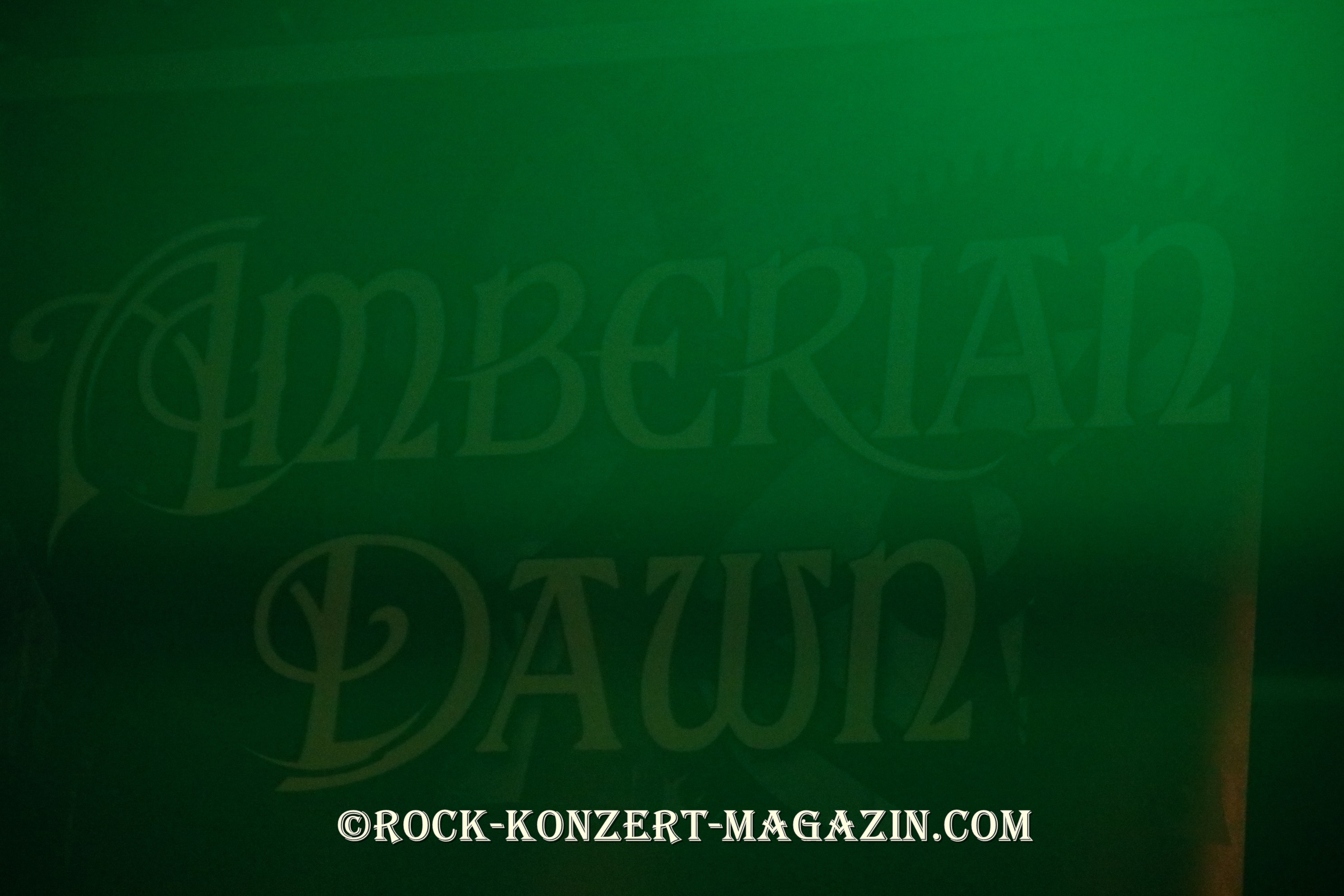 Nach der erfolgreichen Tour zum 10-Jährigen Jubiläum, sind AMBERIAN DAWN erneut auf den Straßen Europas unterwegs sein! Nachdem die Band Ende Oktober 2017 über Napalm Records ihr neues Album "Darkness of Eternity" veröffentlicht haben, wollen Sie eine völlig neue Setlist auf der Tour spielen. Symhonic-Fantasy-Metal allererster Güteklasse! Der zweite Headliner kommt aus Österreich und ist kein geringerer als EDENBRIDGE. Die Band hat im Frühjahr ihren Langspieler "The Great Momentum" veröffentlicht. Dieser stieg in diverse offizielle Charts ein.
Zusammen mit dem Support MANZANA sorgten diese Bands für Gänsehaut, wundervolle Stimmen und harte Riffs.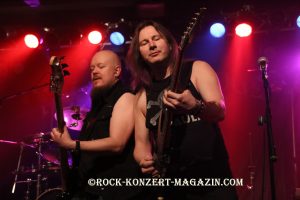 MANZANA eröffneten um 20:00 Uhr den Abend. Leider haben sich zu diesem Zeitpunkt nur gut 50 Fans eingefunden was doch schade war. Am Wetter kann es nicht gelegen haben denn trotz alledem es am Morgen bis mittags geschneit hatte konnte man sehr gut fahren. Vielleicht hatten auch noch einige Nachwehen vom Karneval. Schade war aber nichts dran zu ändern. Die finnischen Rock-/Metal-Band MANZANA mit Frontfrau Piritta Lumous spielt eine postmoderne Kombination aus einzigartiger positiver Stärke und einem echten Rock'n'Roll-Sound, Punk-artigen Vocals auf industriellen Metal-Sounds. So klang das ganze an diesem Abend manchmal hart und manchmal weich. Puritaner hatte trotz der wenigen Fans eine Menge Spaß an diesem Abend und wer MANZANA noch nicht kannte oder kennt hat echt was verpasst. Mit "Falling To Pieces", "Love Hate Song" oder "Beautiful Nightmare" kamen geil bei den Fans an. 
Umbaupause werden genutzt um auf zu räumen oder umzubauen. Immer wieder aber dann war es soweit und EDENBRIDGE kamen auf die Bühne. EDENBRIDGE die sich selbst Stilistisch auf melodischen und sinfonischen Metal mit progressiven Tendenzen ein ordnen.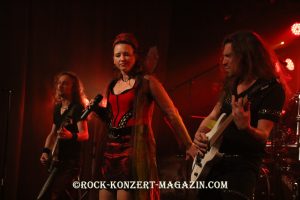 Sie selbst bezeichnen den eigenen Stil als "Angelic Bombastic Metal" und sind somit am ehesten zwischen Bands wie NIGHTWISH und WITHIN TEMPTATION ein zu ordnen. Mit viel Freude und Enthusiasmus gingen EDENBRIDGE an die Sache ran, gerade Basser Wolfgang Rothbauer hatte seine helle Freude am Spielen aber auch Sängerin Sabine Edelsbacher, obwohl ein wenig kränkelnd, hatte große Lust. Eine bunte Mischung an Songs knallten uns EDENBRIDGE um die Ohren und das waren Songs wie "Return To Grace" oder "The Die Is not Cast". EDENBRIDGE spielen eine gute Mischung aus schnellen, harten Riffs und langsamen eindrucksvoll klingenden Tönen so das für jeden an diesem Abend etwas dabei war. Mit "Remember me" hauen sie uns dann wieder knackigen Stoff auf's kalte Hirn. Trotz dem Tourbus Virus der nicht nur Sabine erwischt hat boten EDENBRIDGE eine richtig geile Show die wahrlich mehr Fans verdient gehabt hätte. 
Setlist: 
 1. Mystic River
 2. Alight a New Tomorrow
 3. Skyline's End 
 4. Shiantara
 5. Wild Chase
 6. The Moment Is now 
 7. Return To Grace
 8. The Die Is Not Cast
 9. Remember me
10. Greatest Gift of all/The Bonding
11. Shine
12. Higher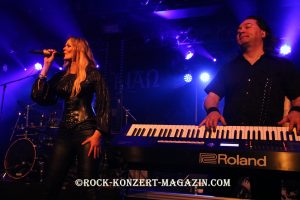 Nach einer wirklich kleinen Umbaupause waren nun AMBERIAN DAWN an der Reihe. AMBERIAN DAWN bezeichnen sich selbst als "melodischen, dramatischen und kraftvollen Metal mit klassischer Frauenstimme". Alle Mitglieder der Band haben eine längere musikalische Vergangenheit und schon in vielen Bands gespielt. So kamen Sie nun auf die Bühne um den Fans ein Potpourri an Musik zu bieten, die keine Zeit zum ausruhen ließ. Sängerin Capri und vor allem Bassist Jukka Hoffren gaben auf der Bühne alles um die Fans in Stimmung zu bringen. Gleich mit Ihrem Opener "I'm the One" brachte die Fans in Wallung und so ging es den ganzen Gig durch. AMBERIAN DAWN hielten sich aber auch nicht viel mit großen reden auf, sondern knallten den Fans einen Song nach dem andern um die Ohren. "Fame & Gloria", "Circus Black" oder "Magic Forest" waren nur einige der Songs die AMBERIAN DAWN zum Besten gaben. Capri passierte dann ein kleiner Fauxpas, in dem Sie ihre Wasserflasche zwischen den Boxen umstieß und Bassist Jukka Hoffren hatte schon Angst, dass es sich dabei um Vodka handeln könnte, dem war aber nicht so und so konnte er sich erstmal ein Bier bestellen, welches er auch direkt bekam. Mit "Knock Knock who is there" und "River of Tuoni" wurden die Fans in die Nacht geschickt und ein Symphonischer, melodischer Metal Abend mit viel Frauenpower ging zu Ende.
Setlist:
1.     I'm the One
2.     Sky is Falling
3.     Valkyries
4.     Fame & Gloria
5.     Circus Black
6.     Magic Forest
7.     My only Star
8.     Cherish my Memory
9.     Dragonflies
10.  Maybe
11.  The Court of Mirror Hall
12.  Crimson Flower
13.  Arctica
14.  Knock Knock who's there
15.  River of Tuoni