Was für ein geiler Abend sollte es diesmal in Köln werden. Auf Ihrer "Will to Power" Tour waren ARCH ENEMY diesmal im E-Werk. Diese Konzerte die ARCH ENEMY im Sommer noch gaben waren die ein oder anderen Zugaben zu der im Herbst/Winter stattgefundenen Tour, wo die Hallen auch meisten rappelvoll waren. Nichts destotrotz war es ein geiler Abend.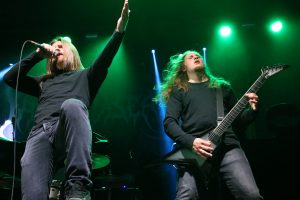 Mit DAWN OF DISEASE und THE CHARM THE FURY waren zwei klasse Support Bands am Start, die das E-Werk ordentlich einheizten. Mit DAWN OF DISEASE ging es an diesem Abend los und wie. Die aus Osnabrück stammende Formation haben den Abend mit klarem harten Death Metal den Fans mal gleich gezeigt was Sie heute Abend erwartet.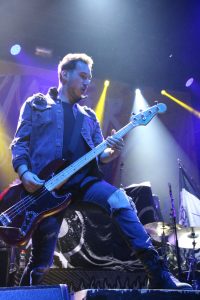 Mit THE CHARM THE FURY ging es dann nach einer kleinen Umbaupause weiter. Frontfrau Caroline lieferte dabei eine energiegeladene Show ab, die sich auch auf die Band übertrug. Das war schon mal ein Vorgeschmack auf das was uns später am Abend noch erwarten würde. Die Fans im E-Werk waren vom Start an dabei und konnten sogar die einen oder anderen Texte mitsingen.
Zwei Support Acts die es in sich hatten und dafür gesorgt hatten das ARCH ENEMY es an diesem Abend wieder leicht hatten die Fans auf den Höhepunkt zu bekommen. Gegen 21:45 Uhr starte das Intro und kurz darauf kamen Sie auf die Bühne und rockten von der ersten bis zur letzten Minute diese. "The World is Yours" schalte aus den Boxen direkt aufs Hirn der Fans. Ermüdungserscheinungen ? Nein nicht bei ARCH ENEMY, obwohl die Band einiges an Kilometern auf den Buckel hatten, im Gegenteil Alissa präsentiert sich gewohnt sportlich und zeigt immer wieder mal wie gelenkig Sie ist, indem Sie die ein oder andere Sprungeinlage zum Besten gibt. Ton, Licht, Sound sind an diesem Abend erstklassig und lässt keinen Grund zum Nörgeln zu. Nach guten 90 Minuten war es dann aber soweit und ARCH ENEMY verabschiedeten sich vom grölenden und nass geschwitzten Publikum um dann selbst mal durch zu schnaufen. Es war wieder einmal ein riesen Fest ARCH ENEMY live zu sehen obwohl wir dies erst im Herbst/Winter getan haben.
Setlist ARCH ENEMY @ Köln, E-Werk (09.07.2018)
01. The World Is Yours
02. Ravenous
03. War Eternal
04. My Apocalypse
05. The Race
06. Blood On Your Hands
07. You Will Know My Name
08. Bloodstained Cross
09. Intermezzo Liberté
10. Dead Eyes See No Future
11. The Eagle Flies Alone
12. First Day In Hell
13. As the Pages Burn
14. Dead Bury Their Dead
15. We Will Rise
16. Avalanche (Z)
17. Snow Bound (Z)
18. Nemesis (Z)
19. Fields of Desolation (Outro) (Z)