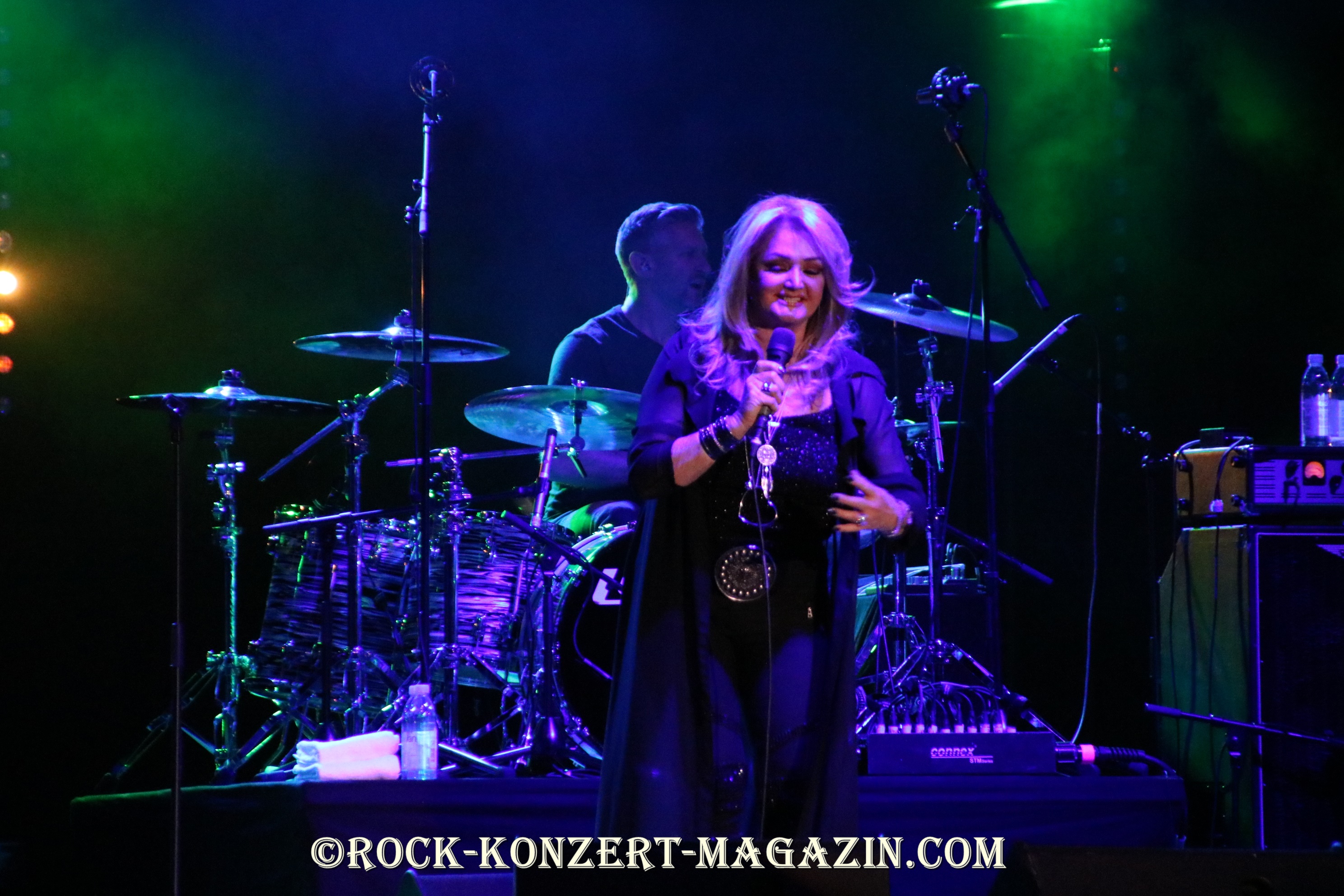 Seit mehr als 40 Jahren begeistert Bonnie Tyler ihre Fans mit ihrer unverkennbaren heiseren Stimme, produzierte 16 Alben und rund 80 Singles und verkaufte mehr als 100 Millionen Platten. Bonnie Tyler ist international die "First Lady der Rock Musik". ". Aktuell sorgt ihr Song "Total Eclipse Of The Heart" für neue Downloadrekorde in den USA und ist dort in den iTunes Charts auf Platz 1 gesprungen. Nun ist Sie unterwegs mit Ihrer "40 Years it's a Heartache Tour 2018" und hat als Support SHARRON LEVY dabei. An diesem Abend spielte Sie nun in der Mitsubishi Electric Hall in Düsseldorf. Leider waren nur knapp 1000 Fans in der Halle was vielleicht daran lag das es ein Montag war, Sie einen Tag vorher in Essen und die Woche vorher in Düsseldorf gespielt hatte.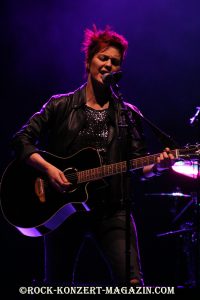 Pünktlich um 20:00 Uhr ging das Licht aus und SHARRON LEVY Kammer Ihrer Acoustic Gitarre auf die Bühne. Die gebürtige Israelin und zur Zeit in Österreich beheimatet wurde bekannt durch die Casting Show "The Voice of Germany", wo Sie NENA als Coach hatte. SHARRON LEVY präsentierte uns ihre eigenen Songs die ab Mai in der Acoustic Version auf CD erhältlich sind. Mit Songs wie "Still Herr", "Let me Heat your Scream" oder "Just you and me" wusste SHARRON LEVY nicht nur gesanglich zu überzeugen, nein Sie spielt dazu auch noch einen guten part auf der Gitarre. Leider hatte Sie nur 30 Minuten Zeit sich zu präsentieren aber die hat Sie genutzt und hat bestimmt den ein oder anderen Fan dazu gewonnen.
SHARRON LEVY verschwand von der Bühne und es gab einen fast nahtlosen Übergang zur Rockröhre BONNIE TYLER. Die Rockröhre der 80er Jahre spielte mit Ihrer Band, die Sie nach dem Song "Faster than The Speed of Night" einzeln vorstellte, alle ihre Hits, u. a. auch der erste große Hit "Lost In France", aber natürlich auch ihre beiden erfolgreichsten Songs "It's A Heartache", "Total Eclipse Of The Heart" und "Holding Out For A He-ro". Eine schöne Anekdote hatte Bonnie aber auch zu erzählen. Als Sie damals von RCA Record zu Sony Music gewechselt ist wollte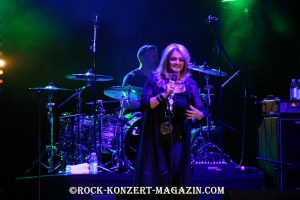 Sie unbedingt mit MEAT LOAF zusammen arbeiten was fast an der Plattenfirma gescheitert wäre, wenn Bonnie nicht so hartnäckig gewesen wäre. Aus der Zusammenarbeit sind mehrere Songs entstanden wie der Song "Total Eclipse of The Heart". Mit Ihrer unverkennbaren Stimme präsentierte BONNIE TYLER ein Potpourri Ihrer gesamten 40 Jahren und blieb nicht nur an diesem Abend im Gedächtnis Ihrer nicht nur älteren Fans sondern auch der jüngeren. Was nur Schade war das das gesamte Konzert um 22:00 Uhr schon vorbei war.
Setliste:
1. Have you ever Seen The Rain
2. Flat on The Floor
3. To Love Sombody
4. Lost in France
5. It's a Heartache
6. Medley Part I.
7. This Is gonna hurt
8. Medley Part II. (More than a Lover, Against The Wind, If you were a Woman, Bitterblue, Notes from America )
9. Total Eclipse of The Heart
10. Faster than The Speed of Night
11. Turtle Blues
12. River Deep, Mountain high
13. Simply The Best
14. Holding Out for a Hero