Nachdem es gestern extrem heiß war, ist es heute bedeckt und nur noch 28 Grad warm. Der Regen den es Nachmittags gegeben hatte war zu Beginn des zweiten Tages wieder weg und es könnte los gehen.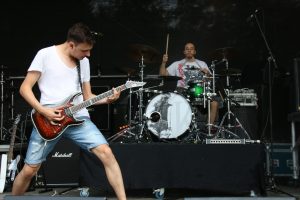 STAY FOCUSED aus Limburg hatten die Ehre den zweiten Tag zu eröffnen und auch wenn Sie eigentlich nicht ganz in den Ablauf des Tages passen haben Sie den ein oder anderen Song angepasst und hauten die ein oder anderen harten Riffs und Drums den noch nicht so zahlreichen Fans um die Ohren. STAY FOCUSED spielen Alternativen modernen Punk und sie sagen über sich selber das sie wie eine Pizza sind zum selbst belegen. Toller Vergleich aber leider zog das nicht so bei den Fans.
Auch an diesem Tag gab es in den Umbaupausen wieder Musik von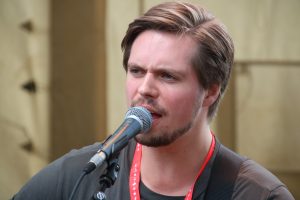 DENNY PURGE, der am Anfang ganz schön mit technischen Problemen zu kämpfen hatte. Diese beseitigte er umgehend und schon verstand man auch was er sang.
Mit NIGHT DEMON kam nun der erste größere Gig an die Reihe und schon würde es voll vor der Bühne. Die aus dem Underground in Kalifornien stammende Band zog schon ein anderes Kaliber auf der Bühne ab. Präsenz, Freude, Lust und den Kontakt zu den Fans suchend gaben sie alles was sie konnten. Sänger und Bassist Jarvis Leatherby kam dabei ganz schön ins schwitzen. Was ein wenig erstaunte war die Tatsache das die Fans Crowed Surfing betrieben und der Herr von der Security sich das in aller Ruhe von der Seite anschaute. Da besteht akuter Bedarf an mehreren Securitys denn die Fans wollen bei so einer Mucce surfen.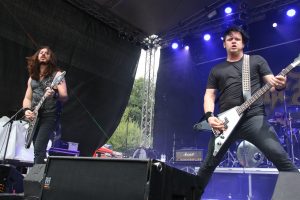 NIGHT DEMON konnten mit den Songs "Stranger in The Room", "Dawn Rider" oder "Curse of The Damned" die Fans so richtig in Wallung bringen. Und wenn man es bis dahin nicht geschafft hat kommt zum Song "The Chalice" einfach mal der Tod persönlich auf die Bühne. Rundherum ein geiler Gig von NIGHT DEMON.
Bei der Verlosung die es in der Umbaupause gab konnte man neben Merchandise oder Tickets für kommende Veranstaltungen auch den goldenen Becher gewinnen der niemals leer wird an diesem Abend. Um so grölender nahm der Gewinner diesen in Empfang.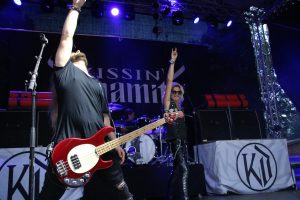 KISSING DYNAMITE die mit ihrem im Juni erschienenen neuen Album "Ecstasy" auf Tour sind und auf Platz 7 der Album Charts eingestiegen sind zogen noch mehr Fans vor die Bühne als NIGHT DEMON. Was auffiel war das sehr viele Frauen in der ersten Reihe standen, woran das wohl lag. Hannes hatte jedenfalls seinen Spaß und so gaben die Jungs von der ersten bis zur letzten Minute einmal mehr Vollgas was die Fans nur begrüßten. Es gab ein bunte Mischung aus alten und neuen Songs, wobei so Klassiker wie "DNA" oder "She's a Killer"nicht fehlen durfte. Die Fans erfreute es und sangen lauthals mit. Viel Nebel war auf der Bühne und die Gitarristen Jim, Ande und Bassist Steffen stellten sich immer wieder auf die Empören um sich vom Nebel einhüllen. Was dann durch das Licht und den Ventilatoren noch besser aussah. Vom neuen Album spielten Sie "I've got the Fire" und "Somebody's gotta do it" der Rest war älteren Datums aber dies tat der Show keinen Abbruch den Hannes weiß wie er die Massen bei Laune halten kann und tat dies auch. Ohne großartiges Gequatsche peitschten KISSIN DYNAMITE die Songs den Fans nur so um die Ohren.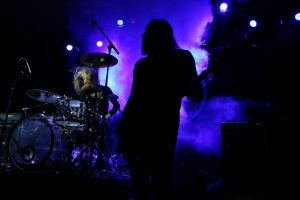 Nun war es schon soweit das mit KADAVAR der heutige Headliner spielte. Bevor KADAVAR auf die Bühne kamen ging der Veranstalter her, bedankte sich bei allen die an diesem Festival mitgearbeitet hatten und gab bekannt das die Rockfreunde im nächsten Jahr eine neue Veranstaltung ins Leben gerufen haben. Rock The River findet am 30.03.2019 das erstmal auf dem Rhein statt. Ist das vielleicht eine Konkurrenz fürs Metal Ship, welches am 16.03.2019 von Koblenz aus fährt? Wir werden es sehen.
KADAVAR die für Stoner Rock stehen legten dann los und hauten in die Seiten als wenn es kein Morgen gibt. Die Fans fanden dies richtig geil und gingen gut mit ab. Anscheinend gab es leichte Technische Probleme den Gitarrist und Sänger Christoph "Lupus" Lindemann gab leichte hektische Anweisungen zur Behebung der Probleme. Geschafft und es konnte sich ganz der Musik gewidmet werden was alle auch taten. Nach etwas mehr als 1 Stunde war dann nicht nur der Gig von KADAVAR zu Ende sondern auch das kleine aber feine Festival in Rengsdorf. Alle sind gespannt auf nächstes Jahr wenn es wieder heißt Rengsdorfer Rockfestival 2019 zum 39 mal.