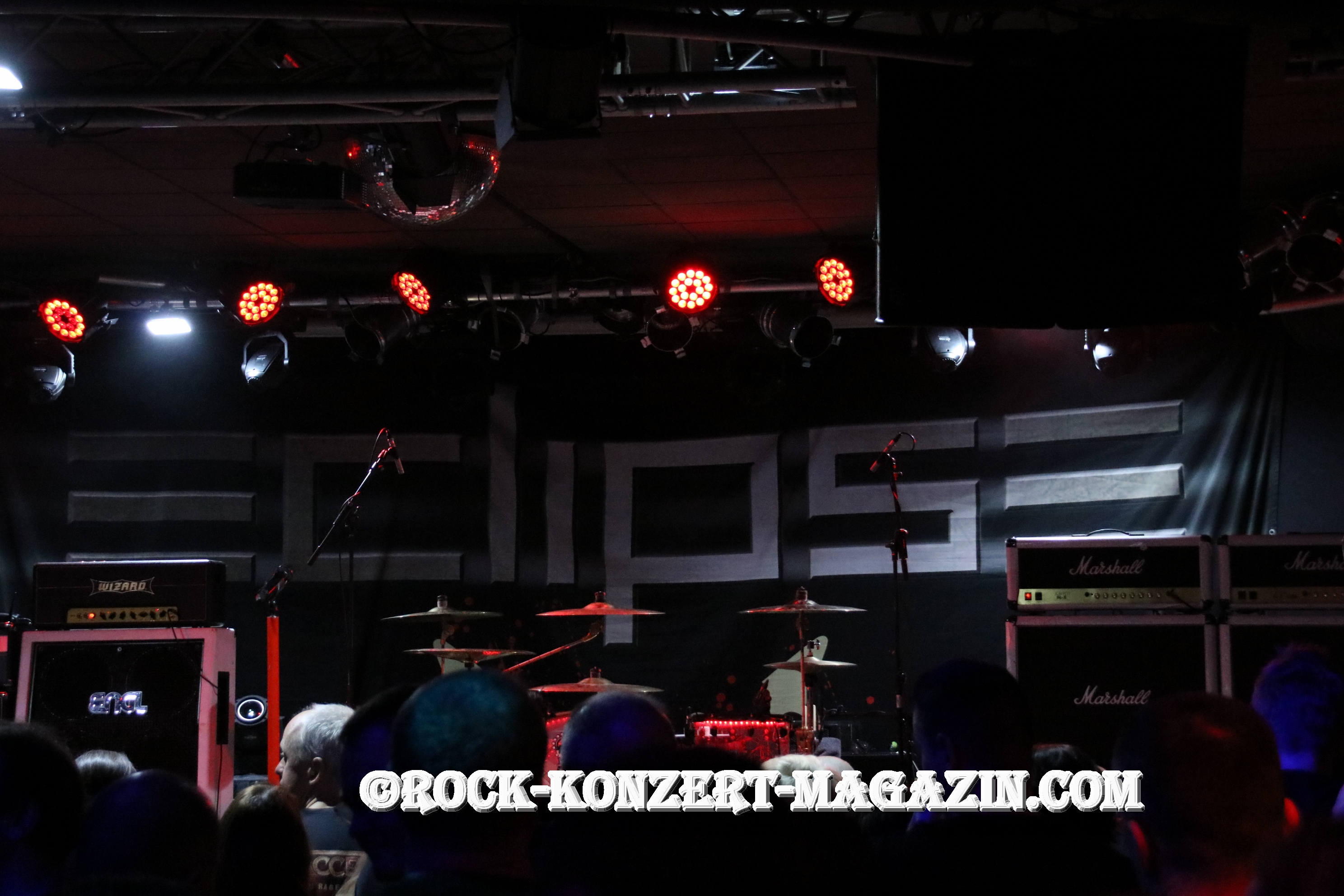 Glamourösen Rock gab es an diesem Abend im Kubana in Siegburg. Die aus Schweden stammenden ECLIPSE sind auf Europa Tour und spielten heute Abend im Kubana. Als Support sind die aus Pamplona stammenden XTASY um Frontfrau Silvia Idoate mit dabei.  Das Kubana, was sonst eigentlich immer recht voll ist war an diesem Abend gut zur Hälfte gefüllt und die Fans waren schon voller Vorfreude auf das was da kommen sollte.

Pünktlich um 19:30 Uhr wurde die Leinwand hoch gefahren und Drummer Gari Irazu hatte schon mal Platz genommen. Nach und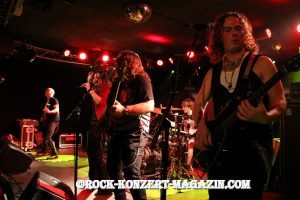 nach kamen Jorge, Chema und David auf die Bühne und den krönenden Abschluss bildete Silvia. Das Intro war vorbei und XTASY schmetterte den Fans von der ersten bis zur letzten Minute geilen Melodic Metsl auf's Hirn. XTASY die hier zu Lande noch nicht so in Erscheinung getreten sind haben richtig Spaß am spielen was sich dann auch auf die Fans übertrug die begeisternd mit feierten. Kein Wunder den Songs wie "Broken Heart", "Said and Done" oder "Stronger" kamen richtig geil rüber. Bisher stimmte also alles was Licht, Musik und Stimmung anbelangte. Es wurden auch nicht viele Worte verloren und so gab es einen Knaller nach dem anderen und nach guten, nein geilen 45 Minuten verabschiedeten sich XTASY artig von den Fans aber nicht ohne ein Foto mit Ihnen zu machen.
Setliste
1. Broken Heart
2. One in a Million
3. Under The Gun
4. Said and Done
5. Speed of Light
6. Second Chance
7. Stronger
8. Into The Fire
9. Never Surrender
10. Revolution

Umbaupause eignen sich zum Rauchen, Bier trinken oder die Bühne auf und um zu bauen. So auch heute wieder und dann war es soweit für ECLIPSE. 20:45 Uhr erklang ein Intro bestehend aus verschiedenen Songs, alle kurz angespielt, von Bands die in den 80er Jahren zur Glam Rock Szene gezählt worden sind. Dann legte Drummer Philip Crusner los und bearbeitete die Drumms und so kamen Magnus, Magnus und Erik auf die Bühne. Mit "Vertigo" legten ECLIPSE mal gleich einen furiosen Start in diese Show hin und die Fans gingen sofort mit und feierten die jungen Schweden.
Sänger Erik Märtensson hüpfte und sprang auf der Bühne herum als gäbe es kein morgen mehr. Ganz schön Schweiß treibend so eine Show. Neben älteren Song gab es auch Songs aus dem 2017 erschienenen Album "Monumentum" zu hören. Das Erik nicht nur gut singen und das Publikum unterhalten kann, bewies er beim Song "Jaded" wo er mit Gitarre den Song interpretierte aber vorher noch ein paar Riffs von AC/DC spielte, da er findet das Sie die geilste Band der Welt sind. Nach dem Drum Solo präsentierten Erik und Magnus eine Acoustic Version "Battle Ground". Da konnte man sehr gut hören das Erik eine geile Stimme hat und die Songs leicht im Stile von JON BON JOVI interpretierte. Nach der Acoustic Session ging es dann wieder weiter mit knalligeren Songs wie "Downfall of Eden" oder "Black Rain".
Mit den Zugaben "I don't wanna", "Never" und "Runaways" geht auch diesmal ein geiler Abend mit zwei geilen spielfreudigen Bands zu Ende und sowohl von XTASY als auch von ECLIPSE wird man bestimmt noch öfters was hören und sehen.
Setliste
1. Vertigo
2. Bleed and Scream
3. The Storm
4. Wake me up
5. Jaded
6. Hurt
7. Caught up in The Rush
8. Drum Solo
9. Acoustic
10. Downfall of Eden
11. Black Rain
12. Happy Instrumental
13. Blood Enemies
14. Stand on your Feed
————————————-
15. I don't wanna say i'm sorry
16. Never
17. Runaways