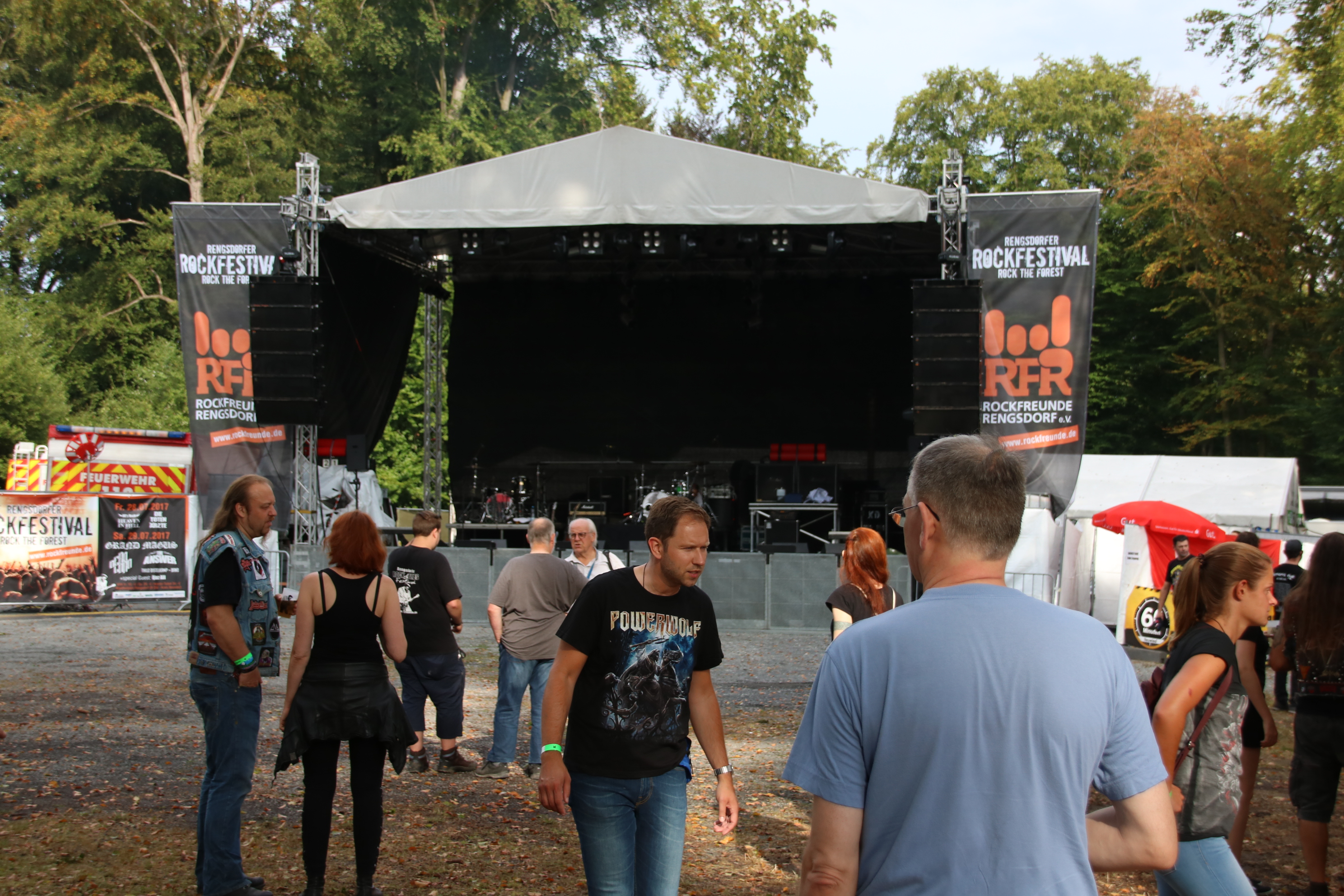 Dieses Jahr jährt es sich zum 38. mal das Rengsdorfer Rockfestival im beschaulichen Rengsdorf. Da wir das Festival das erstmal besuchen sehen wir uns auf dem kleinen Festivalgelände einmal um und stellen fest das es Essen und Trinken zu humanen Preisen gibt. Es läuft alles über ein Bon/Chip System. Ein Bon kostet 1,20 €. Das 0,3 ltr. Pils kostet 2,40€ die Pommes oder die Bratwurst auch. Viel trinken war am ersten Tag angesagt denn die Temperaturen lagen bei 37 Grad, gefühlt 50 Grad da brachten auch die paar Bäume auf dem Gelände keine Abkühlung. Eigentlich kann man das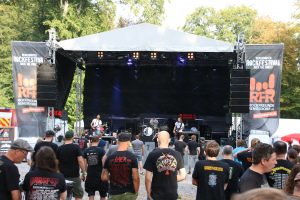 Rengsdorfer Rockfestival nicht Festival nennen, denn am ersten Abend waren KIXX und MOTÖRHAZE auf der Bühne zu sehen und am zweiten Tag erwartet uns STAY FOCUSED, NIGHT DEMON, KISSIN DYNAMITE und KADAVAR. Manche Festivals machen das an einem Tag und noch mehr. Los ging es bei dieser Hitze mit KIXX. KIXX stehen für glanzvollen Rock aus den 80'ern, den Sie mit inspirierenden Melodien und legendären Riffs kombinieren. So ist es auch nicht verwunderlich das KIXX Bands wie MÖTLEY CRÜE, WHITESNAKE, KISS oder DEF LEPPARD gut finden. Was man ihnen hoch anrechnen muss ist das Sie das alles mit einer geilen Live Performance an die Fans bringen. Trotz der Hitze fanden sich einige Hundert Fans vor der Bühne ein die lauthals mitsangen und Party machten.
Während der Umbaupausen gab es etwas ganz anderes geboten. DENNY PURGE seines Zeichens Singer Songwriter unterhielt die Fans mit guten Acoustikstücken.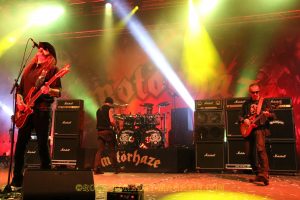 Nach der Umbaupause kamen MOTÖRHAZE auf die Bühne. Sänger Hans Haberkörn der Lemmy verdammt ähnlich sieht kam auf die Bühne und begrüßte die johlende Menge mit den Worten:"We are MOTÖRHAZE and we okay Rock'n Roll". So wie Lemmy es auch immer getan hat. Jetzt haben die Jungs auf der Bühne Vollgas und da dürften Songs wie "Ace of Spade", "Hellraiser", "Killed by Death" oder "Sympathie for The Devil" nicht fehlen.
Für ein kleines Festival wie das Rengsdorfer Rockfestival schon nicht schlecht aber für unseren Geschmack hätte hier jetzt noch eine Band hin gehört die nicht nur Cover oder Songs nachspielt.
Wir sind gespannt was uns am zweiten Tag erwartet da kommen 4 Bands die keinen Cover im Gepäck haben.
MOTORHÄZE: