Die britischen Power-Metaller DRAGONFORCE kommen mit dem neuen Album "Reaching Into Infinity" im Rücken auf Tour! Hochgeschwindigkeits-Power-Metal der besonderen Art erwartet die Fans auf dieser Tour. Man darf gespannt sein was uns DRAGONFORCE auf dieser Tour so bieten.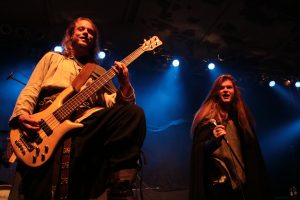 Die schwedischen Adventure Metaller TWILIGHT FORCE schwingen sich erneut auf ihren Drachen, um Europa heldenhaft zu beschützen denn sie sind als Support für die britischen Speed Meister DRAGONFORCE auf ihrer herbstlichen Tour durch Europa mit dabei. Die tapfere Reise begann am 18. Oktober in Eindhoven und findet im November ihr glorreiches Ende in Oslo. Heute ist die Essigfabrik in Köln das Ziel der Verteidigung. Um zehn vor Acht ging es dann auch los mit dem beschützen der Essigfabrik. TWILIGHT FORCE kam zwar nicht mit einem Drachen auf die Bühne aber mit geballter Power von der ersten bis zur letzten Minute. "Battle of Arcane Might" war mal gleich zu Anfang ein Brett von TWILIGHT FORCE, worauf die Fans auch mächtig abgingen.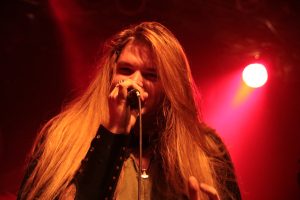 Dies zog sich durch den gesamten Gig. Mit Kraft, Power, Dynamik und viel Spaß gaben TWILIGHT FORCE Songs wie "To The Stars", "Gates of Glory" oder "Riders of The Dawn" zum Besten. Geiler Sound der mächtig auf die Gehörgänge ging kam dabei heraus. Eine Dreiviertelstunde hatten TWILIGHT FORCE Zeit die Essigfabrik und die zahlreichen Fans zu beschützen dann aber mussten Sie unter tosendem Applaus die Bühne räumen. Eine absolut gelungene und geile Show die man sich jederzeit nochmals anschauen und hören kann.
Setlist:
1. Battle of Arcane Might
2. To The Stars
3. Riders of The Dawn
4. Flight of The Sapphire Dragon
5. There ans Back again 
6. Gates of Glory
7. The Power of The Ancient Force
Nach der Umbaupause kamen dann DRAGONFORCE auf die Bühne um Ihren "200 PS" Power Metal zu zelebrieren. Wenn man sich mal anschaut wie Drummer Gee Anzalone auf die Trommeln haut und dem soliden aber Fingerflinken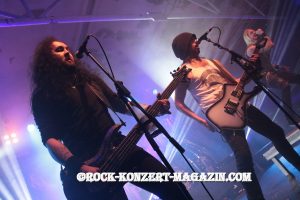 Bassisten Frédéric Leclercq auf die Finger schaut, kann man schon sagen das es eine Grundlage ist um die beiden Gitarristen Herman Li und Sam Totman, die beiden Gründungsmitglieder von DRAGONFORCE, bei Ihren unglaublichen Doppelgitarrenspiel zu sehen und zu hören. Alle zusammen mit Sänger Mark Hudson ergeben Powermetal hoch neun. Deswegen ließen sich DRAGONFORCE auch nicht lange bitten und so ging es gleich mal mit dem Opener "Ashes of The Dawn" in Richtung Vollgas. DRAGONFORCE ließen nicht viele Worte zwischen den Songs sprechen und so ging es zügig voran. Immer wieder wurden die Fans von Sänger Marc aufgefordert zu hüpfe und einen Circle Pit zu machen, was Sie auch anständig taten. Die Security, die heute verstärkt im Graben stand um die ganzen Crowdsurfer in Empfang zu nehmen hatte bis dahin nichts bis gar nichts zu tun. Nachdem sich Frédéric und Gee jeweils an der Gitarre bzw. an den Drums ausgetobt hatten war einige Zeit um sich ein klein wenig auf Deutsch zu unterhalten. Dabei verriet Frédéric das er mal eine Zeit lang in Krefeld gewohnt hat und daher gut Deutsch spricht, was bei Marc für etwas Verwunderung sorgte. Weiter ging es auf der gnadenlosen Jagd nach dem schnellsten Song des Abends. Das DRAGONFORCE nicht nur schnell und kurz spielen können bewiesen Sie mit dem Song "The Edge of The World" der mit guten 11 Minuten der längste Song in der Bandgeschichte von DRAGONFORCE ist.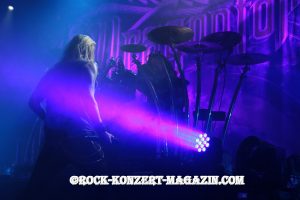 Das man aus einem 4 Minütigen Song auf dem Album auch ein gut 18 Minuten Live Song machen kann, bewiesen DRAGONFORCE bei "Cry Thunder". Immer wieder wurde mit den Fans zusammen der Refrain gesungen, die lauthals mitsangen. Wenn man jetzt dachte das war es, hatte man sich getäuscht 1 Song noch dann ging DRAGONFORCE erstmal von der Bühne um dann noch 2 Songs als Zugabe zu präsentieren. DRAGONFORCE wurde nach den beiden Songs gefeiert als gäbe es kein Morgen mehr aber irgendwann geht alles mal vorbei.
Wer heute nicht dabei war hat echt was verpasst, denn so viel Vollgas-Powermetal von beiden Bands an einem Abend war echt geil. Nutzt die weiteren Konzerte um euch das nicht entgehen zu lassen.
Setlist:
1.     Ashes oft he Dawn
2.     Operation Ground and Pound
3.     Judgement Day
4.     Seasons
5.     Curse of Darkness
6.     Fury oft he Storm
7.     Guitar Solo/Drum Solo
8.     Heart of a Dragon
9.     The Edge oft eh World
10.  Cry Thunder
11.  Valley oft the Damned
————————————————
12.  Three Hammers
13.  Through the Fire and Flames