Mit der "Master of The Light" Tour waren FREEDOM CALL schon Ende 2016 und Anfang 2017 unterwegs. Da die Resonanz so riesig war, sind Sie nun wieder auf Tour um mit den Fans eine geile Heavy Metal Party zu feiern. Und das geschah von der ersten Minute an. Auf Ihrer Tour werden FREEDOM CALL begleitet von SEVEN THORNS, einer Dänischen Neo Power Metal Band. SEVEN THORNS haben das Zeug der nächste große Dänische Metal Export Act zu werden, die in die Fußstapfen von ROYAL HUNT oder PRETTY MAIDS treten können.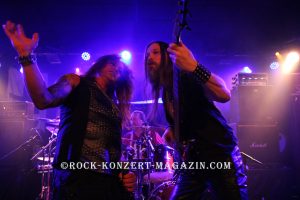 Mit zwei Alben im Gepäck waren SEVEN THORNS nach Siegburg angereist um die Fans von sich zu begeistern. Was einem dabei direkt auffiel war das Sänger Björn Asking sich irgendwie immer wieder in den Vordergrund drängen musste. Nun kann man sagen der Sänger/ die Sängerin muss immer im Vordergrund stehen. Ja das ist richtig aber so wie es Björn tat war es auf der einen Seite schon anbiedern. Jedes Mal wenn sich Bassist Mads Molbeak oder Gitarrist Gabriel Tuxen Aufbauten war Björn schon zur Stelle um mit ins Licht gerückt zu werden. Die Songs die uns SEVEN THORNS darboten, waren kraftvoll, dynamisch und alle hatten großen Spaß an Ihrem Gig und das brachten SEVEN THORNS auch rüber. Mit Songs wie "Liberty", "Eye of The Storm", oder "Forest Majesty" wussten SEVEN THORNS die Fans zu begeistern.
Nach der Umbaupause um 21:15 Uhr kamen Sie dann auf die Bühne. Jetzt kannte die Begeisterung keine Grenzen mehr und gleich mit dem Opener "Tears of Babylon" sprang der Funke noch mehr über. Es wurde geklatscht, gehüpft was das Zeug hält. Immer wieder skandierten die Fans "FREEDOM CALL, FREEDOM CALL" was Frontmann Chris Bay immer wieder dazu veranlasste zu sagen wie geil es doch heute Abend hier in Siegburg ist.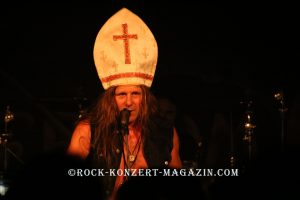 Er hatte aber auch recht und die gut 350 Fans im Kubana dankten es mit viel Applaus. Neben den Vollgas Songs gab es aber auch noch die ein oder andere Anekdote von Chris zu hören. Vor dem Song "The Quest" musste Chris, vor allem den männlichen Fans mitteilen das Sabine die Vorsitzende des Fanclub Verbandes heute geheiratet hatte und damit vom Markt ist. Für Sabine spielten FREEDOM CALL diesen Song. Was auch noch interessant war, ist wie Chris sich eine Heilige Heavy Metal Messe vorstellt. Für ein Video zum Song… vom neuen Album "Master of Light" hatten sich FREEDOM CALL was seidneres ausgedacht und riefen in Facebook dazu auf alle zum Dreh zukommen um die Heilige Metal Messe zu zelebrieren. Er setzte sich vom Papst die Mütze auf und spielten den Song "Halleluja", der nahtlos in den Song "Metal Is for everyone" überging. Damit verschwanden FREEDOM CALL von der Bühne um mit den ersten Klängen von "Power&Glory" wieder zu kommen. Die Fans übernahmen dann das Kommando und schmetterten lauthals den Refrain "Power&Glory". So ging ein geiler Abend mit einer geilen Band zu Ende. Die Fans feierten noch Minuten nach dem letzten Ton lautstark FREEDOM CALL.
Setlist:
Tears of Babylon
United Alliance
Kings Rise and Fall
Union oft he Strong
Freedom Call
Hammer oft he Gods
Master oft he Light
The Qust
Carry on
Mr. Evil
A Perfect Day
Halleluja
Power & Glory
Warriors
Land of Light