Die deutsche Melodic Power Metal Institution ORDEN OGAN sind im Oktober und November auf Headline-Tour quer durch Europa unterwegs. Im Handgepäck: Das neue Album "Gunman" und die Special Guests RHAPSODY OF FIRE dazu noch UNLEASH THE ARCHERS.
ORDEN OGAN ziehen auf ihrem neuen Studioalbum "Gunman" schneller als ihr Schatten! 10 Mal voll auf die 12 – und
das mit einer Frische und Selbstverständlichkeit, wie sie nur sehr selten zu finden ist. Dies hofften wir auch an diesem Abend im Kubana zu sehen. Los ging es im ausverkauften Kubana um 19:30 Uhr mit der aus Vancouver stammenden Band UNLEASH THE ARCHERS.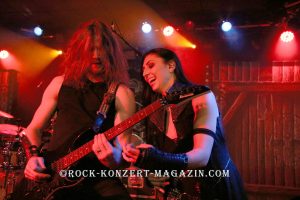 Die Band um Frontfrau Brittany Slayes wussten von der ersten Minute an zu gefallen. Lag es an der Optik von Brittany, die einen ganz Körper Anzug anhatte mit vielen Löchern an den Seiten und an den Beinen. Nein es war nicht nur die Optik denn was uns da von UNLEASH THE ARCHERS um die Ohren geknallt wurde war ein richtiger Ohrenschmaus. Leider verstand man Brittany nicht immer so deutlich was etwas schade war. Wenn man dann so Brecher wie "Test your Metal" oder "The Matriarch" um die Ohren geknallt bekommt macht es nochmals umso mehr Spaß. Die Fans gingen von der ersten Minute an gleich voll mit. Immer wieder bangten Brittany und Co. was das Zeug hielt. Auch wenn nur gute 35 Minuten waren, so ist der Einstieg in den Abend gnadenlos geil gelungen.
Setlist:
1. Apex
2. Test your Metal
3. Cleanse The Bloodlines
4. The Matriarch
5. Generell of The Dark Army
6. Tonight we Ride
Jetzt wurde die Zeit genutzt, wofür? Klar zum Umbauen. Nach dem Umbau kamen dann RHAPSODY OF FIRE. Auch hier war von der ersten Minute gleich Stimmung unter den 400 Fans im Kubana. Das Intro "In Príncipio" erklang und da waren Sie auch schon. Nur Giovanni hatte wohl etwas den Gang auf die Bühne verpasst, denn er kam etwas später, was bei den Bandkollegen wohl etwas Verirrung hervor rufte.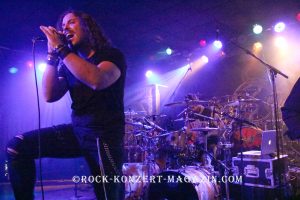 Keine Sorge er kam dann und knallte den Fans gleich mal "Distant Sky" auf's Hirn. So ging es dann weiter und die Fans feierte weiter eine geile Party. Guter Klang der aus den Boxen kam gepaart mit geilem Licht machte auch die zweite Show an diesem Abend richtig Spaß. RHAPSODY OF FIRE hatten eine gute Dreiviertelstunde Zeit um die Fans ein zu heizen. Und so gingen Sie von der Bühne mit einem geilen Gefühl.
Setlist:
1. Distant Sky
2. Dargor, Shadowlord of The Black Mountain
3. Flames of Revenge
4. Dawn of Victory
5. The Magic of The Wizards Dream
6. Holy Thunderforce
7. The March of The Swordmaster
8. When Demons awake
9. Emerald Sword
10. Outro Custode do Pace
Jetzt war ja alles hergerichtet für ORDEN OGAN. Die Bühne war aufgeräumt, die Instrumente gestimmt, also konnte es losgehen. Mit Ihrer Bühnendeko, passend zum neuen Album "Gunman" standen links und rechts in der Ecke jeweils Puppen mit Totenkopf, Cowboyhut und Gewehren in der Hand. Die Augen der beiden leuchteten in Knall rot. Lasst die Spiele beginnen und mit dem Song "To new Shores of Sadness" legten ORDEN OGAN auch gleich mal Knaller weise vor um mit dem absoluten Hitsong der Band "F. E. V. E. R." gleich Mannschaft zu legen.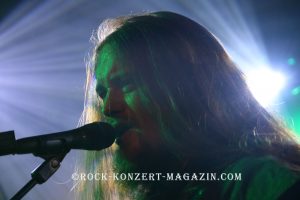 Die Stimmung kochte über im rappelvollen Kubana und die Fans sangen aus tiefster Kehle immer wieder mit. Schlag auf Schlag ging es weiter, auch hier war der Sound an diesem Abend echt klasse, dazu wurden ORDEN OGAN auch ins rechte Licht gerückt so das es für jeden ein Fest war. Nachdem der Titelsong "I am The Gunman" gespielt wurde durften die beiden Revolverhelden in den Ecken auch ihre Gewehre abfeuern und ein paar Luftschlangen kamen dabei heraus. Egal, darum ging es ja nicht, es geht um die Musik. Mit viel Elan, Power und Dynamik knallten ORDEN OGAN den Fans weitere Songs wie "Fields of Sorrow" oder "One Last Chance" aufs Hirn um sich dann erstmal mit letztgenanntem Song von den Fans zu verabschieden. Nach 3 Minuten waren Sie wieder da und spielten noch 4 Zugaben ehe Sie sich dann endgültig verabschiedeten, unter tosendem Applaus und weiteren Zugabe rufen. Diesmal kamen Sie aber nicht wieder.
Ein wirklich geiler Abend mit 3 richtig geilen Bands ging also zu Ende und die Fans werden wieder kommen, wenn es wieder Geist: "ORDEN OGAN Gunman Tour"
Setlist:
1. To new Shores of Sadness
2. F. E. V. E. R.
3. Here at The End of The World
4. Gunman
5. Deaf Amine The Blind
6. Sorrow Is your Tale
7. Fields of Sorrow
8. The Lord of The Flies
9. Come with me To The other Side
10. Forlorn and Forsaken
11. One Last Chance
—
12. To The End
13. Angels war
14. We are Pirates
15. The Things we Believe in