THE MISSION wurde von Wayne Hussey und Craig Adams gegründet, ehemals Mitglieder der Band The Sisters of Mercy, die sie nach einem Streit mit Sänger Andrew Eldritch verlassen hatten. Zunächst tourten sie unter dem Namen "The Sisterhood". Dieser Name wurde jedoch von Eldritch beansprucht, worauf hin sich die Band "THE MISSION" nannte und es mit den folgenden Platten schnell schaffte, an den Erfolg von The Sisters of Mercy anzuknüpfen. Nach einer einigen Umbesetzungen und zeitweiligen Auflösungen der Band ist THE MISSION jetzt wieder unterwegs und haben das einzige Konzert in Deutschland dabei in der Zeche Bochum. Dabei wurden Sie Supported von der aus Köln stammenden Band HOLYGRAM.
Es gibt viele Bands im Bereich Dark Wave und Post Punk aber zum Glück auch jüngere Bands wie HOLYGRAM die versuchen ihre eigene Dark Wave und Post Punk Musik zu kreieren. Manche Bands betonen das Kernige und Freche aus dem Post Punk, während andere Projekte die wavigen Stimmungen zelebrieren, die vor etlichen Jahren fast komplett aus dem Blickfeld alternativer Musikfans entfeucht waren.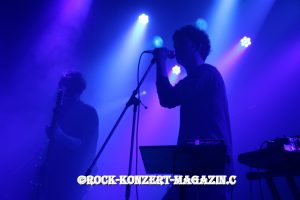 Für HOLYGRAM war es dann soweit das um 20:00 Uhr die Lichter ausgingen und mit einer Nebelwolke kamen Sie auf die Bühne. Die Musik war knallig, wavig und etwas düster, so wie das Licht. Während der gesamten Show wurde HOLYGRAM in blaues Licht getaucht, das nur durch Stroposkoplicht unterbrochen wurde. Viele Technische Einlagen lagen der Musik bei aber gerade das macht diese Musik aus und so gingen die Fans auch mit. Von Ihrer Debüt EP durften Songs wie "Hideaway", "Daria" oder "Still There" nicht fehlen. Nach 40 Minuten war ein gelungener Auftritt einer vielversprechenden Band zu Ende, die aber auch noch reichlich Luft nach oben hat. 
Jetzt war es soweit und THE MISSION waren an der Reihe. Um 21:15 Uhr ging das Licht aus und die Melodie zu "Tower of Straingh" erklang. Da war er auch schon Mr. Wayne Hussey himself. Er spielte auf seiner Gitarre und sang den Song bis Schlagzeuger Mike Kelley mit Einstieg. Mike haute einmal auf die Drums und schon hatte er für eine Technische Panne gesorgt. Die Einspielungen bei dem Song vom Band wollten nicht mehr. Dies bescherte Wayne und Band eine ungewollte Pause von knapp 30 Minuten. Dann funktionierte alles wieder und das Konzert begann von neuem. Die Fans in der ausverkauften Zeche in Bochum nahmen es mit Humor und feierten trotzdem oder erst recht? Egal danach ging es störungsfrei weiter und so spielten Wayne und Band einen Song nach dem anderen darunter auch so Klassiker wie "Severina", "Butterfly" oder "Wasteland".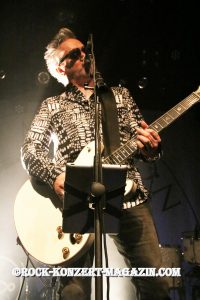 Auf die Frage von Wayne wer 1994 schon beim Konzert war als er das letzte Mal in der Zeche spielte meldeten sich einige Fans die er dann lächelnd als Lügner bezeichnete. So machte er weiter und die Stimmung war wirklich geil. Geiler Sound und geiles Licht gaben dem ganzen noch die Atmosphäre die es brauchte und so ging THE MISSION um kurz vor halb zwölf von der Bühne, stürmisch gefeiert und bejubelt von den geilsten Fans des Abends. Schade das es nur ein Konzert in Deutschland gab, das kann man sich auch gerne noch zwei oder dreimal anschauen. 
Setliste: 
 1. Temple of Straingh
 2. Beyond The Pale 
 3. Serpent Kiss
 4. Garden of Delight
 5. Tyrann of Secrets
 6. Severina
 7. Swoon
 8. Can't see't Ocean
 9. Like a Child again 
10. Butterfly
11. Metamorphosis
12. Wasteland
13. Coming Home
14. Belief
15. Swang Song
16. Marian
17. Deliverance