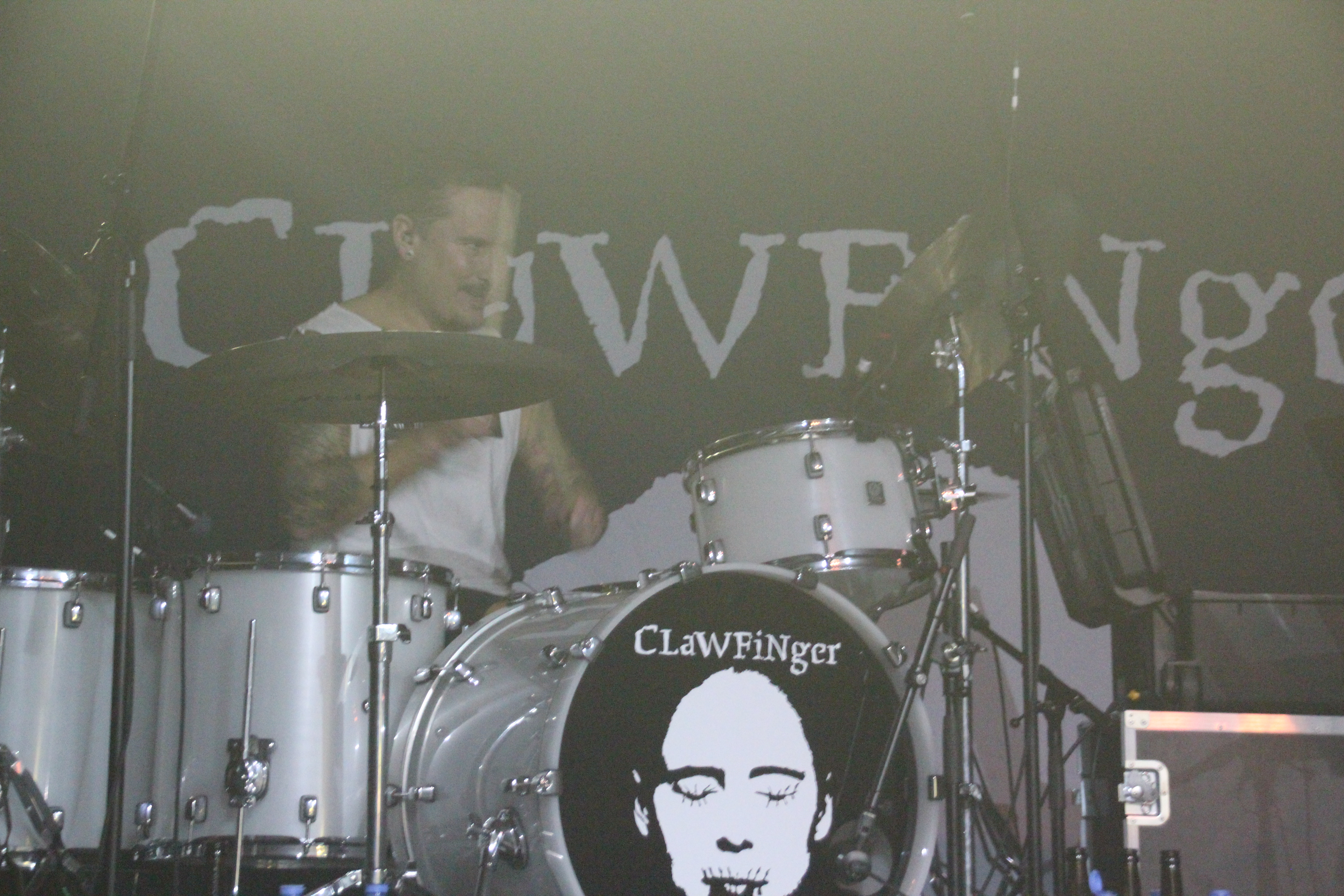 CLAWFINGER die sich eigentlich 2013 aufgelöst hatten, sind anlässlich des 25-jährigen Jubiläums des Debütalbums "Deaf Dumb Blind" zur Zeit auf Tour in Europa. Auf Ihrer Tour haben Sie Station in der Matrix in Bochum gemacht und haben als Support APORN mitgebracht. CLAWFINGER sind angetreten um die picke packe volle Matrix in ihre Einzelteile zu zerlegen.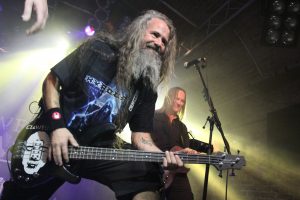 "Dicke Luft" und Nebel ziehen über die Bühne und zum um getexteten Song von Shirley Basseys "Goldfinger" erklimmen CLAWFINGER die Bühne. So war der Start schon mal gelungen und es folgte eine 90 + minütige Show die mehr als energiegeladen war. Kann man einen Abend besser beginnen als mit einem des wohl unbestrittensten Highlights der Bandgeschichte? "Nigger" so der Titel des openers, gefolgt vom legendären "The Truth". Als CLAWFINGER dann noch als 3. Song "Rosegrove" den Fans aufs Hirn drücken, gibt es in der Halle kein Halten mehr. So erklärte sich auch warum an diesem Abend 2 Security im Graben standen, denn neben Moshpits, und rhythmischem Klatschen gab es auch die ein oder anderen Crowdsurfer.
Spaß und Energie verbreiten CLAWFINGER an allen Ecken und Enden und das sieht man den Jungs auch an. Frontman Zak Tell hüpft dabei über die Bühne wie vor 20 Jahren. Highspeed Songs wechseln sich mit etwas lnagsameren Songs ab und so gab es nach dem extrem schnellen Song "Don´t get me wrong" der als depressiver Love Song angekündigte "I need you". So wird das Album komplett und am Stück gespielt was bei den Fans fast völlige Ektase auslöst. Das Zak selbst zum Stagediving lust hat zeigt er den Fans beim Song "Catch me" und die Fans tragen ihn eine Runde durch die Halle. Nicht nur Zak hat eine enorme Bühnenpräsenz sondern auch Keyboarder und Co-Vocalist Jocke Skog. Er animierte die Fans und war auch für einen Spaß zu haben, in dem er Zak im Einkaufswagen über die Bühne schob. Das CLAWFINGER nicht nur Spaß verbreiten sondern auch kritisch mit den ein oder anderen Themen umgehen bewiesen sie wieder beim Song "Wonderful World". Zak bemerkte, das sich die Welt in den letzten 25 Jahren nicht gerade zum Positiven verändert hätte und das wir aufpassen müssen das es nicht noch schlimmer wird. Mit den Songs "Sad to see your sorrow" und "I don´t care" ging der "Deaf Dumb Bind"-Part zu Ende. "1993 wäre das Set nun zu Ende und das Konzert vorbei" gab Zak den Fans zu verstehen die das gar nicht so dolle fanden aber glücklicher weise hatten CLAWFINGER noch einiges auf Lager.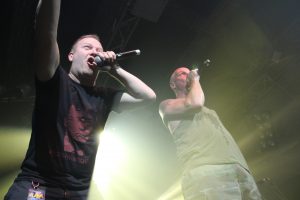 Jetzt präsentierten CLAWFINGER den Fans eine Mischung aus den andern sechs Alben. Ob "Prisoners", "None the Wiser" oder "Biggest & The Best" kommen bei den Fans an diesem Abend genauso gut an wie der Rest. Bei "The Price we pay" gab es dann besondere Gänsehautstimmung, denn der Song besticht durch seinen melodischen Streicherpart im Intro und während des Refrains, den die Fans minutenlang mitgesungen haben.
Für einen besonderen Lacher sorgte dann ein Fan in der ersten Reihe. Er forderte vehement den Song "Rosegrove". Zak war sichtlich aüsiert denn dieser Song wurde schon an dritter Stelle der Setliste gespielt und so gab er amüsiert zum Besten "That weed must be good" und so gab es das Intro nochmals von der Band gespielt.
Den Abend beschließen CLAWFINGER mit dem Song "Do what i say" und man merkte das, obwohl CLAWFINGER sich nach längerer Zeit wieder zusammen getan haben, sie immer noch genug Power haben um eine geile Show und einen geilen Abend auf der Bühne zu bringen.
Bilder von Clawfinger hier: http://rock-konzert-magazin.com/konzertfotos-a-e/clawfinger/
Setlist:
1. Nigger
2. The Truth
3. Rosegrove
4. Don't Get Me Wrong
5. I Need You
6. Catch Me
7. Warfair
8. Wonderful World
9. Sad to See Your Sorrow
10. I Don't Care
11. Prisoners
12. None the Wiser
13. Nothing Going On
14. Money Power Glory
15. Biggest & the Best
16. Recipe for Hate
17. The Price We Pay
18. Two Sides
19. Rosegrove Intro
20. Do What I Say