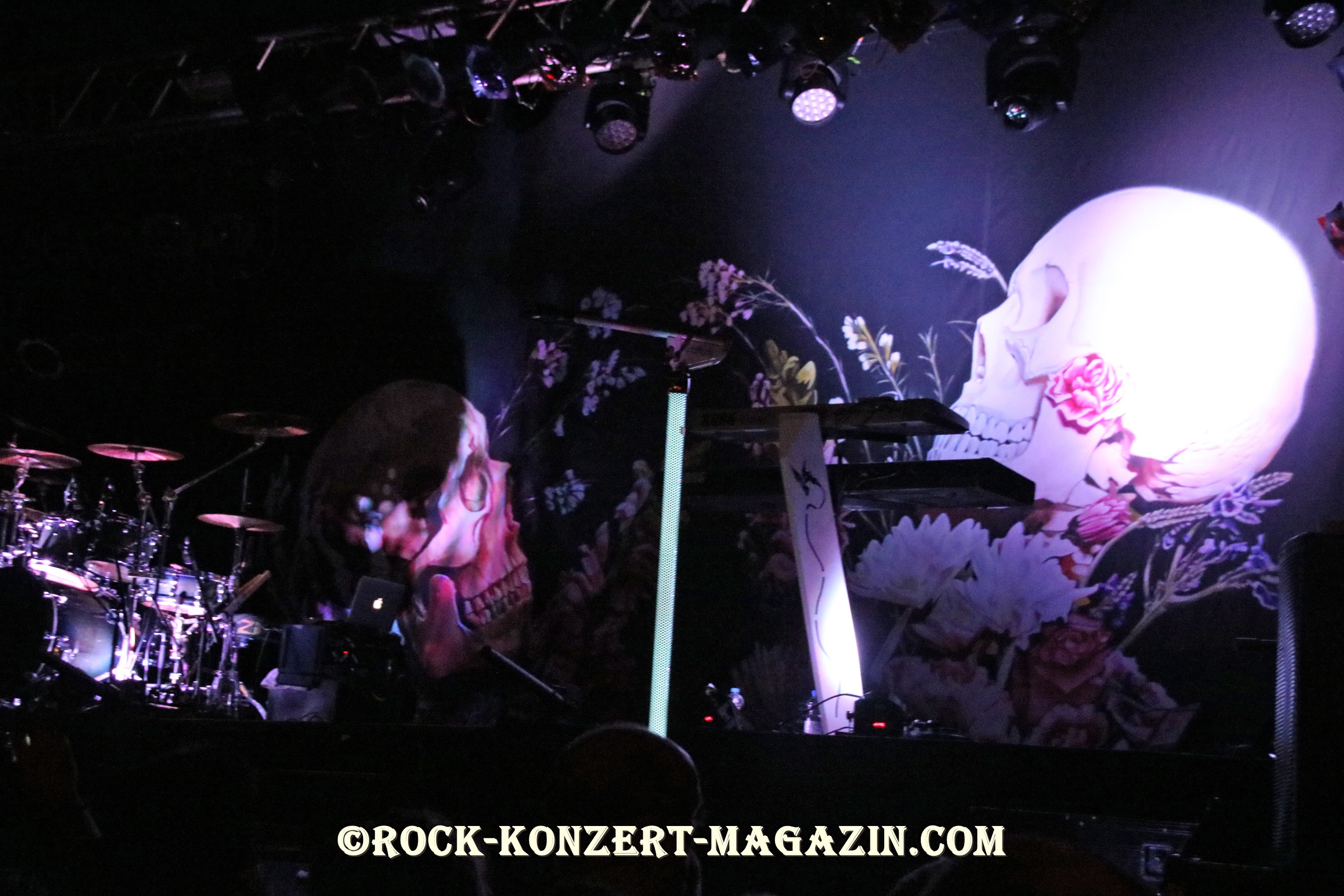 Es war längere Zeit ruhig um die Niederländische Formation von DELAIN aber jetzt ist es wieder soweit und Charlotte Wessels und Ihre Jungs treten musikalisch wieder in Erscheinung. Im Herbst kommt eine etwas andere EP auf den Markt dessen Namen wir noch nicht wissen. Passend dazu gaben DELAIN 2 exklusive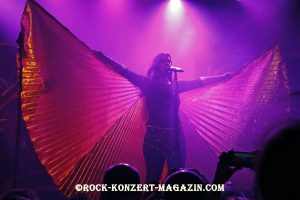 Konzerte, eins fand in Köln statt und eins in Harlem in den Niederlanden. Für Ihren Auftritt in Köln haben sie sich die aus Bayern stammenden Symphonic Metaler von VISIONATICA eingeladen. Angeführt von ihrer singenden Wölfin Amara Avodem startete die VISIONATICA 2016 in die erste Liga des Symphonic Metal. Mit ihrem fantastischen und kristallklaren Soprangesang, kombiniert mit kraftvollen Grooves, melodischen Gitarren, sowie beeindruckenden Orchesterelementen ihrer Verbündeten , dieses Musical Pack sprengt mit seinem Debüt "Force Of Luna" jede Menge Staub in der Szene. So war es auch an diesem Abend. Gleich mit dem Opener "Force of Luna" spielten sich VISIONACTIA in die Ohren der Fans, die beim Anblick von Amara auch gleich näher an die Bühne kamen. Da es an diesem Abend keinen Fotograben für uns Pressevertreter gab hatten Sie es noch einfacher, den Bands nahe zu sein. Amara stand auf der Bühne und breitete während des Songs immer wieder rot-goldene Flügel aus, so sah Sie aus wie ein Engel. Dazu diese Stimme, passt. Auch die Jungs gaben an der Gitarre oder am Bass, sowie am Schlagzeug Gas und man merkte Ihnen an das Sie viel Spaß haben vor so einem Publikum zu spielen. Die Stimmung war in der nicht ganz voll besetzten Live Music Hall trotzdem fantastisch. Eine gute ½ Stunde durften VISIONATICA zeigen warum DELAIN sie als Support hier in Köln mitgenommen hatten.
Bilder von VISIONATICA hier: http://rock-konzert-magazin.com/konzertfotos-2018/visionatica/
Eine kurze Umbaupause und dann wurde es dunkel in der Live Music Hall. Das Intro erklang und die Musiker kamen auf die Bühne. Kurz darauf erschien Charlotte Wessels in einem roten Kleid und mit neuer Farbe in den Haaren auf der Bühne. Wow was für ein Anblick.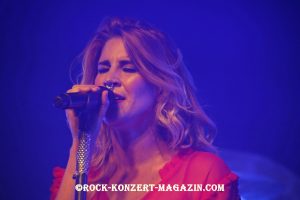 Mit "Go Away" wurde die Stimmung in der Live Music Hall getestet um dann mit einer Live Premiere weiter zu machen. "Masters of Destiny" gab es dann von der im Herbst erscheinenden EP. Nach dem Song sprach Charlotte ein paar Worte zu den Fans um Ihnen mit zu teilen das es sich bei dem gehörten Song um eine Live Premier gehandelt hat. Ist vielleicht clever gewesen, dies nachher zu machen den die Stimmung war auch beim zweiten Song ganz oben. Die Jungs und Charlotte hatten eine Menge Spaß an diesem Abend dies sah man allen Beteiligten an, denn sie hüpften und sprangen über die Bühne als wenn es das erste Mal ist das Sie auf einer Bühne standen. Nicht nur Songs von der neuen EP wurden den Fans aufs Hirn gedrückt sondern auch Klassiker wie "Suckerpunch" oder "Fire with Fire". Elianne Anemaat unterstützte DELAIN bei den Songs "Scarlet" und "Danse Macabre" am Contrabass. Ein kurzes aber einprägsames Intermezzo gab George Oosthoek. Der growler der aufgelösten Band ORPHANAGE singt bei verschiedenen Bands den growl Part so auch hier bei den Songs "Hands of Gold" und "Pristine". Kurz vor Ende der Show gab es dann noch eine Song Live Premiere "Hunter´s Moon" wurde den Fans vorgestellt und die fanden Song auch geil, was man am Applaus und den rufen feststellen konnte.
So ging nach guten 1 ½ Stunden eine Energie geladene Show mit zwei fantastischen Bands zu Ende und man freut sich jetzt schon auf das Jahr 2019 denn da kommt die neue Scheibe von DELAIN auf den Markt.
Bilder von Delain hier: http://rock-konzert-magazin.com/konzertfotos-2018/delain/
Setlist.
1.       Intro
2.       Go Away
3.       Masters of Destiny
4.       The Glory and the Scum
5.       Suckerpunch
6.       The Hurricane
7.       Scarlet
8.       Danse Macabre
9.       Fire with Fire
10.   Hands of Gold
11.   Sleepwalkers Dream
12.   Timo & Joey Jam
13.   Pendulum
14.   The Gathering
15.   Pristine
16.   Mother Machine
17.   Hunter´s Moon
18.   Don´t let go
19.   We are the others
20.   Outro The Monarch