DORO European Tour 2018 in der Live Music Hall in Köln
Dass DORO Pesch eine lebende Legende ist, wusste die Welt bereits spätestens seit dem 17. Juni 2013, als die "Queen of Rock & Metal" in England bei den renommierten "Golden Gods Awards" in der Londoner O2 Arena den erstmals verliehenen "Legends-Award" erhielt. Nur drei Monate später, am 13.09.2013, in Berlin wurde Ihr die gleiche Ehre in Deutschland zuteil. Sie erhielt den deutschen Metal Hammer "Legend"-Award.
Im August erschien ihr neues Album "Forever Warriors, Forever United" und da lag es nahe das DORO auf eine ausgedehnte Tour durch Europa geht. Als Support werden DORO bei den Konzerten in Deutschland und Österreich die aus Unterfranken stammende OVERSENSE begleiten. OVERSENSE stehen für melodischen Powermetal. Was völlig Sch… war an diesem Abend in der Live Music Hall, dass OVERSENSE schon um 18:30 Uhr angefangen hatten, anstatt wie es überall zu lesen war um 19:00 Uhr. So kamen wir also auch zu spät für den Support was ich auch im Sinne der Band sehr schade finde, da viele Fans auch noch auf dem Weg zur Live Music Hall waren. Da wir also zu spät waren, keine Fotos mehr machen konnten und auch nur zwei Songs von OVERSENSE gehört und gesehen haben ist es schwierig ein Urteil über die Performance ab zu geben. Die beiden Songs waren kraftvoll und dynamisch  und wurden auch von den Fans die da waren begeistert gefeiert.
In der Umbaupause haben wir uns mit den Verantwortlichen unterhalten und gefragt warum ist das Konzert schon eine halbe Stunde früher angefangen? Antwort: "Die müssen bis 22:00 Uhr fertig sein da danach noch Disco statt findet". Disco?… danach…?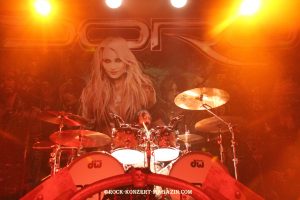 19:45 Uhr gingen die Lichter aus und zu den ersten Klängen von "Rise your Fist" kamen DORO und ihre Jungs nach und nach raus um den Song dann in gewohnter Manier, routiniert den Fans zu präsentieren. Die Live Music Hall die mit gut 1000 Fans nun gefüllt war, feierte und schrie sich die Seele aus dem Leib. Dabei machten DORO und Band auch keine Gefangenen. Routiniert präsentierten DORO und Band einen Song nach dem anderen. Ob "Rule the Ruins", "Fight for Rock" oder "All for Metal", die Fans feierten eine wilde Party. Auch dürften von der neuen Scheibe Songs nicht fehlen und so stand DORO während des Songs "Bastardos" mit dem Stickstoffgewehr in der Hand und feuerte so lange bis nichts mehr kam. Das DORO nicht nur hart kann sondern auch einen weichen Kern hat, beweist sie immer wieder mit dem Deutschen Song "Für immer", wo auch die Fans lautstark mitgesungen haben. DORO lies es sich nicht nehmen sich wie immer bei den Fans zu bedanken denn ohne ihre Fans wäre sie nicht da wo sie heute ist. Die dankten es der Queen of Metal mit tosenden Applaus und Doro, Doro Sprechchören. Als DORO dann sagte das die Fans sich einen Song wünschen sollten, schalte ihr ein Chor mit dem Song "All we are" entgegen. Anstatt ihn zu spielen, spielten sie den Song "Don't Break my Heart Again" gefolgt von der Wacken Hymne "Metalheads". Dann war es soweit und das längst geforderte "All we are" wurde förmlich von DORO und den Fans zelebriert. Der größte Chor Kölns an diesem Abend sang immer wieder "All we are". Da kann man schon mal Gänsehaut bekommen.
Es war wieder ein gelungenes Konzert von DORO in der Live Music Hall, wo vom Sound übers Licht und der Spielfreude der Band alles passte. Wer sich das nochmal anschauen wollte hatte die Möglichkeit in Bochum, wo DORO zwei Konzerte gab.
Setlist:
 1. Raise your Fist
 2. Rule the Ruins
 3. Bastardos
 4. Blood Sweet andere Rock'n Roll
 5. Burning the Switches
 6. Fight for Rock
 7. The Night of the Warlock
 8. 1000 Years
 9. All for Metal
10. Unholy Love
11. Metal Racer
12. Für Immer
13. Hellbound
14. Drum Solo
15. Soldier of Metal
16. Don't Break my Heart Again
17. Metalheads
18. Fear no Evil
19. All we are
20. Revenge
21. Freunde fürs Leben