Bevor dieses Jahr ausklingt, haben LACRIMAS PROFUNDERE noch 3 Termine in Deutschland auf ihrer Tour gelegt. Heute stand davon einer im Kubana in Siegburg an.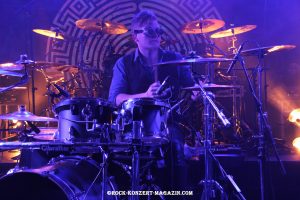 Mit fast 10 Minütiger Verspätung fing der Abend an und ich muss ganz ehrlich sagen, was wir da von GHOST EMPIRE geboten bekommen haben war mehr als Gewöhnung bedürftig. Man hatte so das Gefühl das hier nichts zusammen passte wie es eigentlich sein sollte. De aus Lohmar stammende Formation hat sich 2014 gefunden und zu dieser Band zusammen getan. Die Frage die ich mir stelle, wie konnten GHOST EMPIRE den Breaking the Silence Bandcontest gewinnen? Ich weiß es nicht, ich weiß nur dass zum Teil die Töne nicht getroffen wurden, die Band nicht zusammen spielte, sich zwischendurch verspielt wurde und Sänger Sascha Noll aus allem versuchte das Beste zu machen. Hier wäre es ratsamer noch ein wenig zu üben und dann aus der Garage es nochmals zu versuchen. Auch wenn Sascha beim letzten Song in die Fans ging und mit Ihnen einen Circle Pit machte, wurde die Performance nicht besser. Nach knapp 30 Minuten gingen GHOST EMPIRE von der Bühne und hinterließen bei vielen Fans Fragezeichen.
Bilder von Ghost Empire hier: http://rock-konzert-magazin.com/konzertfotos-2018/ghost-empire/
Mit AEVERIUM aus Viersen ging es an diesem Abend weiter und jetzt kam zum ersten Mal auch richtig Stimmung auf im Kubana, das leider nur mit gut 150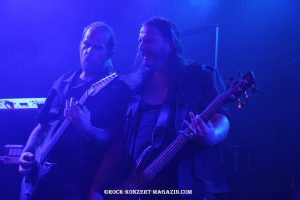 Fans gefüllt war. AEVERIUM, die sich in der Gothic Szene schon einen Namen gemacht haben, präsentierten auch ihre neue Sängerin Vanessa Katakalos. Frontman und Sänger Marcel "Chubby" Römer nahm aber trotzdem das Zepter in die Hand. Bühnenpräsenz, Zusammenspiel, gesanglich und musikalisch passt hier alles zusammen obwohl AEVERIUM sich auch erst im Jahre 2013 gegründet haben. AEVERIUM machten einen guten Mix aus ihren Alben "Time", "Break Out" und der EP "The Harvest" woraus Sie Songs wie "Time", What about me" oder "Rest in Peace" den Fans präsentierten. Knackig und hart zeigten AEVERIUM was sie können und hatten dabei eine Menge Spaß. Nach guten 50 Minuten war es dann aber vorbei und es wurde aufgeräumt für LACRIMAS PROFUNDERE.
Bilder von Aeverium: http://rock-konzert-magazin.com/konzertfotos-2018/aeverium/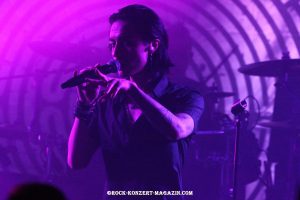 Nach der Umbaupause kamen sie dann LACRIMAS PROFUNDERE. Auch LACRIMAS PROFUNDERE haben einen neuen Sänger am Start. Julian Larre ist der neue bei LACRIMAS PROFUNDERE und er ist ganz schön quirlig auf der Bühne. Zwischendurch "taucht" er ab indem er in die Hocke geht und aus der Tiefe heraus kräftig singt. Geballte Bühnenpräsens gibt Julian ab. So waren auch die gesamten 90 Minuten, kraftvoll, Energie geladen und stark. Mit dem Kracher "Awake" vom neuen Album "Hope Is Here" katapultieren sich LACRIMAS PROFUNDERE mühelos in die Startlöcher. Die Bühne hüllt sich in ein tiefes Grün und die feierwütige Fanmeute jubelt und tanzt was das Zeug hält. Weiter gerockt wird mit "Antiadore" und "The Worship Of Counting Down". Ebenfalls ein Song vom neuen Album, der live noch spannender klingt und noch mehr "rein haut" als er es auf der Platte schon tut. Pure Energie! Eine Premiere gab es an diesem Abend auch zu bejubeln. Es gab eine Songpremiere mit der neuen Single vom kommenden Album aber es durfte keiner mitfilmen, darum bat Julian die Fans. Macht nichts so konnte man sich besser auf den Song konzentrieren. Leider geht auch dieses starke Konzert einmal zu Ende und Julian bedankte sich herzlich bei den Fans und forderte Sie auf nächstes Jahr auf Ihrer Tour zu besuchen und wieder mit zu feiern.
Bilder von Lacrimas Profundere : http://rock-konzert-magazin.com/konzertfotos-2018/lacrimas-profundere/