"Was geht denn mit den Finnen ab?" mag sich der ein oder andere Zuschauer beim Eurovision Song Contest 2006 gedacht haben. Auf der Bühne zu sehen waren da fünf monsterhafte Gestalten, die mit ihrem Song "Hard Rock Halleluja" den Saal zum Kochen brachten und gleichzeitig eine neue Zeit bei dem ehemaligen Schlagerwettbewerb einläuteten – zugange waren da die Musiker von LORDI. Nu sind die Finnen mit ihrem neunten Studioalbum "Sexorcism" auf Tour durch Europa und machten für 11 Konzerte in Deutschland halt. Heute waren Sie in der Essigfabrik in Köln zu Gast und haben als Support FOLLOW THE CHIPER und SILVER DUST.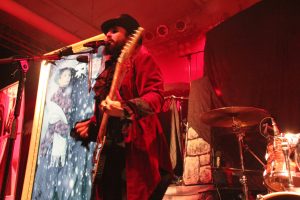 19:30 Uhr geht das Licht in der Essigfabrik aus und ein Intro ertönt. Auf einem großen Flachbildschirm der auf der kleinen Bühne als Spiegel getarnt stand, sah man das ein oder andere Video, passend zu den Songs die SILVER DUST spielten.  Die Schweiz hat eines ihrer dunkelsten Geheimnisse enthüllt! SILVER DUST, eine Band, die Dark Rock, Metal und Goth kombiniert, nimmt Sie mit auf eine gespenstische Reise durch ihre dunklen, aber romantischen Geschichten. Wenn man sie live sieht, fühlt man sich wie in einem viktorianischen Horrorfilm-Film voller düsterer Geheimnisse und verdrehter Extravaganz. Die Band lieferte eine magische Show mit visuellen Effekten und Kostümen.
Bilder von Silver Dust: http://rock-konzert-magazin.com/konzertfotos-2018/silver-dust/
Setlist:
1.       The Unkown Soldier
2.       House 21
3.       Forever
4.       Once upon a Time
5.       Duo Orgue
6.       La La La La
7.       Bette Davies Eyes
8.       The Calling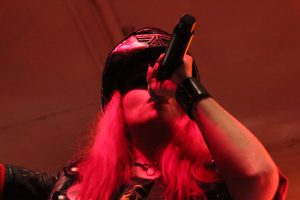 40 Minuten und 1 Umbaupause später kamen dann die schwedischen Neulinge von FOLLOW THE CHIPER auf die Bühne. Ganz ehrlich gesagt habe ich keine Ahnung was ich mit dieser Art von Musik und den 4 Jungs und 1 Mädel halten soll. Stimmlich ist Sängerin Linda Toni Grahn nicht die lauteste, man hat so das Gefühl das es den Jungs darauf ankommt wie sie sich visuell präsentieren anstatt musikalisch. Da half auch nicht das Gitarrist Ken Kängström zwischen durch eine Geburtstagstorte bekam und die Fans ihm ein Ständchen sangen. Nein der wollte nicht so recht überspringen der Funke.  So war es auch nicht überraschend das es nach einer gut 45 Minütigen Show auch nicht den riesen Applaus gab als sonst bei anderen Support Bands.
Bilder von Follow the Cipher: http://rock-konzert-magazin.com/konzertfotos/follow-the-cipher/
Setlist:
1.       Enter the Chiper
2.       A Mind´s Escape
3.       Winterfall
4.       Play with Fire
5.       Carolus Rex
6.       I revive
7.       The Rising
8.       Titan´s Call
9.       Valkyria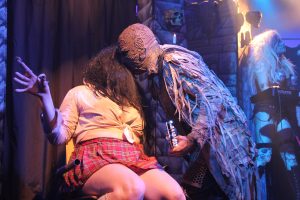 So war es dann so weit das die Lichter ausgingen und das Intro von KISS "God of Thunder" ertönte. Nun waren alle gespannt was Sie von LORDI erwarten können, denn der Bühnenaufbau lässt einiges erahnen bzw. erwarten.  Gleich zu Beginn bringen LORDI Ihren Song "Sexorcism" vom gleichnamigen Album um dann mit einem älteren Klassiker "Would you love a Monsterman" weiter zu machen. Die Fans feiern ihre Idole, die während der gesamten Bühnenshow einen guten Horrorklassiker mit abspielen. Das fängt mit dem Sex besessenen Dämonen an, führt über das aufschlitzen einer Nonne bis hin zum üblichen Kunstblut spritzen von Mr. Lordi himself. Wenn man genauer hin geschaut hat, konnte man die ein oder anderen kleinen Details im Bühnenaufbau sehen, was immer wieder an ein Horrorszenario erinnert.  LORDI gelingt es aus allem, sowohl Musik als auch Show eine gesunde Mischung her zu stellen, die für alle Beteiligten zu einer reinen Spaß Veranstaltung geworden ist. Die Stimmung steigt immer weiter in der nur zu Hälfte gefüllten Essigfabrik. Vielleicht hätte LORDi am nächsten Tag nicht in Bochum spielen sollen. Von "Naked in my Cellar" über "Devil is a Looser" bis hin zum altehrwürdigen und heiß ersehnten "Hard Rock Hallelujah" sind die Finnen auch nach 26 Jahren immer noch  nicht auf Abstellgleis zu schieben.
Was für ein Abend mit 2 Bands die wirklich Spaß gemacht haben, bis auf die Ausnahme von FOLLOW THE CHIPER der allerdings auch schnell vorbei ging und eine Menge an glücklichen Gesichtern zurück lies. Wer sich diese Show hat entgehen lassen sie aber gerne mal sehen möchte kann dies tun denn die Band hat sich wohl dazu entschlossen von der "Sexorcism" Tour eine Live DVD zu erstellen und raus zu bringen. Na dann abwarten.
Bilder von Lordi hier: http://rock-konzert-magazin.com/konzertfotos-2018/lordi/
Setlist:
1.       Intro God of Thunder
2.       Sexorcism
3.       Would you love a Monsterman
4.       Your Tongue´s got the Cat
5.       Drum Solo
6.       Rock the Hell outta you
7.       Blood Red Sandman
8.       It snow´s in Hell
9.       Keyboard Solo
10.   She´s a Demon
11.   Naked in my Cellar
12.   Bass Solo
13.   Hug you Hardcore
14.   Evilyn
15.   The Riff
16.   Guitar Solo
17.   Who´s your Daddy
————————————————-
18.   Devil is a Looser
19.   Hard Rock Hallelujah