Wenn man zu Anfang seiner Karri.ere zu hören bekommt, das man zu alt ist und die Songs nicht zeitgemäß seien, kann der ein oder andere schon mal in Depressionen verfallen. Nicht so MONO INC. Die haben sich nicht unter kriegen lassen und die erste CD in Eigen Regie eingespielt und vermarktet. So erzählte uns das Martin Engler, Sänger von MONO INC. während des Konzerts und er bedankte sich auch bei den Fans dafür das das neue Album "Welcome to Hell" auf Platz 2 der Albumcharts gelandet ist.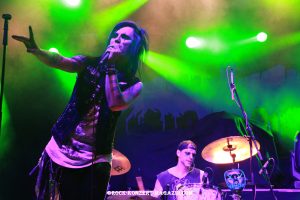 Wenn man sich so umschaut weiß man warum, denn die Batschkapp ist gut gefüllt und die Freude auf MONO INC. ist groß. An diesem Abend gab es aber nicht nur MONO INC. zu sehen und hören, als Support war HELL BOULEVARD . mit dabei. HELL BOULEVARD die aus verschiedenen Ländern stammen dürfen also diesen Abend eröffnen. Auffällig sind die kleinen Neon leuchtenden Masken an den Mikrofonständern und am Schlagzeug, passend zu Halloween. Mit dem Opener "Love is Dead" legen HELL BOULEVARD gleich mal eine Messlatte hin die zeigt was im neuen Zeitalter von einer Band aus diesem Genre erwartet wird, nämlich Gothic Rock mit viel Elektronik und gängigen Grooves. Trotzdem die Messlatte von HELL BOULEVARD dort hingehangen wurde, konnte sie aus meiner Sicht her nicht so überzeugen. Dies kam auch so von den Fans zurück die applaudierten aber keine große Sache draus machten. Für den eingefleischten HELL BOULEVARD Fan war es mit Sicherheit eine Augen und Ohrenweide.
Bilder von Hell Boulevard hier: http://rock-konzert-magazin.com/konzertfotos-2018/hell-boulevard/
Setliste:
1.    Love is Dead
2.    Satan in Wonderland
3.    A Lesson in Pain
4.    In Black we trust
5.    All i´ve lost
6.    As above so belove
7.    Zero Fucks given
8.    Dead  Valentine
9.    Hangover from Hell
Nun wird wieder umgebaut da die Spuren von HELL BOULEVARD doch beseitigt werden müssen. Das Schlagzeug wird frei gelegt und dann kommen mit einem Knall und viel Nebel die Hauptdarsteller des Abends auf die Bühne. MONO INC. sind da und Sie wissen wie man es machen muss, um die Fans gleich auf Ihre Seite zu ziehen. Mit "Welcome to Hell" eröffnen Sie diesen Abend der, untermalt mit den ein oder anderen Pyrotechniken, zwar "steril" aber sehr ordentlich verläuft. Bemerkenswert ist es das von der Bühne ein Steg in die Fans gebaut wurde aber weder Markus noch Gitarrist Carl Fornia oder Bassist Manuel Antoni diesen benutzt. Kommt die Frage auf warum wurde er dort hin gebaut.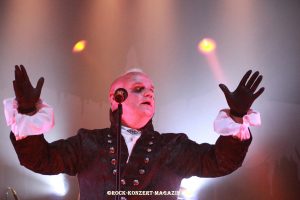 Den Fans ist es egal wo die Protagonisten des Abends stehen, Hauptsache man ist ihnen sehr nahe und so freuen Sie sich darüber das es zwischendurch Feuerfontänen gibt oder das Sänger Martin zwischendurch die Bandflagge schwingt. Trotzdem es Feuer und Flaggen gibt fehlt die Dynamik auf der Bühne. Etwas statisch wirkt es schon und dazu gesellt sich noch die ganz einfache Songstruktur. Man hätte nicht gedacht das die Fans trotzdem so abfeiern und dabei halfen gerade so Stücke wie "Heile, Heile Segen" und vor allem "The Banks of Eden". Hier sind gerade die Fans sehr Text sicher und schmettern aus voller Kehle mit. Warum man sich zweimal von den Fans verabschieden muss und die Bühne verlässt bleibt sicherlich das Geheimnis von MONO INC. Die abschließende Zugabe "Chidren of the Dark" bringt dann nochmals tosenden Applaus so dass MONO INC. wie gebannt auf der Bühne standen und sich in die Rolle des Zuschauens hat rein drängen lassen.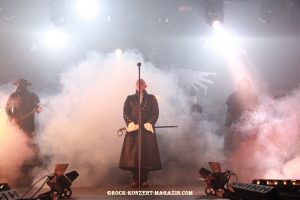 Was bleibt zum Abschluss eines Konzertes zu sagen, welches ohne Dynamik, ausgenommen die Feuer Stöße, und den einfachen Songstrukturen daher kommt? Nun MONO INC. machen Konzert auf Ihre Weise nämlich mit viel Emotionen, Leid und Schmerz, was vielleicht nicht mehr so Zeitgemäß ist aber von den Fans gefeiert wird und das ist es doch warum MONO INC. da sind wo Sie sind. Vielleicht kann man die knapp 2 Stündige Show etwas verkürzen und die Pausen darin auch etwas verkürzen aber dann wären es nicht MONO INC.
Bilder von Mono Inc hier: http://rock-konzert-magazin.com/konzertfotos-2018/mono-inc/
Setliste:
1.    Welcome to Hell
2.    Funeral Song
3.    Arabia
4.    A Vagabond´s Life
5.    Symphony of Pain
6.    Gothic Queen
7.    Heile, heile Segen
8.    When the Raven dies tonight
9.    The Banks of Eden
10.  Revenge
11.  Risk it all
12.  Drum Battle 2018
13.  Get some sleep
14.  After the War
———————————————–
15.  Kein weg zu weit
16.  Voices of Doom
———————————————–
17.  In my Heart
18.  Children oft he Dark