Die Wolfsnächte Tour geht auch 2018 weiter. Unter dem Motto Wolfsnächte Tour Part IV haben die Wölfe ihr 7 Studioalbum mit dem Titel "The Sacrament of Sin" mit gebracht. Nicht nur das Album haben POWERWOLF dabei sondern auch als Support KISSIN DYNAMITE und AMARANTHE. Das wird ein geiler Abend und eine geile Tour für die drei, die sich bis nächstes Jahr im Februar hin zieht.
Hier und heute war erst mal Wiesbaden
Schlachthof angesagt und die Show war radikal ausverkauft. Schon vor dem Einlass bildete sich eine lange Schlange, denn jeder wollte in der ersten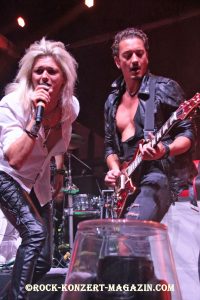 Reihe stehen. 18:45 Uhr kamen dann KISSIN DYNAMITE auf die Bühne um den Abend zu eröffnen. Etwas beengt auf der Bühne weil logischerweise der Aufbau für POWERWOLF und ANARANTHE schon stand aber das machte den 5 nichts aus. Viel Freude, Spaß und Energie brachten KISSIN DYNAMITE rüber. "I've got the Fire" war dann auch der Opener mit dem sie starteten. Die Fans feierten noch ein wenig verhalten aber im Laufe der Show legte sich das und der Funke sprang über. Eigentlich ist diese Tour mit den Bands viel zu schade um nur einen Headliner zu haben aber KISSING DYNAMITE gehen im April auf Headliner Tour undbringen so die Fans in "Ekstase". Wir sind gespannt was uns dann erwartet.
Bilder von Kissin Dynamite her: http://rock-konzert-magazin.com/konzertfotos-2018/kissin-dynamite/
Setlist:
1. I've got. the Fire
2. Somebody's gotta Dance
3. Highlight
4. Love me
5. Waging War
6. You're Not Alone
7. King
8. Flying Colours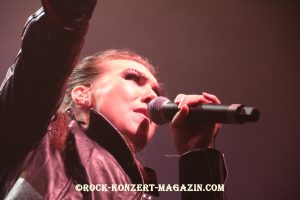 Nach dem Umbau ging es mit AMARANTHE weiter. AMARANTHE die mit ihrem neuen Album "Helix" am Start sind machen von Anfang an keine Gefangenen. Obwohl Sie in den letzten Jahren ein wenig mehr in die Syntie Pop Ebene gerutscht sind ist es immer noch ein Genuss Ihnen zu zu
sehen und zu hören. Die harten Drums und eingehenden Riffs, gepaart mit der klaren Stimme von Sängerin Elize, Sänger Nils und den darauf gut abgestimmten Growles von Hendrik, ergeben eine geile Musik die ganz schön aufs Hirn geht. Neben den neuen Songs vom neuen Album dürften aber auch so Klassiker wie "Amaranthine" oder "The Nexus" nicht fehlen. Rundfunk gelungene Show von AMARANTHE.
Bilder von Amaranthe here: http://rock-konzert-magazin.com/konzertfotos-2018/amaranthe/
Setliste:
1. The Score
2. Countdown
3. 365
4. Hunger
5. Invincible
6. Amaranthine
7. GG6
8. Dream
9. Drop Dead Cynical
10. Digital World
11. The Nexus
Nach der Umbaupause waren Sie nun an der Reihe. Der Vorhang mit dem großen POWERWOLF Logo wurde hoch gezogen und bei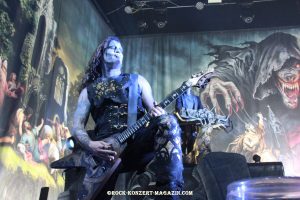 den ersten Klängen zu "Fire and Forgive" viel er dann. Da hinter war ein gigantisches Bühnenbild aufgebaut mit einer Empore für Falk und Roel. Falk hatte diesmal nur 1 Keybord so das er nicht zwischen den Keyboards hin und her laufen konnte. Mit kurzen Feuerstößen wurde den Dans in dem ausverkauften Schlachthof noch zusätzlich mächtig eingeheizt. Nach dem Song begrüßte Atila die feiernde Menge zur einzig artigen Heavy Metal Messe, bevor es mit "Army of The Night" weiter ging. So angeheizt zogen POWERWOLF einen Song nach dem anderen durch bis zum Song "Armata Strigoi". Hier forderte Atila die Fans auf in 4 Stufen das Ohooo zu singen. Er ist noch nicht ganz angefangen da haben die Fans schon das Kommando übernommen und alleine gesungen. Atila ordnete das alles nochmals und so gab es ihn dann "Armata Strigoi". Mit einem extra
reingeschobenen Klavier sangen POWERWOLF den neuen Song "Where the wild Wolves have come". Auf der einen Seite ist es Schade das neben dem gespielten Song nur noch "Stoßgebet" "Demons are a Girl's best Friend" und "Killers with the Cross" vom neuen Album gespielt wurden und der Rest aus alten Songs bestand aber der gesamten Show tat dies keinen Abbruch. Mit dem Song "Lupus Dei" verabschiedeten sich POWERWOLF erst mal von den Fans die frenetisch nach Zugaben riefen. So sollte es dann sein das POWERWOLF nochmals zurück kamen und Atila gefragt hatte
"Wollt ihr etwa noch mehr?" Das war ja klar das die Fans noch mehr wollten und so spielten POWERWOLF noch 3 Songs um sich dann gebührend zu verabschieden und eine gut 2 Stunden dauernde Show mit viel Licht und Feuer zu Ende gehen zu lassen. Der Auftakt für die Deutschland Konzerte war gemacht. Wer sich POWERWOLF, AMARANTHE und KISSIN DYNAMITE noch live anschauen will muss sich beeilen da die ein oder andere Show bereits ausverkauft ist.
Bilder von Powerolf here: http://rock-konzert-magazin.com/konzertfotos-2018/powerwolf/
Setliste:
Fire & Forgive
Army of the Night
Incense & Iron
Amen & Attack
Let there be Night
Demon´s are a Girl´s best Friend
Killers with the Cross
Armata Strigoi
Blessed & Possessed
Where the wild Wolves have gone
Resurrection by Erection
Stossgebet
All we need is Blood
We drink your Blood
Lupus Dei
Sanctified with Dynamite
Coleus Sanctus
Werewolfs of Armenia
Outro: Wolves against the World