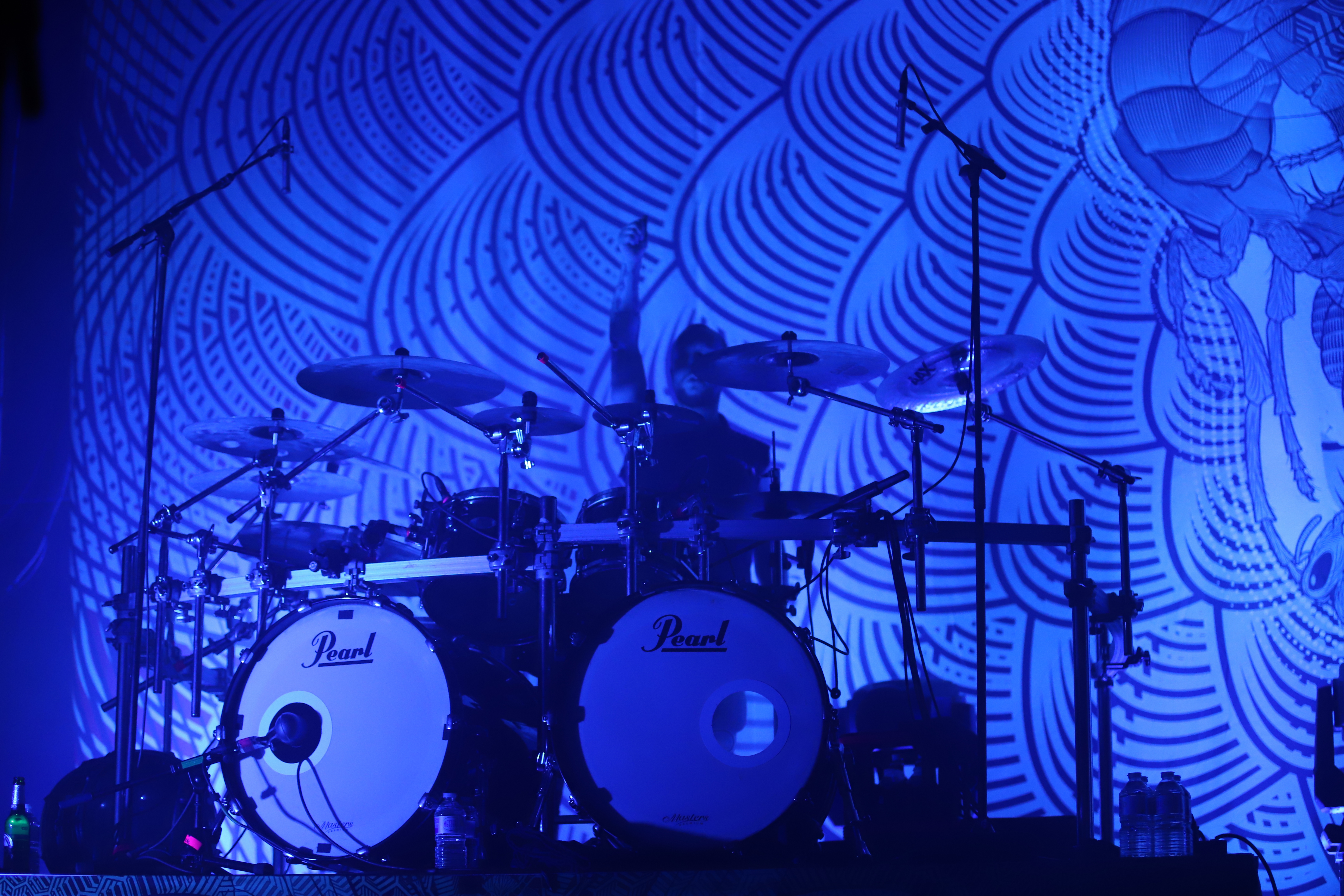 So kann man doch auch einen Mittwoch ausklingen lassen, man fährt nach Wiesbaden und hört sich Doom-Death Metal, Metalcore und Heavy Metal an. All dies wurde an diesem Abend von 4 großartigen Bands geboten. Mit ihrer "Queen of Time" Tour sind AMORPHIS unterwegs und haben als Co-Headliner SOILWORK und als Special Guest JINJER und NAILED TO OBSCURITY dabei. Rotz des frühen Beginns (18:10 Uhr) und am Mittwoch, war schon erstaunlich viel los vor der Halle. Klar alle wollten den besten Platz haben und so waren die üblichen Verdächtigen zügig am Geländer direkt vor der Bühne. Viele waren noch damit beschäftigt ihre Sachen an der Garderobe ab zu geben oder sich mit Getränken oder Merchandise zu versorgen da kamen auch schon die Ostfriesen NAILED TO OBSCURITY auf die Bühne.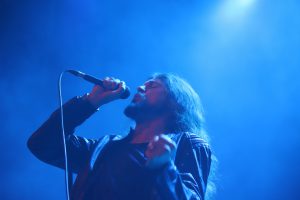 Hier wird kein geschmeidiger Mittwoch zelebriert, hier gibt es gleich voll auf die Fresse. NAILED TO OBSCURITY die im Januar ihr neues Album "Black Frost" auf den Markt gebracht haben lassen uns teilhaben an ihren neuen Songs. So ist es schade, dass die Stimme von Sänger Raimund denn doch ein wenig im Sound unter geht. Ungeachtet dessen, wird jetzt schon gemoscht, was das Zeug hält. Nach einem recht kurzen Set gespickt mit neuen Songs wird es wieder ruhig im Schlachthof.
Nach NAIL kommt JINJER. Was für ein Brett uns da jetzt um die Ohren geladen wird ist schon erstaunlich. Tatiana, in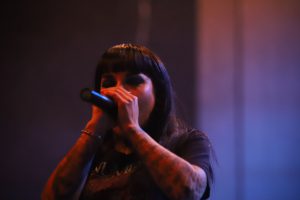 schwarzen hautengen Leggings, zeigt uns alle Fassetten ihres Könnens. Ob tief growlend oder doch klar singend, es steckt viel Power in der Frau. Die Halle ist recht gut gefüllt und die Fans gehen mit was das Zeug hält. JINJER liefern genau das was die Fans an diesem Abend sehen und hören wollen.
Bilder von Jinjer hier: http://rock-konzert-magazin.com/konzertfotos-2019-g-l/jinjer/
Setlist
1.       Words Of Wisdom
2.       Ape
3.       I Speak Astronomy
4.       Dreadful Moments
5.       Teacher, Teacher
6.       Who's Gonna Be The One
7.       Pisces
8.       Perennial
9.       Sit Stay Roll Over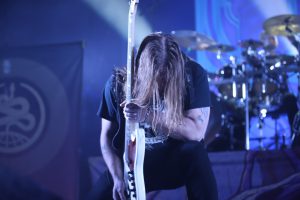 Nachdem nun zweimal der Special Guest an der Reihe war kommen wir nun zu den Headlinern des Abends. SOILWORK kommen gleich ohne großes Getöse auf die Bühne und nehmen sich die Fans mal gleich zur Brust. Gleich mit dem Opener "Arrival" erreicht die Halle ihren Siedepunkt und SOILWORK legen gleich nach, nicht nur mit Stücken vom neuen Album "Verkligheten", welches im Januar erschien, nein auch von den anderen 10 Studioalben wurden Songs gespielt. So gab es "The Acuna Afterglow" vom 2010er Album "The Panic Broadcast" genauso wie "Bastard Chain" vom 2001er Album "A Preditor's Portrait". Mittlerweile sind auch die Fans in den hinteren Reihen voll am abfeiern, was ja kein Wunder ist bei so einer Song Auswahl. SOILWORK machen auch keine Gefangenen und liefern einfach nur eine geile Show, der sich niemand entziehen kann. War das schon der Höhepunkt an diesem Abend? Nein den AMORPHIS kamen ja noch um den Fans den kompletten Rest zu geben.
Setlist:
1.       Arrival
2.       The Crestfallen
3.       Nerve
4.       Full Moon Soals
5.       Death In General
6.       Like The Average Stalker
7.       The Akuma Aftershow
8.       Drowing With Silence
9.       The Phantom
10.    The Nurturing Glance
11.    Bastard Chain
12.    As We Speak
13.    The Living Infinite II
14.    Stålfågel
15.    Witan
16.    Stabbing The Drama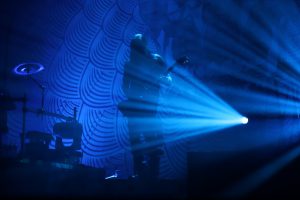 Ganz in blau getaucht war die Bühne und man konnte an den ersten Klängen schon erkennen was direkt aus den Boxen dröhnte "The Bee". Die Fans waren sofort da und so setzte sich die geile Stimmung von den Vorgängern nahtlos an. Hier hatte die Nackenmuskulatur wieder allerhand zu tun. So gab es auch hier keine Pausen oder lange Ansprachen denn AMORPHIS wollten nur eine performen und Stimmung verbreiten. Was schon erstaunlich ist, war die Tour doch schon etwas über 1 Monat unterwegs und man dachte es könnten Verschleiß Erscheinungen auftreten aber weit gefehlt. Die Stimmung steigt auf den Höhepunkt des Abends, "Sacrifice" oder "Silver Bride" tragen ihr übriges hinzu und die Fans saugen alles auf was Sie nun geboten bekommen. Passend zur Jahreszeit kommt zum Schluß "Black Winter Day" und AMORPHIS schicken die Fans mit "Death of a King" und "House of Sleep" wohl besonnen nach Hause und ins Bett.
Bilder von Amorphis hier: http://rock-konzert-magazin.com/konzertfotos-2019-a-f/amorphis/
Setlist:
1.       The Bee
2.       The Golden Elk
3.       Sky Is Mine
4.       Sacrifice
5.       Message In The Amber
6.       Silver Bride
7.       Bad Blood
8.       Wrong Direction
9.       Dauther Of Hate
10.    Heart Of The Giant
11.    Hopeless Days
12.    Black Winter Day
13.    Encore: Death Of A King
14.    Encore: House Of Sleep