DAWN OF DISEASE – neues Album Procession of Ghosts erscheint am 01. November 2019 via Napalm Records! Tracklist und Cover veröffentlicht! Erste Single & offizielles Video "Procession of Ghosts" ab sofort verfügbar!
Zwei Jahre nach dem Vorgänger "Ascension Gate" kehren DAWN OF DISEASE mit ihrem neuen Album Procession of Ghosts zurück. Mit Procession of Ghosts präsentieren DAWN OF DISEASE ein neues phänomenales Melodic Death Metal Werk, das mehr als genug Potential besitzt, sich von den Massen abzuheben. Begleitet wird das Album von einem düsteren Artwork, welches von Michał "Xaay" Loranc umgesetzt wurde, der bereits mit Bands wie Behemoth, Nile und Evocation zusammengearbeitet hat. Gemischt und gemastered von Jens Bogren und Linus Corneliusson in den Fascination Street Studios (Amon Amarth, Kreator, Arch Enemy, …), hat Procession of Ghosts alles, um den Status von DAWN OF DISEASE an der Spitze deutscher Death Metal Bands und weit darüber hinaus zu sichern. Melancholie trifft auf unerbittliche Brutalität, hymnenähnliche Passagen werden von schnellen Riffs gefolgt und das Gesamtpaket von fesselnden Hooklines, gekrönt mit dunklen Growls und der allgemein finsteren Atmosphäre, macht Procession of Ghosts zu einem durchweg atemberaubenden Album. DAWN OF DISEASE über das Album:
"Procession of Ghosts ist unser mittlerweile fünftes full-length Album, in das wir erneut viel Zeit, Energie und Emotionen gesteckt haben. Aber nicht nur das: Wir haben uns auf verschiedenen Ebenen auf neue Wege begeben. Angefangen beim großartigen Artwork von Michał "Xaay" Loranc, über eine Intensivierung der Atmosphäre in unseren Songs, bis hin zur Zusammenarbeit mit Jens Bogren und Linus Corneliusson aus den Fascination Street Studios für die Veredlung der Produktion. Wir können die Veröffentlichung des Albums kaum abwarten und freuen uns jetzt schon, euch die Songs im Rahmen unserer Tour mit Månegarm und Einherjer präsentieren zu dürfen!"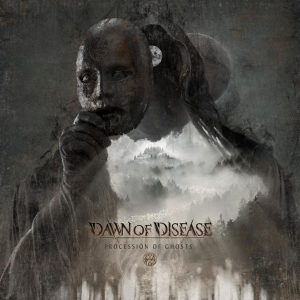 Tracklist:
Lapsarian
Procession of Ghosts
May The Waves Take Me
Shrine
Where The Clouds Reach The Ground
As Heaven Shatters
Autumn Days
Apotropaic
In Death We Blast (Bonus)
Hypnosis (Bonus)
DAWN OF DISEASE über die neue Single "Procession of Ghosts":
"Mit großem Stolz und Begeisterung stellen wir euch den ersten Song von unserem nächsten Album vor, der zugleich der Titletrack ist. 'Procession of Ghosts' vereint eine Vielzahl von Trademarks, die DAWN OF DISEASE anno 2019 ausmachen. Brachial, melodisch, eingängig und einfach mitreißend – dieser Song wird sicherlich unmittelbar den Weg in euren Gehörgang finden und euch nicht so schnell wieder loslassen!"
Nach dem Album-Release werden DAWN OF DISEASE mit ihren Labelkollegen Månegarm und Einherjer durch die folgenden Städte Europas touren:
02.11.19 DE – Essen / Turock
03.11.19 DE – Weinheim / Cafe Central
04.11.19 HU – Budapest / Durer Kert
05.11.19 AT – Vienna / Viper Room
06.11.19 DE – Leipzig / Hellraiser
07.11.19 NL – Rotterdam / Baroeg
08.11.19 TBA – TBA / TBA
09.11.19 NO – Oslo / Røverstaden
LOST LEGACY unterschreiben einen weltweiten Deal mit PURE STEEL RECORDS
Wenn man an diesen berühmten Stadtteil in New York denkt, fallen einem großen Namen ein, wie Bobby Darin, Eydie, Anthrax, Gorme, Joey Kramer (Aerosmith) und Ace Frehley (KISS). Vielleicht stehen auch einmal LOST LEGACY auf dieser Liste.
PURE STEEL RECORDS sind stolz darauf, dass LOST LEGACY einen weltweiten Deal bei uns unterschrieben zu haben.
LOST LEGACY wurde 1998 in der Bronx, New York gegründet, sind dem klassischen melodischen Power Metal mit einem Schuss Moderne verpflichtet und kombinieren lyrische Geschichten, die auf realen Situationen basieren mit positiven Botschaften.
Kürzlich absolvierte die Band eine erfolgreiche Tournee Im Vorprogramm von Metal Church und spielte im Mai 2019 vier ausverkaufte Shows. Die Tour führte die Band nach New York City, Baltimore, Pittsburgh sowie Minneapolis.
Ihr neues Album mit dem Titel "In the Name of Freedom" ist fertig aufgenommen. Ein offizieller Releasetermin wird demnächst bekannt gegeben.
Bandstatement:
"LOST LEGACY are proud to be part of the Pure Steel Records® family. As a Power Metal Band, we had no interest in signing with labels that did not live and breathe Metal. The label has a tradition of promoting heavy metal throughout the world. We have been following the label for a while and wanted to partner with them to launch our new record "In The name of Freedom". The label has bands that we respect and thought this would be a great opportunity for us to bring our music to metal heads around the world".
LINE-UP:
Dave Franco – vocals
Jorge Pulido – lead guitars, vocals
Scott Bennett – lead guitars, vocals
Jochen Wittlinger – bass, vocals
AJ Spinelli – drums
CRYSTAL EYES kündigen neues Album an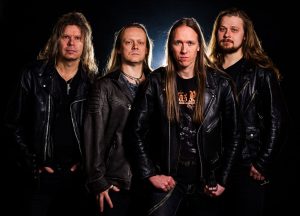 Die schwedische Metalband CRYSTAL EYES hat ihren Vertrag bei Massacre Records verlängert und wird im Dezember ein neues Album veröffentlichen!
Das kommende Album trägt den Titel "Starbourne Traveler" und wird als CD, limitierte Vinyl LP sowie als Download & Stream erhältlich sein.
Das 8. Studioalbum der Band wurde von Fredrik Nordström im Studio Fredman gemischt und gemastert.
Zusätzlich zum neuen Album, werden CRYSTAL EYES die beiden vorherigen Alben "Killer" und "Chained" erneut veröffentlichen.
Das Albumcover und die Tracklist des neuen Albums werden demnächst enthüllt. "Starbourne Traveler" sowie beide Re-Releases werden am 6. Dezember erscheinen.
DOUBLE CRUSH SYNDROME kündigen »Death To Pop Tour 2020« an neues Album »Death To Pop« am 25. Oktober 2019 
DOUBLE CRUSH SYNDROME kündigen ihre »Death To Pop Tour 2020« zusammen mit ihrem neuen, kommenden Album »Death To Pop«, welches am 25. Oktober 2019 via Arising Empire escheinen wird an und enthüllen das dazugehörige Album-Cover!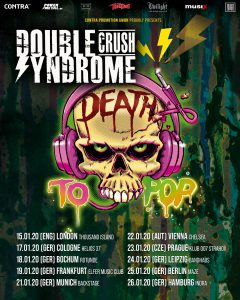 DOUBLE CRUSH SYNDROME »Death To Pop Tour 2020«
Präsentatoren:
Musix, Powermetal.de, The Mellow Music, Twilight, Rock Hard Magazin
15.01.20  GB   London – Thousand Island
17.01.20  DE   Cologne – Helios 37
18.01.20  DE   Bochum – Rotunde
19.01.20  DE   Frankfurt – Elfer Music Club
21.01.20  DE   Munich – Backstage
22.01.20  AU   Vienna – Chelsea
23.01.20  CZE   Prague – Klub 007 Strahov
24.01.20  DE   Leipzig – Bandhaus
25.01.20  DE   Berlin – Maze
26.01.20  DE   Hamburg – Indra
Tickets: http://bit.ly/2H5BhGV
DOUBLE CRUSH SYNDROME live auf dem ZDF Fernsehgarten am 18. August!
Tickets: https://ticketservice.zdf.de/veranstaltungen.html
Kauft und/oder streamt euch die »Flash & Blood«-EP hier: https://doublecrushsyndrome.lnk.to/FlashAndBlood
Mehr von der EP:
'I Don't Like You': https://youtu.be/-A9g3F_MAOg
'Rebel Yell': https://youtu.be/Qc-HF7f2RDw
 
DOUBLE CRUSH SYNDROME – The Return of Rock n´Roll!
Wenn ein großes Undergroundtalent aus dem Ruhrpott zu Bayern München geht, müssen Fragen erlaubt sein.
Also, Andy Brings, warum geht man mit seiner Band, die als DIY-Sensation gilt und ihre Unabhängigkeit stets als oberste Maxime ausgegeben hat, nach drei erfolgreichen Jahren unter Piratenflagge zum Luxusliner Arising Empire? "Weil da die richtige Band auf die richtige Company trifft. Lauter Musikverrückte auf allen Positionen, es fühlt sich einfach zu 100% gut an! Wir geben nichts auf, im Gegenteil: man bestärkt uns vielmehr darin anders und gleichzeitig weiterhin wir selbst zu sein!"
Und anders sind DOUBLE CRUSH SYNDROME, als sie 2013, angeführt von Sänger und Gitarrist Andy Brings (ex-SODOM, ex-THE TRACEELORDS), an den Start gehen. Ohne Label, ohne Promotion, nur mit einer CD-Eigenpressung im Pappschuber bewaffnet, erobert die Band die Bühnen des In- und Auslands, und probt dort den Rock n´Roll-Aufstand. "Wir gehen raus mit der festen Absicht, dem Publikum die geilstmögliche Rockshow zu bieten! Wir zwingen die Leute, Spaß zu haben!"
Diese Energie spricht sich rum, und so ist die Band in den nächsten 3 Jahren als Support auf Deutschland- bzw. Europatournee u.a. mit Acts wie J.B.O., OHRENFEINDT, Sebastian Bach (SKID ROW), DORO, HARDCORE SUPERSTAR, LOUDNESS, W.A.S.P., und spielt Dutzende eigene Konzerte; jedes, als ob es das letzte wäre.
Nun also das offizielle Debütalbum. Was hört man? "Wir sehen uns in der Tradition von Bands wie Ramones, Kiss, Skid Row, Motörhead, Mötley Crüe, ohne wie diese zu klingen oder es darauf anzulegen. Es ist unsere Version von Rock n´Roll, natürlich mit viel Punk in der Instrumentierung, starken Refrains mit Pop-Schlagseite und der Power eine Kleinstadt zu zermalmen. Also eine Kleinstadt pro Song wohlgemerkt!" sagt Brings, ohne den Anflug eines Lächelns. Hat die Band etwa keinen Humor? "Doch, sehr viel sogar, die ganze Band funktioniert nicht ohne Augenzwinkern und einer ordentlichen Portion Anarchie auf der Bühne. Aber wir sind nicht per se lustig. Was wir tun, nehmen wir sehr ernst! Dennoch: Spaß soll, ja muss gehabt werden, auf und vor der Bühne!"
Die Bandbreite der Songs reicht von peitschenden Punk n´ Roll Granaten wie den Bandhymnen ´Die For Rock n´Roll´ und ´Gimme Everything´, sowie etwas ausgefuchsteren Abrissbirnen wie ´Can´t You Be Like Everyone Else´ und ´Revolution´ bis hin zur "teuersten" Nummer ´On Top Of Mount Whateverest´. Teuer? "On Top…´ sticht etwas heraus, der Song ist opulenter arrangiert, hat ein paar coole Synthie-Effekte, die das Lied noch mehr strahlen lassen. Wir sind sehr stolz auf das Stück!" sagt Brings, der das Album auch produziert und gemischt hat.
Und die Texte? Hat die Band etwas zu sagen? "Wir sind auf jeden Fall dagegen! Wogegen genau wissen wir manchmal selbst nicht mehr, aber mit einer gewissen punkigen Grundwut im Bauch ist das total egal. Hauptsache nix gefallen lassen! Es gibt bei uns jedoch keinen ideologischen oder politischen Überbau. Wir definieren Punk anders. Wir stehen nicht mit politisch korrekter Markenkleidung irgendwo im Wald rum, und brüllen kopflastige Parolen in die Welt! Wir machen uns hübsch und wollen unterhalten! Einige Lieder zelebrieren die Liebe, andere verteufeln sie. Was alle Songs inhaltlich eint, ist die niemals endende Hoffnung und der Wille, ein selbstbestimmtes, freies Leben zu führen, zu lieben, zu lachen und zu weinen, mit dem festen Glauben, dass alles gut wird! Stark sein! Glücklich sein!"
Die Zeichen stehen also auf Sturm, Herr Brings?
"Die völlige Begeisterung unseres neuen Partners Nuclear Blast/Arising Empire kickt uns nochmal richtig in den Hintern, obwohl wir wirklich keinen Arschtritt nötig haben. Wir geben entweder Vollgas, oder sind aus. Dazwischen gibt es nichts! Entscheidend ist auf dem Platz, und da haben wir eh vor Nichts und Niemandem Angst. We die for Rock n´ Roll!"
DOUBLE CRUSH SYNDROME sind:
Andy Brings | Gesang, Gitarre
Slick Prolidol | Bass, Gesang
Jason-Steve Mageney | Schlagzeug
SONATA ARCTICA Tony und Elias sprechen im vierten »Talviyö«-Trailer
über die Bandgeschichte!
Die finnischen Melodic Metal-Titanen SONATA ARCTICA werden ihr zehntes, elf Tracks umfassendes Studioalbum »Talviyö« ("Winternacht") in drei Wochen via Nuclear Blast auf den Markt bringen. Heute veröffentlicht die Band den vierten Albumtrailer, in dem Sänger Tony Kakko und Gitarrist Elias Viljanen über die Geschichte der Band sprechen und den Platz des 10. Studioalbums darin.
Klickt hier: https://youtu.be/kxtpFoR72WU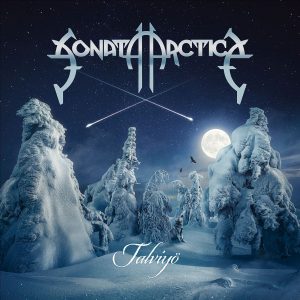 »Talviyö« – Tracklist:
01. Message From The Sun
02. Whirlwind
03. Cold
04. Storm The Armada
05. The Last Of The Lambs
06. Who Failed The Most
07. Ismo's Got Good Reactors
08. Demon's Cage
09. A Little Less Understanding
10. The Raven Still Flies
11. The Garden
Bestellt »Talviyö« jetzt vor: http://nblast.de/SonataArctica-Talviyoe
»Talviyö« wird in den folgenden Formaten erhältlich sein:
– CD-DIGI
– Jewelcase-CD
– 2LP (schwarz, blau, transparent)
– BOXSET (CD-DIGI, 2LP (marmoriert), Puzzle, Poster, Fotokarte)
—
SONATA ARCTICA Live:
16.08. FIN Joensuu – Rock in the City
18.08. BG Varna – Rock Fest
w/ BATTLE BEAST
06.09. USA     Margate, FL – O'Malley's
07.09. USA     Orlando, FL – The Abbey
08.09. USA     Charlotte, NC – The Underground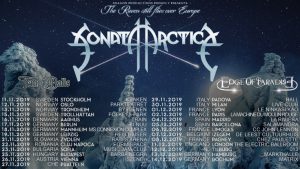 »The Shadow Tour – North America 2019«
w/ KAMELOT, BATTLE BEAST
10.09. USA     Silver Spring, MD – The Fillmore
11.09. USA     Philadelphia, PA – Theatre of Living Arts
13.09. USA     Worcester, MA – Palladium
14.09. USA     New York, NY – Terminal 5
15.09. CDN     Montréal, QC – Club Soda
16.09. CDN     Québec City, QC – Impérial Bell
18.09. CDN     Toronto, ON – The Phoenix Concert Theatre
19.09. USA     Detroit, MI – Harpos Concert Theatre
20.09. USA     Cleveland, OH – Agora Theatre
21.09. USA     Chicago, IL – Patio Theater
23.09. USA     St. Paul, MN – Amsterdam Bar & Hall
24.09. USA     Kansas City, MO – The Truman
25.09. USA     Denver, CO – Ogden Theatre
26.09. USA     Salt Lake City, UT – The Complex
28.09. CDN     Edmonton, AB – The Ranch Roadhouse
29.09. CDN     Calgary, AB – Marquee
01.10. CDN     Vancouver, BC – Venue Nightclub
02.10. USA     Seattle, WA – Neptune Theatre
04.10. USA     San Francisco, CA – Palace of Fine Arts
05.10. USA     Anaheim, CA – City National Grove
06.10. USA     Tempe, AZ – Marquee Theatre
08.10. USA     Dallas, TX – Canton Hall
09.10. USA     St. Louis, MO – The Ready Room
11.10. USA     Atlanta, GA – The Masquerade
12.10. USA     Tampa Bay, FL – Jannus Live
w/ BATTLE BEAST
13.10. USA Durham, NC – Motorco Music Hall
14.10. USA Charleston, SC – Music Farm
16.10. USA Baltimore, MD – Soundstage
17.10. USA Clifton Park, NY – Upstate Concert Hall
18.10. USA Hartford, CT – Webster Theater
23. – 28.09. D Kiel – Full Metal Cruise
EMP, Metal Hammer, Musix, Rock It, Hardline, Metal.de, Nuclear Blast & Dragon Productions präsentieren:
»The Raven Still Flies Over Europe«
w/ EDGE OF PARADISE, TEMPLE BALLS
11.11.  S         Stockholm – Kraken Sthlm
12.11.  N         Oslo – Parkteatret
13.11.  N         Trondheim – Byscenen
15.11.  S         Trollhättan – Folkets Park
16.11.  DK       Aarhus – Train
17.11.  D         Berlin – Bi Nuu
18.11.  D         Mannheim – MS Connexion Complex
19.11.  D         Leipzig – Hellraiser
21.11.  SK       Zvolen – Rates Arena
22.11.  RO       Cluj-Napoca – Form Space
23.11.  BG       Sofia – Music Jam Club
25.11.  H         Budapest – Barba Negra
26.11.  A         Vienna – Szene
27.11.  CH       Pratteln – Z7
29.11.  I          Padova – Hall
30.11.  I          Trezzo sull'Adda (MI) – Live Club
01.12.  F         Lyon – Ninkasi Kao
02.12.  F         Paris – La Machine du Moulin Rouge
04.12.  E         Madrid – La Riviera
05.12.  E         Barcelona – Salamandra
06.12.  F         Limoges – CC John Lennon
07.12.  B         Izegem – Cultuurhuis De Leest
08.12.  F         Pagney-derrière-Barine – Chez Paulette
11.12.  UK       London – Electric Ballroom
12.12.  NL       Tilburg – 013
13.12.  D         Hamburg – Markthalle
14.12.  D         Bochum – Matrix
»Talviyö« wurde zwischen September 2018 und Mai 2019 aufgenommen und von Mikko Tegelman und SONATA ARCTICA im 'Studio57' produziert. Zusätliche Aufnahmen fanden an unterschiedlichen Lokalitäten statt. "Mikko hat dieses Album produziert und hat es wirklich geschafft, das Beste aus uns herauszuholen, selbst bei den etwas experimentelleren Teilen. Mit einem externen Produzenten zu arbeiten war die größte Neuerung, die wir dieses Mal ausprobiert haben", erklärt der Keyboarder. Für den Mix war ebenfalls Mikko Tegelman sowie Pasi Kauppinen verantwortlich, während das Mastering von Svante Forsbäck für 'Chartmakers' getätigt wurde.
WHITE MANTIS – "Sacrifice Your Future" – Cover, Tracklist, Veröffentlichungsdatum: 13. September 2019
Am 13. September 2019 wird das neue Album der deutschen Thrash Metal Band WHITE MANTIS "Sacrifice Your Future", via IRON SHILED RECORDS, auf CD veröffentlicht.

Die Münchner WHITE MANTIS ziehen seit ihrer Gründung 2012 den Hörer mit ihrem Totemtier in eine bizarre Parallelwelt und lassen sie kopflos zurück wie eine Gottesanbeterin ihr Männchen nach dem Beischlaf. Die musikalische Marschrichtung wurde von Anfang an durch klassischen THRASH METAL festgesetzt. Nach anfänglicher Verarbeitung der typischen Vorbilder amerikanischer und deutscher Schule streckte man schon bald die Fühler und Mandibeln weiter aus und integrierte Voivodsche Verschrobenheit und Anleihen von räudigem Black Thrash in den Soundmix.

Die auf dem 2014er Demo "Fukkin' Demo" schon teilweise eingeschlagene Marschrichtung in ihrer Mischung aus Dreck und Präzision wird mit dem 2019er Debütalbum "Sacrifice Your Future" weiter verfolgt und vertieft. Die Texte variieren dabei zwischen genretypischer Endzeitstimmung und Beobachtung realer gesellschaftlicher Entwicklung – beschrieben sowohl durch ungeschöntes Aufgreifen der Realität als auch im Kontext fiktionaler Bildhaftigkeit. Live brachte man die so entstandene Thrash-Gewalt von Anfang an mit wechselndem Lineup um die Bandkonstante Matthias Pletz (Gitarre, Gesang) in die Welt und auch mit der Veröffentlichung von "Sacrifice Your Future" blieb die Truppe vom drehenden Besetzungskarussell nicht verschont. Mit dem aktuellen stabilen Lineup geht die Reise auf dem "Post-Apocalyptic Highway" weiter.

TRACKLIST:
1. Cannibal State
2. Bleached
3. My Favourite Chainsaw
4. There`s No Law On The Post-Apocalyptic Highway
5. Demonic Levity
6. Ordinary Loser
7. Down This Way
8. Cavern On The Ancients
9. Catcher In The Grey
10. Tyrants
Total Playing Time: 38:30 min

LINE-UP:
Matthias Pletz – vocals, guitars
Andre Krimbacher – guitars
Jan Strobl – bass
Thomas Taube – drums

Link
https://www.facebook.com/white.mantis/
https://whitemantisthrash.bandcamp.com/
https://myspace.com/white.mantis
https://www.reverbnation.com/whitemantis
DRIVING FORCE unterschreiben weltweiten Deal bei PURE STEEL PROMOTION
Die aus Zürich (Schweiz) stammende Hardrock/Metal Band DRIVING FORCE, hat einen weltweiten Deal bei PURE STEEL PROMOTION unterschrieben.

Die Band, die sich 2008 gründete und bereits eine EP und zwei full-length Scheiben herausgebracht hat, wird ihr neues Album "All Aboard" über PURE STEEL PROMOTION veröffentlichen.

Bandstatement:
DRIVING FORCE reizt die Grenze zwischen Rock und Metal aus und spielt eingängige, aber anspruchsvolle Melodien.

Mehr News in Kürze.

LINE-UP:
Thomas Mathis (ex-Nailhead, ex-Born2Late, ex-Eddies Beast) – lead vocals, lead-, rhythm guitars
Andras Kokavecz (Vain Vision, ex-Salvus, ex-Exit Music) – lead-, rhythm guitars
Martin Frei (ex-Mary Jane, ex-Tell's Valley, ex-Swallow Up) – bass, lead & backing vocals
Thomas Willareth (Of Course, ex-Atritas, ex-Eeriness) – drums
GALLOWS POLE – "Summerdays" – Veröffentlichung der Single aus dem Album "This Is Rock"Auf Soundcloud wurde die Singleauskopplung der österreichischen Hard Rock Band GALLOWS POLE "Summerdays" veröffentlicht. Das neue Album "This Is Rock" wird offiziell am 30. August 2019 auf CD über PURE ROCK RECORDS erscheinen. Der Vorverkauf beginnt am 16. August 2019 in unserem Webshop.

You can get satisfaction! Das mittlerweile 9. Album der österreichischen Kultband hat auf sich warten lassen, dafür bleiben aber keine Wünsche offen. Ob zum verträumten Abdriften in höhere Sphären oder zum schweißtreibenden Ausflippen verführt das mit Herzblut umgesetzte Werk mit viel Gespür, eigenständigen Melodien und knackiger Gitarrenarbeit.

Armeen von Stagehands sind also vorprogrammiert, wenn Alois Martin Binder (vocals/guitars/bass) mit seinen Kollegen Andy Wagner (drums), Harald Prikasky (guitars) und Harry Fischer (guitars/vocals) das Beste zeigen, das Rock momentan zu bieten hat. New "on stage": Sängerin Dina Höblinger, die mit gewaltiger Stimme ihre persönliche Note einbringt.

Fazit:
We want more, more, more!

GALLOWS POLE – "Summerdays" @ Soundcloud

LINE-UP:
Alois Martin Binder – vocals, guitars, bass
Dina Höblinger – vocals
Harald Prikasky – guitars
Harry El Fischer – guitars, vocals
Andy Wagner – drums

Coverartwork:
Markus Vesper – http://www.markusvesper.de/
Rezetbangers
After we wrapped up the tour with our Brazilian friends in NERVOSA just last month, letting both media and fans ask for more, we are thrilled to present a phenomenal package for this September across Europe: we will be touring with iconic OVERKILL, our buddies in Destruction and US-legends Flotsam & Jetsam, conquering Europe on the sequel of the brilliant "Killfest" – Tour billing.
As we present this tour, we also unveil a new video this week: "Chaos in my Mind" is a lyric video that should bring everyone banging thru the summer. This and some more live news below!
Have a read:
We just released another music video to one of the tracks from our latest studio album!
We chose "Chaos In My Mind" because your reactions on our first "Deal With It!" – Tour lately towards this song was overwhelming, and because we also loved this tune since times of pre-producing the record. Just click the song's cover art above to watch the new video!
To listen to the record in one glance you may
Purchase your CD-digi at: http://bit.ly/rezet_dealwithit
Or get your signed and limited Vinyl LP at: http://bit.ly/rezet_merch
So as we mentioned before, we already got a bunch of new tour plans coming in support of our latest studio album. One of the very highlights – not only in terms of the new record but in REZET's whole career 'til now – will be our participation in this autumn's "Killfest" – Tour. Check the header above and see for yourself that it doesn't need much words for that than saying that this is probably the definition of Thrash Metal in 2019, huh?! We can't wait to hit the road with our mates in DESTRUCTION and FLOTSAM & JETSAM again and share European stages with OVERKILL for the first time in our musical and thrashin' lives! Check the dates down below here:
Sept. 12 – Porto, PT @ "Hard Club"
Sept. 13 – Madrid, ES @ "La Rivierra"
Sept. 14 – Barcelona, ES @ "Salamandra"
Sept. 15 – Toulouse, FR @ "Totem"
Sept. 16 – Lyon, FR @ "Villeurbanne"
Sept. 17 – Saarbrücken, GER @ "Garage" – BUY YOUR TICKET!
Sept. 18 – Nürnberg, GER @ "Der Hirsch" – BUY YOUR TICKET!
Sept. 19 – Oberhausen, GER @ "Turbinenhalle" – BUY YOUR TICKET!
Sept. 20 – TBA
Sept. 21 – Jablonec, CZ @ "Eurocentrum"
Sept. 22 – Herford, GER @ "X" – BUY YOUR TICKET!
Sept. 23 – Wiesbaden, GER @ "Schlachthof" – BUY YOUR TICKET!
Sept. 24 – Antwerpen, BE @ "Trix"
MORE UPCOMING SHOWS!
We're gonna headline "Schuby Open Air" – a cool festival that holds some thousand people near our home town of Schleswig, Northern Germany!
Best thing? Free entrance!!!
Don't miss us hitting the stage on Friday, August 9th – 21:45 CET!
ANCIENT VVISDOM sharing first details about upcoming album Mundus!
Due out end of September with Argonauta Records!
This Fall will see cult Death rockers Ancient Vvisdom release their forthcoming, highly anticipated album, Mundus, with Argonauta Records. Finally, the band is sharing the first details about their upcoming epos – which is set for release on September 27th!
Still so dangerous and underground as Ancient Vvisdom is known and loved for, but Mundus contains tracks that will shift them into the next stratosphere stylistically; a dark, enlightening foresight into the future of humankind dictated by singer and songwriter Nathan Opposition.
Just recently, the band mastermind stated: "This album speaks volumes both sonically and philosophically.
The world we live in is so fucked up and there is so much to write about, its sad for me to see how many artist these days have the amps and the platform but nothing to say.
The lyrics on Mundus have something very powerful to say. The music, the message, the vision and the voice. I hope in years to come the music community can come together, be enlightened, and take a stance against the hypocrisy, the bigotry, the hate, the injustices of our modern society. We all have a voice now lets band together and use it to change the world. Extinction is the rule, survival is the exception."
He continues: "Mundus has been an amazing experience thus far, the writing, recording process, working with Gero at Argonauta Records, now we are ready to take it to the stage! The team we had on this one, Noah Buchanan at Mercinary Studio, Arthur Risk mastering, Andrew Wells photography, Emma Jochum layout design, Karmazid cover artwork, Harold Mapes keyboards, did such a great job on this. I couldn't ask for a better group of talented people to help my brother Michael and I capture our vision we have for Mundus.
Karmazid did an excellent job on the artwork. He's been a friend of Ancient VVisdom since the band started in 2009 and it's really awesome to have him as a friend and to work with him. If you are not familiar, please look him up!"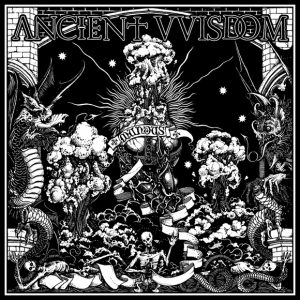 Mundus Tracklisting:
1. Human Extinction
2. Plague the Night
3. I Am Everywhere
4. Will To Destroy
5. For the Glory of the Grave
6. Desensitized
7. Severed Ways
8. Edge of the Abyss
Earlier this year, Revolver Magazine premiered a first video taken from Ancient Vvisdom's upcoming new album for the track Human Extinction. Watch the apocalyptic video HERE!
Coming on CD, Vinyl and Digital formats September 27th, the pre-sale has just started at the Argonauta Records online store HERE!
Ancient VVisdom was founded in Austin, TX in late 2009 with the order consisting of Nathan Opposition (ex-integrity drummer 2005-2010), Justin "Ribs" Mason (iron age bassist) on second acoustic guitar, and Nathan's brother, Michael Jochum (ex-integrity guitarist 2003-2010) on electric guitar.
In 2010, Ancient VVisdom recorded and released a split 12″ EP with Charles Manson entitled "Inner Earth Inferno" (Withdrawal Records), which garnished praise from critics and cultists alike.
The band spent the rest of the year sharpening their blackened craft, using acoustic guitars to give the music an organic connection to the nefarious rites they beget. Writing well over an albums-worth of material, they chose the most appropriate songs for their debut LP " a godlike inferno" to record at The Bubble, a local, vvorld renowned studio in Austin, TX.
Not unlike early death rock and neo-folkore sound, Ancient VVisdom incorporates electric guitar effects, synth sounds, vocal harmonies and abstract percussion to create a deeper, ethereal quality to their minimalist arrangements. Nathan's powerfully honest voice is complimented by lyrics ranging from mysteries of the occult, paganism, satanic philosophy, and forbidden knowledge.In 2011 "A Godlike Inferno" was released, as if commanded by the dark one himself.
AVV was hand selected by Ghost front-man Tobias Forge to open for Ghost's first ever American tour.
The Jochum brothers eventually moved back to their birth state of Ohio and released 33 on Italy's Argonauta Records. September 2019 will see the release of perhaps the bands' most important release of their career. With Mundus, AVV has retained some of their trademark sound, but have added a pure "pissed off" edge built around anger and frustration. A true and dark epos you won't miss to see in countless best-of-the-year polls!