FROZEN LAND unterschreiben bei Massacre Records
Das finnische Power Metal Fünfergespann FROZEN LAND hat bei Massacre Records unterschrieben und wird am 23. November sein selbstbetiteltes Debütalbum veröffentlichen!
Ursprünglich wurde die Band von Tuomas Hirvonen (Gitarre) als Soloprojekt gegründet, dennoch schnell wurde durch den Zuwachs von Aki Kuokkanen (Drums), Lauri Muttilainen (Keyboard), Juhana Heinonen (Bass) und Tony Meloni (Gesang) eine komplette Band. Andrey Vasilchenko hat das Albumartwork gestaltet, das weiter unten verfügbar ist.
Fans von Sonata Arctica und Stratovarius sollten FROZEN LAND definitiv im Auge behalten!
GLANVILLE TOURSTART!
MIT SPECIAL GUESTS GALACTIC SUPERLORDS!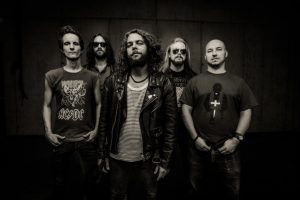 Ein bisschen Thin Lizzy, ein bisschen Maiden, ein bisschen Dio. GLANVILLE klingt wie Rob Halford, der Dennis Hoppers Lederjacke aus Easy Rider trägt. Eine erste Vorstellung mit ungezügeltem Potenzial gaben die Jungs von GLANVILLE bereits im Mai diesen Jahres mit ihrer Debüt EP 'First Blood', nun startet die Band gemeinsam mit den GALACTIC SUPERLORDS noch in dieser Woche auf Tour!
Bereits als Jugendliche machten René Hofmann und Philipp Michel gemeinsam Musik. Doch als Teenager weiß man nicht mal wo der nächste Tag hinführt. 13 Jahre später ist Hofmann ein Musikproduzent in Darmstadt und Michel aktiver Tour-Gitarrist und Songwriter aus dem hessischen Hinterland. Eigentlich ein Duo wie Page und Plant, also beschließen sie gemeinsam ein Projekt zu starten. Ein Jahr lang dauert es, um die verstreuten aber passenden Musiker für die Band GLANVILLE zu gründen: Peter-Philipp Schierhorn am Bass, Thomas Hoffmann am Schlagzeug und der Engländer Chris West an der Rhythmus Gitarre. Nach einer kurzen Vorproduktion trifft man sich also im Studio in Darmstadt. Alle Musiker spielen zum ersten mal miteinander, lernen sich teilweise erst kennen. Zwei Tage proben, zwei Tage aufnehmen – Live und echt, mit absoluter Spielfreude. Und diese beweisen GLANVILLE nun kommend auf Tour, erlebt die Band gemeinsam mit den GALACTIC SUPERLORDS live an folgenden Dates:
02.10.18 Darmstadt – HoffART Theater
03.10.18 Berlin – Toast Hawaii
04.10.18 Hamburg – Bar227
05.10.18 Leipzig – Black Label
06.10.18 Pratteln – Up In Smoke
12.10.18 Köln – Museum
13.10.18 Heidelberg – Beatfabrik
Bereits bei der ersten gemeinsamen Zigarette, die man sich bei einem zufälligen Treffen auf dem Desertfest Berlin teilte, wusste ich, dass Superlords' Drummer Carsten und ich, beide etwas durchgeknallt sind. Eine weitere Gemeinsamkeit fand sich schnell in den Parallelen unserer Bands – Fucking Heavy Metal! Über die Jahre sind wir zu einer richtig guten Truppe zusammengewachsen aber keiner hat bisher irgendwas von uns gehört! Daher haben wir beschlossen eine DIY Tour unter dem Namen "Your New Favourite Metal Bands You've Never Heard Of" zu starten. Wir freuen uns riesig gemeinsam Bühnen zu bespielen, echte Rockmusik, ohne Playbacks, Kemper-Amps und Mac Book!" – René Hofmann, Sänger von Glanville
Doch wer verbirgt sich hinter GLANVILLE?
René Hofmann – Im Jahr 2000 begann er bereits mit dem Singen. Seit 2008 in Darmstadt ansässig und Frontmann der Fusion Rock Band WIGHT, sowie freiberuflicher Musikproduzent. Europaweite Tourerfahrung als Musiker und FOH Mischer für MY SLEEPING KARMA oder MONSTER MAGNET.
Philipp Michel – Seit 2001 Gitarrist von THE EARWIX. Seit 2009 Live Bassist, dann Gitarrist bei MILKING THE GOATMACHINE. Europaweite Tourerfahrung als Musiker.
Peter-Philipp Schierhorn – seit 2008 Bassist der Fusion Rock Band WIGHT. Ebenfalls seit 2008 Frontmann der Black Metal Band FALLEN TYRANT, die sich in den letzten Jahren vom Solo Projekt zu einer Ausnahmeband entwickelt hat. Europaweite Tourerfahrung als Bassist.
Thomas Hoffmann – Der aus Namibia stammende Schlagzeuger lebt seit 2008 in Deutschland. Von 2009 bis 2014 Schlagzeuger der Stoner Rock Band BUSHFIRE. Europaweite Tourerfahrung als Schlagzeuger.
Chris West – Musikproduzent und Multiinstrumentalist aus St.Albans, England. Gründete 2006 TRIPPY WICKED, sowie STUBB, bei denen er hauptsächlich als Drummer und Produzent tätig war. Seit 2013 Bassist bei LANDSKAP. Europaweite Tourerfahrung als Musiker.
Die GALACTIC SUPERLORDS aus Köln liefern bodenständigen Heavy Metal mit einem Augenzwinkern in Richtung der Helden der NWOBHM. Dabei suhlen sich die fünf Musiker im wohligen Klang melodiöser Doppelgitarren, die von einer ausgefeilten Rhythmussektion untermalt werden. Frontfrau Katharina Heldt singt dazu über gefallene Herrscher, Zauberer, Motive aus Airbrush-Gemälden und cool aussehende Tiere. Unterstützt wird sie dabei von Sänger und Gitarrist Dennis Sennekamp. Gegründet haben sich die GALACTIC SUPERLORDS im Sommer 2014. Wenige Monate nach dem ersten Treffen folgte mit "Eagle" ihre erste EP und eine Vielzahl von nationalen und internationalen Shows, darunter Touren nach Portugal und in die Niederlande. Anfang 2017 nahm die Band unter der Leitung von Produzent René Hofmann (Wight, Fat & Holy Records) in Darmstadt schließlich ihr selbstbetiteltes Debut auf, das in diesem Sommer erscheint.
LUMBAR TO RE-RELEASE CULT ALBUM WITH ARGONAUTA RECORDS!
Feat. Aaron Edge, Yob's Mike Scheidt and Tad Doyle!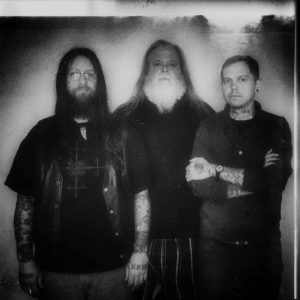 It's been a tragedy for the world of metal, when the remarkable debut album 'The First and Last Days of Unwelcome' has been likely proved to be the first and last work of Lumbar. The trio of metal veterans Aaron Edge (Ramprasad / Bible Black Tyrant / Rote Hexe / Iamthethorn / Roareth / Phemüt), Yob's Mike Scheidt and Tad Doyle (Brothers of the Sonic Cloth / TAD) released their highly acclaimed debut album back in 2013, when the life of band mastermind and multi-instrumentalist Edge has already changed forever.
Lumbar is Edge's unique collaboration with the two vocalists — Yob's Mike Scheidt and Tad Doyle. Edge wrote and recorded the music and penned the lyrics, during one long weekend in Seattle, and they added their voices. At this point, Edge has been diagnosed with multiple sclerosis.
"It's been five years since I wrote and recorded the Lumbar endeavor (in GarageBand, no less) and that time really did pass quickly." Edge explains. "It has also been six years since my Multiple Sclerosis diagnosis, but that time has gone by much too slowly. The pain has not ceased, nor the frustration, and certainly not the fear. But, there are some positive things to focus on: my meds are now dulling some of the nerve trouble, I'm able to play music regularly again, and two labels share my excitement in the re-release of "The First and Last Days of Unwelcome" as hand-numbered 12″ vinyl on Argonauta Records and hand-numbered cassettes on Anima Recordings.
The five year agreement and music license that was held between myself and Greg Anderson, of Southern Lord, ended this month, releasing the control of the recording back into my hands. I'd like to thank Greg, for his belief in the vision and importance of Lumbar for me. He has always shown true friendship, guidance and support and I won't forget that.
There is a difference in the first release, back in 2013, and the re-release for January 2019; there was first an urgency and now there is a reminder.
The urgency tore me and my marriage apart, it changed my life forever, the MS diagnosis was (at the time) a bleak future. And, to be honest, I'm not optimistic about how my life with the disease will change and morph as I grow older. But, I'm still here. I made it this far. The urgency of the first release of these seven tracks is now a reminder of change… it is inevitable and uncontrollable. Nature does what nature does, she can not be restrained.
I can not thank enough, then and now, the donation of friendship and talent from both Mike Scheidt and Tad Doyle: there's only a small handful of people on the planet that I know—that I would feel comfortable having them tell my story—and these guys were at the top of the list. I love you two men.
Thank you to Gero of Argonauta and David of Anima for reminding all of us about creative energy, about storytelling. I do hope you all reading this and listening in appreciate the recording, as heavy and dark in subject matter as it truly is, all over again."
With seven tracks and a runtime of less than 25 minutes, 'The First and Last Days of Unwelcome' is a relentless trek through doom metal featuring Scheidt and Doyle, the screamer and singer, who perfectly round up this epos. On January 11th 2019, Argonauta Records will re-release the cult album on Vinyl by a project that has been truly missed in the heavy music scene.
Coming with a re-designed album artwork, 'The First and Last Days of Unwelcome' will be available on CD (for the first time ever) and an exciting color LP edition of 300 hand numbered copies.
EISREGEN veröffentliche neue Single nebst Lyric Video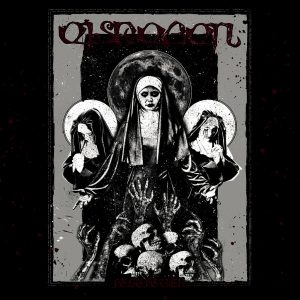 Die Meister aus Thüringen, EISREGEN, haben jüngst ihre neue Single "Knochentorte", dessen Lyrics Video gestern auf Metal-Hammer.de exclusiv vorgestellt wurde.
Nun kann man sich auch das Lyric Video auf Youtube ansehen. https://youtu.be/nrPLMXzy65M
M.Roth dazu:" Wir schenken den Menschen Hoffnung, in jedem steckt etwas besonderes, wichtiges-leckeres. In einem jeden von uns verbirgt sich die Basis für eine großartige Knochentorte.
Das kommende EISREGEN Album "Fegefeuer" – erscheint am 26.10.2018 bei Massacre Records- wird es in verscheidenen Formaten erhältlich sein.
ANAAL NATHRAKH launchen neue Single 'New Bethlehem/Mass Death Futures'!
Diesen Freitag, den 28. September, werden ANAAL NATHRAKH ihr zehntes Album 'A New Kind Of Horror' via Metal Blade Records veröffentlichen. Um einen weiteren Eindruck vom Album zu gewinnen, könnt ihr euch jetzt die dritte Single 'New Bethlehem/Mass Death Futures' hier anhören: youtube.com/watch?v=gt50kaQQHLo
Die ersten beiden Singles 'Forward!' und 'Obscene As Cancer' könnt ihr euch nach wie vor hier reinziehen: metalblade.com/anaalnathrakh. Dort könnt ihr das Album auch in diesen Formaten vorbestellen:
–jewelcase-CD
–180g black vinyl (EU exclusive)
–transparent sage green marbled vinyl (EU exclusive – limited to 300 copies)
–transparent turquoise marbled vinyl (EU exclusive – limited to 200 copies)
–green / red splattered vinyl (EMP exclusive – limited to 100 copies)
–tropical green/black marbled vinyl (US exclusive – limited to 300 copies)
–gray green marbled vinyl (US exclusive – limited to 200 copies)
* exclusive bundles with a shirt, plus digital options are also available
Wenn ANAAL NATHRAKH Sänger Dave Hunt 'A New Kind Of Horror' beschreiben soll, redet er nicht lange um den heißen Brei herum: "Dieses Album ist nicht fröhlich, sondern zu gleichen Teilen gallig, jähzornig, sarkastisch, zynisch, brutal, entsetzlich und grässlich. Vor allem aber ist es zutiefst menschlich und bezieht alles mit ein, was damit einhergeht. Etwas Aufrichtigeres hätten wir nicht machen können." Wer die zehn Tracks des zehnten Albums der Band hört, wird einsehen, dass Daves Worte Hand und Fuß haben, denn die Songs zu hören gestaltet sich sowohl in textlicher als auch musikalischer Hinsicht als zermürbendes, abgründiges Erlebnis, bei dem man mit unverfälschten Emotionen konfrontiert wird. Während Multi-Instrumentalist Mick Kenney den originellen Stil des Projekts, eine Mischung aus sinfonischem Black, Death und Industrial Metal mit Grindcore, stetig weiterentwickelt, schöpft Hunt inhaltlich in erster Linie aus der grausamen Historie des Ersten Weltkriegs, aktuellen politischen Ereignissen und den Briefen von D.H. Lawrence, woraus sich eine der aufwühlendsten, zeitgemäßesten und originellsten Musikveröffentlichungen des Jahres 2018 ergibt. "Wir verarbeiten immer viele unterschiedliche Einflüsse auf unseren Alben, aber letzten Endes entstehen sie organisch auf der Grundlage dessen, was wir sind, und bei 'A New Kind of Horror' erkannten wir schon früh, dass es sich eindeutig um Musik handelte, wie nur wir sie machen können. Sie entzieht sich jeglichen Vergleichen, weil wir eine Klasse für sich sind."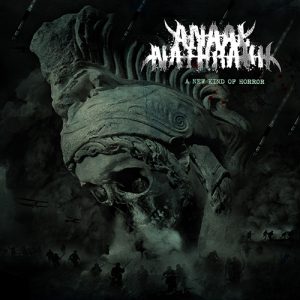 A New Kind of Horror track-listing
1. The Road To…
2. Obscene as Cancer
3. The Reek of Fear
4. Forward!
5. New Bethlehem/Mass Death Futures
6. The Apocalypse Is About You!
7. Vi Coactus
8. Mother of Satan
9. The Horrid Strife
10. Are We Fit for Glory Yet? (The War to End Nothing)
ANAAL NATHRAKH line-up:
Mick Kenney – guitars/bass/programming
V.I.T.R.I.O.L – vocals
ANAAL NATHRAKH live
02/11/18 DK – Aalborg – Aalborg Metal Festival
03/11/18 UK – Leeds – Damnation Festival
05/11/18 NL – Rotterdam – Baroeg
06/11/18 FR – Paris – Backstage
09/11/18 NL – Deventer – Burgerweeshuis
10/11/18 DE – Oberhausen – Helvete
POWERWOLF
THE SACRAMENT OF SIN TOUR 2019!
POWERWOLF will be heavily touring all over Europe from October on! Tickets are selling more than fast & lots of shows are sold out for weeks and even months already!
Time to reveal further tour dates for France, Spain, the UK as well as one German show in January 2019! Find all dates listed below and get your tickets now:
POWERWOLF AUF WOLFSNÄCHTE TOUR 2018:
w/ Amaranthe, Kissin Dynamite

25.10.18 FR – Paris / Bataclan – SOLD OUT!
26.10.18 DE – Wiesbaden / Schlachthof – SOLD OUT!
27.10.18 DE – Oberhausen / Turbinenhalle – SOLD OUT!
28.10.18 BE – Brussels / Ancienne Belgique – SOLD OUT!
29.10.18 DE – Hamburg / Mehr! Theater – SOLD OUT!
31.10.18 DE – Berlin / Huxleys
01.11.18 PL – Warsaw / Progresja
02.11.18 DE – Leipzig / Haus Auensee
03.11.18 CZ – Prague / Forum Karlin –  SOLD OUT!
04.11.18 HU – Budapest / Barba Negra – SOLD OUT!
06.11.18 AT – Vienna / Arena – SOLD OUT!
07.11.18 IT – Milan / Live Club
09.11.18 DE – Munich / Zenith
10.11.18 DE – Ludwigsburg / MHP Arena
11.11.18 NL – Eindhoven / Effenaar – SOLD OUT!
12.11.18 UK – London / Koko – SOLD OUT!
14.11.18 CH – Lausanne / Les Docks
15.11.18 CH – Zurich / Komplex 457
16.11.18 DE – Geiselwind / Event-Halle
17.11.18 DE – Saarbrücken / Saarlandhalle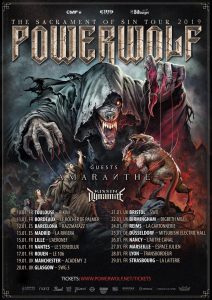 POWERWOLF AUF THE SACRAMENT OF SIN TOUR 2019:
w/ Amaranthe, Kissin Dynamite

10.01.19 FR – Toulouse / Bikini
11.01.19 FR – Bordeaux / Le Rocher De Palmer
12.01.19 ES – Barcelona / Razzmatazz 1
13.01.19 ES – Madrid / La Riviera
15.01.19 FR – Lille / L'Aeronef
16.01.19 FR – Nantes / Le Stereolux
17.01.19 FR – Rouen / Le 106
19.01.19 UK – Manchester / Academy 2
20.01.19 UK – Glasgow / Swg 3
21.01.19 UK – Bristol / Swx
22.01.19 UK – Birmingham / Digbeth Mill
24.01.19 FR – Reims / La Cartonnerie
25.01.19 DE – Düsseldorf / Mitsubishi Electric Hall
26.01.19 FR – Nancy / L'Autre Canal
27.01.19 FR – Marseille / Espace Julien
28.01.19 FR – Lyon / Transbordeur
29.01.19 FR – Strasbourg / La Laiterie
22.03.19 UA – Kiev / Pochayna Event Hall
23.03.19 BY – Minsk / Re:Public
24.03.19 RU – St. Petersburg / A2 Club
26.03.19 RU – Novosibirsk / Podzemka
28.03.19 RU – Yekaterinburg / Tele Club
29.03.19 RU – Moscow / Stadium
Mr. Irish Bastard Adrenalingeladene Melancholie – The Desire for Revenge Tour Part II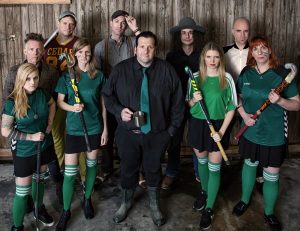 Am Ende des Tages, wenn die Club- oder Saalbeleuchtungen erlöschen und die acht Energetischen von Mr. Irish Bastard ihre ersten Takte von der Bühne wuchten, geht es immer um Liebe. Die große Macht, die im ständigen Wechsel zwischen Euphorie und Melancholie begriffen ist, lässt Mr. Irish Bastard vagabundieren, spielen, leben, feiern und teilen. Die Irish-Folk-Band, die auch ausgewiesene Punkrock-Fans mühelos zum Coolfinden ihrer Musik einlädt, ist alles, was sie sein soll: Dynamisch, verbindlich, herzlich, humorbegabt, schnell, laut und am Ende garantiert genauso transpiriert wie wir staunenden Zuschauer.
Nachdem die Truppe im Sommer kreuz und quer durch Europa gereist war und Festival-Gelände beben ließ, steht ab Mitte/Ende Oktober der zweite Teil ihrer erfolgreichen "The Desire For Revenge"-Tour auf dem Reiseplan. Die Songs des noch immer frischen, Anfang des Jahres erschienen und gecharteten, gleichnamigen Albums, klingen jetzt, ein paar Monate später, nochmal kraftvoller. Nach dem Live-Test ist schließlich immer vor dem Live-Favorit! Aber auch Songs aus dem wohlbekannten Repertoire der Band lassen sich in diesem Herbst neu genießen. Um eine Geige erweitert, prescht das Instrumentarium noch intensiver, weil irischer in Körper und Geist vor.
Apropos "irischer". Was Mr. Irish Bastard von den vielen anderen, auch guten Irish-Folk-Bands unterscheidet, ist das irische Blut, das in den Adern des Sängers Mr. Irish Bastard pulsiert. Seine Wurzeln liegen im konfliktbeladenen Norden der Insel, einer Gegend, in der viel Leid gestreut wurde, das sich im dortigen Lebensgefühl und damit auch im kulturellen Ausdruck manifestiert. Griffiger ausgedrückt bedeutet das: Alles bedingt alles andere in der Musik von Mr. Irish Bastard. Hinter jedem greifbaren Glücksgefühl verbirgt sich immer auch Tiefe, die melancholische Vorahnung, dass jedes Glück zerbrechlich ist.
Glück ist für die Acht natürlich zum einen die Musik. Zum anderen aber ist Freundschaft eine immer mitschwingende Konstante im Selbstverständnis und in der Live-Präsentation von Mr. Irish Bastard. Niemand wird ausgeschlossen, erst recht niemand im Publikum. Jeder ist eingeladen, ein Freund der Band zu werden. Und diese Freundschaft wird von den vier Gründungsmitgliedern mit Verbindlichkeit gelebt. Der Zeitgeist gibt mit seinen digitalen Dating-Auswüchsen zwar etwas anderes vor, aber Mr. Irish Bastard funktioniert nach dem Freundschaftsprinzip. Wort geben, Wort halten.
Damit wäre auch erklärt, warum neben den Gründungsmitgliedern oft andere, wechselnde Musiker auftauchen. Mr. Irish Bastard ist eine Band, aber auch ein gewachsener Organismus, der sich am Vektor Verbindung und Freundschaft orientiert. Wer einmal dabei war, wird immer wieder dabei sein können. Und wer will nicht immer wieder dabei sein, wenn die Band, die mit der augenzwinkernden Unterzeile "Drinking & Wenching" (Trinken und Rumhuren) für sich wirbt, zur Irish-Folk-Party einlädt? Öffnet die Herzen und Seelen, die Guinness-Flaschen und Poren sowieso, wenn Mr. Irish Bastard zwischen Oktober und Dezember in 13 ausgewählten deutschen Städten mit Charme, Liebe und irischer Musikerzählkunst den schnell getakteten Marsch blasen werden.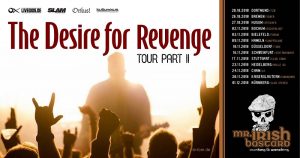 The Desire For Revenge Tour Part II
20.10. Dortmund – FZW
26.10. Bremen – Tower
27.10. Husum – Speicher
02.11. Bochum – Rockpalast
03.11. Bielefeld – Forum
09.11. Hameln – Sumpfblume
10.11. Düsseldorf – Tube
16.11. Schweinfurt – Stattbahnhof
17.11. Stuttgart – Club Cann
23.11. Heidelberg – Halle 02
24.11. Cham – LA
30.11. Kaiserslautern – Kammgarn
01.12. Nürnberg – Club Stereo
GLANVILLE AND GALACTIC SUPERLORDS TEAM UP FOR TOUR!
A bit of Thin Lizzy, a bit of Iron Maiden, with hints of Dio. GLANVILLE sounds like Rob Halford wearing Dennis Hopper's leather jacket in Easy Rider. An introduction of exciting things to come: After the critically acclaimed debut EP 'First Blood' released in May 2018, GLANVILLE have teamed up with the GALACTIC SUPERLORDS for a tour this Fall!
René Hofmann and Philipp Michel started playing music together as teenagers but at such a young age nobody knows what will happen the next day, much less in the far future. 13 years later Hofmann is a music producer in Darmstadt and Michel is an active touring guitar player and songwriter, still based in the Hessian hinterland. After all these years the two decide to start a new project together, a classic duo like Page and Plant. The search for the rest of the band GLANVILLE took more than a year, but ?nally a line-up of experienced musicians was completed: Peter-Philipp Schierhorn on bass, Thomas Hoffmann on drums, and Chris West on second guitar. After a quick and dirty pre-production the band met at a studio in Darmstadt, with most members never having played together and some even meeting each other for the ?rst time. Everyone's prepared and focused. Two days of rehearsals, two days of recording. Live, real and with passion for the music.
Catch GLANVILLE live and real on the following dates this Fall, with GALACTIC SUPERLORS on the bill: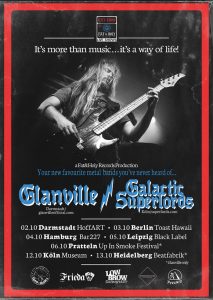 02.10.18 Darmstadt – HoffART Theater
03.10.18 Berlin – Toast Hawaii
04.10.18 Hamburg – Bar227
05.10.18 Leipzig – Black Label
06.10.18 Pratteln – Up In Smoke
12.10.18 Köln – Museum
13.10.18 Heidelberg – Beatfabrik
SASQUATCH TO START EXTENSIVE EUROPEAN TOUR THIS WEEK!
Heavy rockers in SASQUATCH released their fifth full-length album titled Maneuvers, worldwide through their own imprint, Boston-based Mad Oak Records, on June 20th 2017. Not only does this album showcase the work of new drummer Craig Riggs (Roadsaw, Kind, White Dynomite), it's also the Los Angeles trio's newest material since the critically acclaimed 2013 release of "IV"!
The band is about to start on tour in Europe this week and for six weeks in support of their current record. Make sure to catch SASQUATCH and their energetic live shows on the following dates, presented by Sound of Liberation: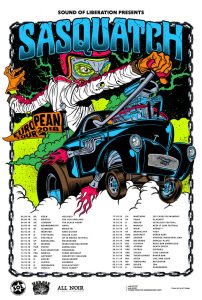 26.09.18 DE – Köln | Helios37
28.09.18 UK – Bristol | The Old England
29.09.18 UK – London | The Black Heart
30.09.18 UK – Bourrnemouth | Anvil
02.10.18 NL – Nijmegen | Merleyn
03.10.18 DE – Münster | Rare Guitar
04.10.18 DE – Stuttgart | Keller Club
05.10.18 CH – Pratteln | Up In Smoke Festival
07.10.18 ES – Barcelona | Rocksound
08.10.18 ES – Madrid | Wurlitzer Ballroom
09.10.18 PT – Porto | Barracuda
10.10.18 ES – San Sebastian | Dabadaba
11.10.18 FR – Nantes | Scène Michelet
12.10.18 BE – Antwerp | Desertfest
13.10.18 DE – Erfurt | Engelsburg *with Wo Fat
14.10.18 DE – Leipzig | Soundso
15.10.18 DE – Wiesbaden | Schlachthof *with Wo Fat
16.10.18 CH – Zürich | Rote Fabrik *with Wo Fat
17.10.18 CH – Martigny | Cave du Manoir *with Wo Fat
18.10.18 FR – Paris | Glazart *with Elder, Wo Fat, Ancestors
19.10.18 DE – Berlin | Setalight Festival
20.10.18 DE – Munich | Keep It Low Festival
21.10.18 AT – Wien | Arena *with Elder, Ancestors
22.10.18 SK – Bratislava | Fuga
23.10.18 HU – Budapest | Dürer Kert
24.10.18 HR – Zagreb | Vintage Industrial Bar
25.10.18 SR – Belgrade | Dorcol Platz
26.10.18 BG – Plovdiv | Rock Bar Download
27.10.18 GR – Athens | Death Disco
28.10.18 GR – Patra | Giafka
30.10.18 GR – Volos | Cafe Santan
31.10.18 GR – Thessaloniki | Rover Bar
01.11.18 BG – Sofia | Live And Loud
02.11.18 RO – Timisoara | Reflektor
03.11.18 HR – Osijek | TBA
04.11.18 DE – Passau | Zauberberg
ALL-STAR-DEATH METAL BAND SINSAENUM TO KICK OFF
EUROPEAN TOUR THIS WEEK!
DragonForce´s Fred Leclercq and Joey Jordison of VIMIC (former drummer and co-founding member of Slipknot), who just released the brand new and critically acclaimed album 'Repulsion For Humanity' by all-star death metal band SINSAENUM on August 10th 2018 with Ear Music, are about to kick off for an extensive European tour this week! Starting on September 28th with shows in France, continuing their run all over Germany, Poland, Italy, Scandinavia, BeNeLux and many more European hot spots with a final show in Helsinki a month later, the band will be joined by very special guests HATESPHERE.
When you hear about artist side projects or self-styled "all-star bands", you usually cannot help but roll your eyes at the audacity of the creators. However, when it comes to the extreme metal beast that is SINSAENUM, open your mind and ears and forget your preconceptions! Whilst they may draw their sonic power from renowned names, these are first and foremost friends joining forces as the most logical thing to do. SINSAENUM is a solidly bonded band of like-minded great musicians featuring Joey Jordison, DragonForce's Fred Leclercq, Attila Csihar from Norwegian black metal legends Mayhem and drone masters SUNNO))) (who has been featured on the band's highly acclaimed debut album 'Echoes Of The Tortured`'), Sean Zatorsky from NWoAHM titans Dååth and Chimaira, Stéphane Buriez of French death metal veterans Loudblast as well as Heimoth, mastermind of eclectic extremists Seth.
"I've been a death metal fan ever since and wrote some of these songs already in 1998, so it's something I always wanted to do," says multi-instrumentalist and virtuoso bass player of London-based Power Metallers DragonForce Fred Leclercq, who sticks to the guitar on this venture. "There was never the right time though, nor did I find the proper people to pull it off."
The end result of this mighty fusion is the second successfully released album titled 'Repulsion For Humanity', featuring some head-splitting riffs, challenging rhythms and structures, but at once such an infectious record created by one of the most influencing and incredibly versatile musicians the metal scene has to offer.
It's been just a matter of time to finally bring this exciting band project live on stage: "We are really excited about this upcoming tour in the fall and we looking forward to finally being able to meet our fans. To embark on this run with HateSphere is an honor and a great motivation to outdo ourselves every night! Those of you who have already seen us with our other bands know what we are capable of; all these energies combined will be something unique you dont want to miss! See you all very soon!" – Joey, Steph, Heimoth, Sean, Fred.
Check out this promising teaser in support of the band's upcoming 'Repulsion For Humanity Tour 2018' right HERE!
Make sure to catch this unique all-star death metal group of SINSAENUM live on the following dates, presented by Dragon Productions with very special guests HATESPHERE: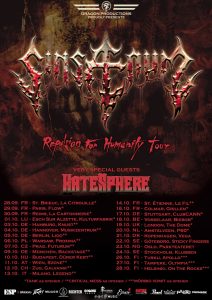 28.09.18 FR St. Brieuc / La Citrouille, with HateSphere + T.A.N.K.
29.09.18 FR Paris / Flow, with HateSphere + T.A.N.K.
30.09.18 FR Reims / La Cartonnerie, with HateSphere + T.A.N.K.
01.10.18 LUX Esch Sur Alzette / Kulturfabrik, with HateSphere + T.A.N.K.
03.10.18 DE Hamburg / Knust, with HateSphere + Critical Mess
04.10.18 DE Hannover / Musikzentrum, with HateSphere + Critical Mess
05.10.18 DE Berlin / Lido, with HateSphere + Critical Mess
06.10.18 PL Warsaw / Proxima, with HateSphere + Critical Mess
07.10.18 CZ Prag / Futurum, with HateSphere + Critical Mess
09.10.18 DE München / Backstage, with HateSphere + Critical Mess
10.10.18 HU Budapest / Dürer Kert, with HateSphere + Critical Mess
11.10.18 AT Wien / Szene, with HateSphere + Critical Mess
12.10.18 CH Zug / Galvanik, with HateSphere + Critical Mess
13.10.18 IT Milano / Legend, with HateSphere + Critical Mess
14.10.18 FR St. Étienne / Le Fil, with HateSphere + Critical Mess
16.10.18 FR Colmar / Grillen, with HateSphere + T.A.N.K.
17.10.18 DE Stuttgart / ClubCANN, with HateSphere + T.A.N.K.
18.10.18 BE Vosselaar / Biebob, with HateSphere + T.A.N.K.
19.10.18 UK London / The Dome, with HateSphere + T.A.N.K.
20.10.18 NL Amstelveen / P60, with HateSphere + T.A.N.K.
21.10.18 DK Kopenhagen / Vega, with HateSphere
22.10.18 SE Göteborg / Sticky Fingers, with HateSphere
23.10.18 NO Oslo / Parkteateret, with HateSphere
24.10.18 SE Stockholm / Klubben, with HateSphere
26.10.18 FI Turku / Apollo, with HateSphere + Mörbid Vomit
27.10.18 FI Tampere / Olympia, with HateSphere + Mörbid Vomit
28.10.18 FI Helsinki / On The Rocks, with HateSphere + Mörbid Vomit
Hamferð kündigen Skandinavientour an!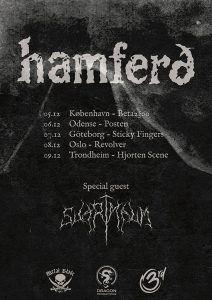 Die Fähringischen Doom Metaller Hamferð haben ja nach Veröffentlichung ihres monumentalen 'Támsins likam' Anfang des Jahres über Metal Blade Records eine ganze Reihe an Shows in Mitteleuropa gespielt. Jetzt ist es an der Zeit, nach Skandinavien überzusetzen, dieser Run enthält den ersten Auftritt der Band in Schweden, seit sie international aktiv sind.
Sänger Jón Aldará: "Eine vernünftige Tour für unsere Nachbarn im Norden ist schon lange auf unserer Wunschliste. Wir sind begeistert, dass es endlich soweit ist und dass wir Schweden mit einbeziehen konnten. Noch nicht dort gespielt zu haben, konnte man ja schon als Tragödie bezeichnen. Auch die Rückkehr nach Norwegen und Dänemark ist schön, dort wurden wir immer besonders herzlich empfangen. Es ist nicht zu leugnen, dass wir eine enge kulturelle Verbindung zu unseren nordischen Brüdern und Schwestern haben, daher wird diese Tour ohne Zweifel etwas ganz Besonderes!"
Mit an Bord sind die fährischen Black Doomer von Svartmálm, welche ihr Debütalbum Anfang des Jahres veröffentlicht haben.
Hamferð
+ Svartmálm
05.12.2018 DK – København – Beta 2300
06.12.2018 DK – Odense – Posten
07.12.2018 SE – Göteborg – Sticky Fingers
08.12.2018 NO – Oslo – Revolver
09.12.2018 NO – Trondheim – Hjorten Scene
Weitere Hamferð Liveshows sind in Deutschland, Belgien und den Niederlanden angesetzt.
Hamferð live:
02.10.2018 DE – Stuttgart, Club Zentral (w. Egonaut)
03.10.2018 DE – Leipzig, Hellraiser (w. Egonaut)
04.10.2018 DE – Hamburg, Bambi Galore (w. Egonaut)
05.10.2018 DE – Paderborn, Metal Inferno Festival
06.10.2018 BE – Saint Georges, From Dusk til Doom 4
07.10.2018 NL – Tilburg, Little Devil