VAN CANTO – In Search of Their
"Neverland"
Official Music Video For Third Single
On their third single VAN CANTO set out to find their " Neverland". It's the last official video for their new album Trust in Rust, which will be released this Friday, August 10th. The song celebrates in best VAN CANTO style the importance of self-belief. The band got active support from a few of their lovely fans, who act in the video.
The band comments on "Neverland"
It is a song with a very special atmosphere, somewhere between awake and asleep.
The lyrics are 100% VAN CANTO, stating that you have to belive in yourself and what you do.
The vocal arrangement picks up on this atmosphere by adding a lot of harmonies and chordchanges."
BEYOND THE BLACK – Release Official Music Video For
"Million Lightyears"!
Just one month remains until BEYOND THE BLACK will release their brand-new album Heart Of The Hurricane – out on August 31 via Napalm Records (GSA via Airforce1).
BEYOND THE BLACK celebrate a true story of success! Their debut album Songs Of Love And Death (2015) immediately scored #12 on the German album charts. Only one year later their latest release, Lost In Forever (2016) stormed the charts again and a top 5 ranking catapulted the band even further forward! We can't wait for their promising new release Heart Of The Hurricane!
Today the band reveals their official music video for the song " Million Lightyears". With this heartfelt and powerful song about being stranded away from oneself and each other, the vocal duo of BEYOND THE BLACK shine in the new video for "Million Lightyears"!
BEYOND THE BLACK is pure symphonic metal full of energy, straightforward and without any compromises! Their engines are hot, and roaring straight into the Heart Of The Hurricane. The title of the third album is not just a catchy phrase, it's a promise. It's the result of two years of hard work skyrocketing the band to the next Level.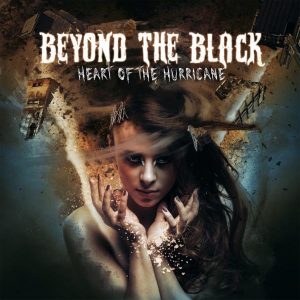 Full Heart Of The Hurricane track listing:
1.   Hysteria
2.   Heart of the Hurricane
3.   Through the Mirror
4.   Million Lightyears
5.   Song for the Godless
6.   Escape from the Earth
7.   Beneath a Blackened Sky
8.   Fairytale of Doom
9.   My God is Dead
10. Dear Death
11. Scream for Me
12. Freedom
13. Breeze
Bonustracks:
14. Echo from the Past
15. Parade
LORD OF THE LOST – Happy Release Day + Lyric Video
With THORNSTAR the band succeeded in creating an epochal piece of work about the doomed high civilization of the Pangaeians, which reveals unknown sonic facets and an exceptional emotional depth. Their previous releases topped the German album charts, while this release has potential to surpass all past efforts.
In the lyric video for the third single the antagonist of Mother Nature Morgana arises: The god of darkness " Haythor". In the myth of the Pangaeians he symbolizes selfishness, harm and possessive love in contrast to the goddess of light and unconditional love Morgana. Together they complement the universe. Not only in story but also musically this third single is a perfect example of this extraordinary and experimental concept album with it's typical LORD OF THE LOST sound: " Haythor" is the bastion of darkness in a some time light-flooded record.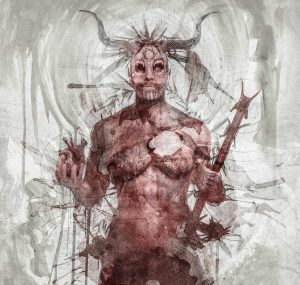 Tracklist:
CD 1
On This Rock I Will Build My Church
Loreley
Black Halo
In Our Hands
Morgana
Haythor
Naxxar
Cut Me Out
The Mortarian
Under The Sun
In Darkness, In Light
Forevermore
Ruins
  CD 2
(available in the Digipack)
Abracadabra (feat. Dero Goi / OOMPH!)
Voodoo Doll
The Art Of Love
Lily Of The Vale
Penta
Free Radicals
Live Pray Die Repeat
Wolfheart to release "Constellation of the Black Light on September 28th via Napalm Records
Raw Finnish Coldness with beauty of northern lights and crushing force of winter!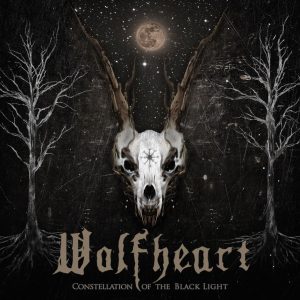 The Wolves strike back with their long awaited 4th full length studio album Constellation Of The Black Light which will be released on September 28th via Napalm Records. WOLFHEART's music embraces the sheer force and beauty of Finnish nature with fiery passion. After the success of their first three albums that all hit the Top 10 in the Finnish album charts, among them their last album Tyhjyys that charted in Switzerland as well, the time has come to unleash the next masterpiece of raw Winter Metal! Constellation Of The Black Light comes with seven tracks that dive headfirst into Black Metal, Nordic Death Metal, soaring melodies and complex Arrangements.
The band on the new Album:Determination and perseverance were the key points in the making this album while conquering obstacle after obstacle during the process of recordings while coldness and beauty of winter were the themes where the music was born. This is definitely a triumph in Wolfheart career and one of the biggest battles won in my personal career. I could not be more satisfied with the result and with new label and management behind us we are headstrong to stay in the bath of victories."
KOMATSU FEIERN VIDEO PREMIERE ZUM KOMMENDEN ALBUM! 'A New Horizon' erscheint am 07.09.2018 auf Argonauta Records!
Eindhoven's Stoner und Sludge Rocker KOMATSU haben erst kürzlich erste Details zu ihrem kommenden 3. Studio Album 'A New Horizon', welches am 07.09.2018 auf Argonauta Records erscheint, bekannt gegeben. Nun holen die Niederländer zum nächsten Schlag am musikalischen Horizont aus! Aufgenommen in den The Void Studios mit Produzent Pieter Kloos, präsentieren KOMATSU uns auf ihrem neuen Album einen feurigen Mix aus Sludge, Stoner Rock und der geballten Ladung Metal, und geben daraus nun einen ersten Eindruck mit einem brandneuen Video! Auf zu neuen Horizonten mit KOMATSU und ihrem Album Titeltrack Video zu 'A New Horizon' geht es HIER!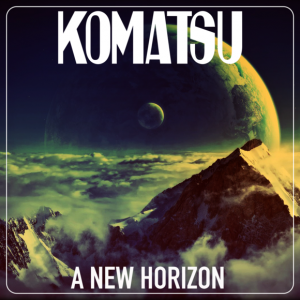 Sänger und Gitarrist Mo Truijens erklärt: "Für A New Horizon wollten wir einen Video Clip der die Story der Lyrics zu einem Sci-Fi Szenario erzählt. Der Song bringt ein revolutionäres Gefühl mit sich. Die Menschen machen sich von allen Regeln und Gesetzen frei, lassen den ganzen Wahnsinn der Menschheit auf der Erde hinter sich und begeben sich auf die Suche nach einer neuen Welt und neuen Horizonten. Also, seid ihr dabei oder nicht?"ie Tracklist zu 'A New Horizon' liest sich wie folgt:

1. I Got Drive
2. Prophecy
3. 10-4
4. Surfing A Landslide
5. Love Screams Cruelty
6. Komatsu
7. Infected
8. A New Horizon
9. Walk A Mile
10. This Ship Has Sailed
KOMATSU haben sich 2010 zusammen geschlossen, ihre musikalische Vergangenheit in diversen früheren Bands hört man ihnen an, so hat die Band längst einen eindrucksvollen Stempel in der aktuellen Stoner und Sludge Szene hinterlassen. Nach 2 Album Veröffentlichungen und unzähligen Touren mit Bands wie John Garcia, The Duel, Nick Oliveri's Mondo Generator bis hin zu einer Tournee in Brasilien, machen sich KOMATSU am 07.09. auf zu 'A New Horizon', Vorbestellungen sind möglich unter:
LP: http://www.argonautarecords.com/shop/en/home/288-komatsu-a-new-horizon-lp.html
CD: http://www.argonautarecords.com/shop/en/cd/287-komatsu-a-new-horizon-cd.html
iTunes: https://itunes.apple.com/it/album/a-new-horizon/1407526420?i=1407527207
WEAPON UK – "Burning Skies" – Veröffentlichung der Single aus dem Album "Rising From The Ashes"
Auf Soundcloud wurde die Singleauskopplung der NWoBHM Band WEAPON UK – "Burning Skies" veröffentlicht. Das Album "Rising From the Ashes" wird offiziell am 28. September 2018 auf Vinyl über PURE STEEL RECORDS erscheinen. Das Album wird mit einer Auflage von 300 schwarzen Exemplaren, 2 Bonustracks und insert veröffentlicht. Der Vorverkauf beginnt am 14. September 2018 in unserem Webshop. Das Album ist ebenfalls auf CD und als Download erhältlich.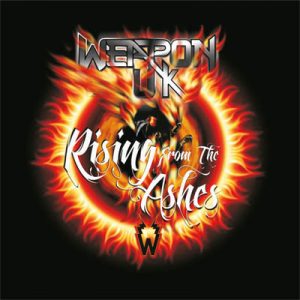 PICTURE UNTERSCHREIBEN WELTWEITEN DEAL BEI PURE STEEL RECORDS
PICTURE aus den Niederlanden veröffentlichen ihr lang erwartetes Live Album "PICTURE LIVE: 40 Years Heavy Metal Ears, 1978-2018″ nun endlich über Pure Steel Records. Die bekannte Band aus den Achtzigern hat in ihrer langen Karriere unzählige Killer-Songs und Klassiker veröffentlicht! Für Freunde und Fans des achtziger Jahre Heavy Metals ist die Band natürlich Kultobjekt!
Auch heute noch ist die Band aktiv und hat in den letzten Jahren auch fantastisches Material zu Gehör gebracht! Live gab es schon immer gewaltige Bühnenperformance!
Ebenfalls werden die Album "Old Dog New Tricks" von 2009 und "War Horse" von 2012 zum ersten mal auf Vinyl veröffentlicht. Details werden folgen!
Für alle achtziger Fans Pflicht!… Aber nicht nur für die!!!
Bandstatement:
"Picture is very proud to have found great partners in Pure Steel Records for the best support heavy metal can get! We can't thank them enough for giving us this opportunity at this exciting time in the history of the band."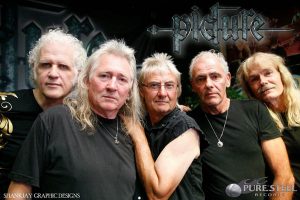 DARKNESS enthüllen Albumdetails
Die Thrash Veteranen DARKNESS werden am 12. Oktober ihr neues Album "First Class Violence" bei Massacre Records veröffentlichen!
Das Album, dessen Artwork und Tracklist unten verfügbar sind, wurde von Cornelius Rambadt im Rambado Recordings Studio aufgenommen und gemischt und von Dennis Köhne gemastert. Timon Kokott hat sich um das Albumartwork gekümmert.
Jürgen "Ventor" Reil (Kreator) und Tom Angelripper (Sodom) haben bei einem Song auf dem kommenden Album Gastvocals beigesteuert.
"First Class Violence" ist ein weiteres fehlendes Puzzleteil, um die Welt durch die wütenden und verzweifelten Augen von DARKNESS zu sehen!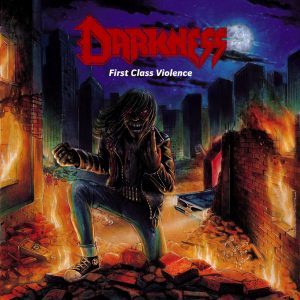 HORSEMAN veröffentlichen neue Single
Die Modern Metaller HORSEMAN haben heute ihre neue Single "Teach Them To Question" veröffentlicht, zu der es hier auch ein Lyric Video gibt » https://youtu.be/rnAdu_Vuhy4
Das neue und insgesamt dritte Album der Band, "Of Hope, Freedom And Future", wird am 21. September bei Massacre Records erscheinen. Für den Mix ist Igor Rogovic verantwortlich, das Mastering übernahm Drummer Michael Kolar. Gitarrist Gregor Panic hat das Coverartwork gestaltet.
"Of Hope, Freedom And Future" bietet eine Mischung aus knallharten Kompositionen mit treibenden und groovigen Riffs, aber auch einprägsamen Melodien und Vocals. Hier kann man das Album vorbestellen » https://massacre.lnk.to/horseman_ohfaf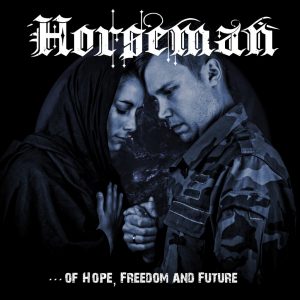 ORSEMAN – Of Hope, Freedom And Future
1. Of Hope, Freedom And Future
2. A Thousand Wars
3. Hunters
4. See Me Hanging
5. The Monsters I Feed
6. Die Gedanken Sind Frei
7. Teach Them To Question
8. An Open Mind Breaks Down Walls
9. The Giant
10. Fools Keep Marching
11. The Final Dance
12. Shellshock
CONVICTION REVEAL ALBUM DETAILS!
Debut Album Coming November 9th 2018 On Argonauta Records!
French Doom Metal band CONVICTION have unveiled first and hotly anticipated details about their self-titled debut album, set for a release on November 9th 2018 with Argonauta Records!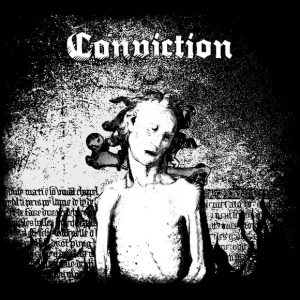 Rising up from the mind of Olivier Verron (more known in the international Metal Scene under the alias of Amduscias, leader of the French Black Metal band TEMPLE OF BAAL), CONVICTION was formed in November 2013, when the first demo was composed and recorded… In only 11 hours. CONVICTION's first release introducing a pure traditional Doom band influenced by SAINT VITUS, PENTAGRAM, COUNT RAVEN or early CATHEDRAL, was very well received within the Underground. After the release of their second digital single 'Outworn', CONVICTION was joined by guitar player Frédéric Patte-Brasseur (ATARAXIE, FUNERALIUM), bass player Vincent Buisson (MOURNING DAWN) and drummer Rachid "Teepee" Trabelsi (MOONSKIN, CORROSIVE ELEMENTS).
After signing a worldwide deal with Italy's rising label Argonauta Records, the band is excited to finally release their first full-length album, recorded, mixed and mastered by guitarist Frédéric Patte-Brasseur in the Vault 92 Studio.
Says band mastermind Olivier Verron: "I've been thinking about putting up this band together for more than 20 years. This is the result, a pure Doom Metal offering, in the pure tradition, played and recorded with passion and reverence to the masters of the True Doom Metal scene."
Billy Talent

geben 2 Termine bekannt

Billy Talent sind live eine Macht. Das muss man mal so schreiben dürfen. Viele Bands schätzen die Kanadier genau deshalb – aber nur die Besten trauen sich, so einen Knaller ins eigene Vorprogramm zu nehmen. Dazu zählen natürlich Die Toten Hosen, die Billy Talent auf ausdrücklichen Wunsch bei ihren wohl wichtigsten und heiligsten Konzerten dabei haben wollen. Am 12. und 13. Oktober werden sie deshalb bei beiden Heimspielen der Hosen das Vorprogramm bestreiten.
12.10.2018 Düsseldorf – ESPRIT arena // Support für Die Toten Hosen
13.10.2018 Düsseldorf – ESPRIT arena // Support für Die Toten Hosen
HIGH FIGHTER ANNOUNCE MORE UPCOMING SUMMER TOUR DATES!
Hamburg-based Sludge & Stoner Metal band HIGH FIGHTER, who just recently announced to return to the UK this summer with support from special guests TUSKAR and MY DIABLO, have added a bunch of new dates around their UK summer run! Beside gigs at Bolton's Riff Fest and more UK cities, HIGH FIGHTER added some upcoming shows in France as well as Luxembourg.
It's been three years since the band toured the United Kingdom while on their first European tour ever back in early 2015. This August, HIGH FIGHTER will bring their latest record 'Scars & Crosses' as well as some brand new material live on stage. It will be one of the last tours HIGH FIGHTER are going to play this year and before they will release their second full length album in early 2019. If you're looking for a highly polished band then look elsewhere as HIGH FIGHTER play mean and dirty Blues, Stoner, Doom & Sludgy riffs to fuel your appetite with, make sure to catch them live on the following dates this year:
23.08.18 NL – Tilburg / Little Devil
24.08.18 UK – Bournemouth / The Anvil
25.08.18 UK – Bolton / Riff Fest
26.08.18 UK – Edinburgh / Bannerman's
27.08.18 UK – Bristol / The Old England
28.08.18 UK – Milton Keynes / The Craufurd Arms
29.08.18 UK – London / The Devonshire Arms
30.08.18 FR – Lille / Bobble Café
31.08.18 FR – Paris / Rigoletto
01.09.18 LUX – Belval / Mix n Kawa
More upcoming HIGH FIGHTER dates:
14.09.18 DE – Hannover / Subkultur
20.10.18 DE – München / Keep It Low Festival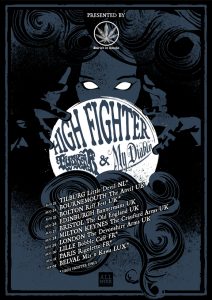 Born in the summer of 2014 by former band members of A Million Miles, Buffalo Hump and Pyogenesis, this band is a volatile cocktail of heavy as hell riffs! Add a heavy dose of the blues and these deadly schizophrenic vocals and HIGH FIGHTER offer something new to the Sludge, Stoner, Doom & Metal Scene. After their critically acclaimed debut EP 'The Goat Ritual' released end of 2014, followed by numerous shows all over Europe, including festivals such as Wacken Open Air, Summer Breeze, Desertfest Berlin & Antwerp, Sonic Blast, Up In Smoke and many more, as well as several gigs with bands alike Ahab, Conan, Crowbar, Mantar, Corrosion of Conformity, Elder, Downfall of Gaia, Mammoth Storm, Brant Bjork, The Midnight Ghost Train and Earth Ship to name just a few, HIGH FIGHTER released their first full length album 'Scars & Crosses' in June 2016 with Svart Records. The band's second studio album will see the light of day in early 2019.
KAMBRIUM
"DAWN OF THE FIVE SUNS"  Cover & Tracklist veröffentlicht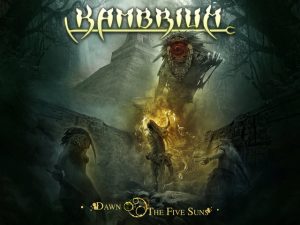 Die deutsche Epic Death Metal Band KAMBRIUM veröffentlicht das neue Album ' DAWN OF THE FIVE SUNS' am 09. November über NoiseArt Records.
Erstmals in der Bandgeschichte konnte die Band die Möglichkeit ergreifen mit einem echten, 16-köpfigen Männerchor zu arbeiten. Da die Melodieläufe auf " DAWN OF THE FIVE SUNS" eine bereits hohe Dichte an Ohrwürmern aufweisen, war es nur logisch diese mit noch mehr epischen Stimmen zu perfektionieren. Das musikalische Material ist vielschichtiger, atmosphärischer und erhabener als auf den Vorgängeralben, sodass eine dichte, dschungelartige Stimmung erschaffen wird, um den Hörer mitten in die Mythen und Sagen der Azteken zu katapultieren!
Das fantastische Artwork hat passend dazu wieder Felipe Machado gestaltet, der bereits zusammen mit Blind Guardian, Xandria, sowie Rhapsody Of Fire arbeitete.
" DAWN OF THE FIVE SUNS" wurde zum größten Teil im renommierten Kohlekeller Studio unter der Leitung von Kristian Kohlmannslehner aufgenommen.
Heute veröffentlichte die Band auch die Tracklist für das kommende Album:
Tracklist:
01 – Forest Hunt
02 – Dawn Of The Five Suns
03 – Against All Gods
04 – Cabrakan, God Of Mountains
05 – Everlasting Resistance
06 – Ghost Shaman
07 – Tribe Of Darkness
08 – Nocturnal Woods
09 – Sacrifices Must Be Made
10 – Blood Soaked Goddess
11 – Lord Of Mictlan
"Against All Gods" wird die erste Single (inkl. Lyric Video) sein, und wird am 31. August veröffentlicht!
Die Band sagt dazu:
"Against All Gods" ist ein schneller und abwechslungsreicher Song, mit einem Refrain der nicht mehr aus dem Kopf geht!
Dieser Song gibt euch einen kleinen Vorgeschmack auf den 16-köpfigen Männerchor, den wir auf "DAWN OF THE FIVE SUNS" haben!
Mehr Infos gibt es in Kürze… seid gespannt!
Das aktuelle Album "The Elders' Realm" wurde 2016 via NoiseArt Records veröffentlicht.