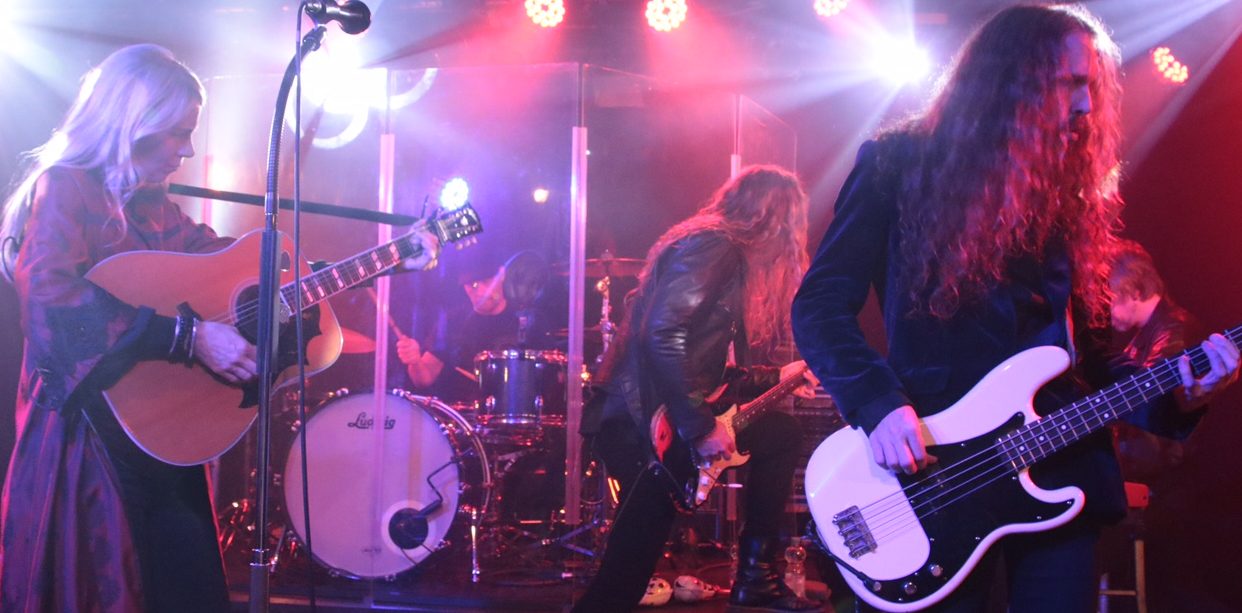 Donnerstag Abend und es ging zum Kubana in Siegburg. AVATARIUM waren auf Ihrer "Hurricanes and Halos Tour" und haben Halt in Siegburg gemacht. Mit dabei waren die Doom Metaller von THE SLAYER KING. Als wir um 19:30 Uhr ankamen haben wir uns doch etwas gewundert da es vorm Kubana keinen großen Auflauf an Leuten gab.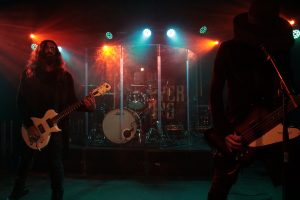 Dafür konnte es nur 2 Möglichkeiten geben. Erstens alle waren schon drin und es ist früher angefangen oder zweitens es waren nicht viele da. So war es dann auch, die 120 Karten die im Vorverkauf abgesetzt wurden waren noch nicht alle da und mehr würden es auch nicht. Egal runter und darauf gewartet das THE SLAYER KING um 20:00 Uhr mit ihrem Gig begannen. Es war schon etwas komisch als THE SLAYER KING auf die Bühne kamen denn Sänger und Bassist Efthimis K. trug einen schwarzen Sombrero mit Fransen, so das man sein Gesicht nicht erkennen konnte und Drummer George K. war hinter Plexiglas aufgebaut.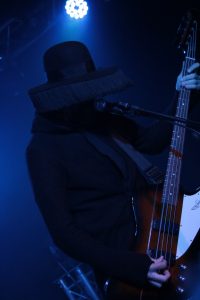 Den Hut hielt Efthimis auch die ganze Show über auf was dem Gesang keinen Abbruch tat. Mit Song wie "Gate of The Sun" oder "Black Mother of The Lord of Light" wussten THE SLAYER KING die Fans zu überzeugen. Gelungener Auftritt was Spaß auf AVATARIUM machte.
21:15 Uhr das warten hat ein Ende und AVATARIUM betreten unter großen Applaus der nun doch mehr gewordenen Fans die Bühne. Jennie-Ann tritt mit einem langen Kimono auf die Bühne, ob Sie was zu verbergen hat? Alle 5 Musiker sind von der ersten Minute an da und haben sichtlich Spaß heute Abend hier auf zu treten. Der Funke springt auch von Anfang an direkt über auf die Fans, die Begeistert mitgehen. Gleich mit dem Opener "Into The Fire" zeigen uns AVATARIUM worauf wir uns heute  freuen können nämlich auf Hausgemachten und gut gespielten Doom Metal.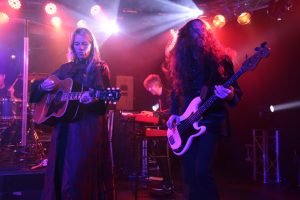 Jennie wechselte zwischen durch mal die Instrumente und nahm sich sowohl die Gitarre als auch die Rasseln vor wie beim Song "Pearls and Coffins" oder "Deep Well". Aber auch bei den anderen Songs merkte man die Spielfreude, besonders bei Gitarrist Marcus Jidell. Was er auf der kleinen Bühne bei manchen Songs für eine Show hinlegte war schon sehenswert. Ohne groß Worte zu verlieren präsentierten AVATARIUM uns einen Song nach dem anderen was die Fans natürlich freute. Das AVATARIUM nicht nur schnell sind sondern auch langsam können präsentierten Sie uns im Song "In my Time of Dying", wo neben Jennie-Ann's Gesang nur eine Gitarre gebraucht wurde um dem Song die nötige Dramatik zu geben.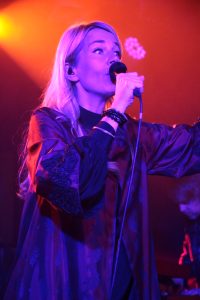 Als Jennie-Ann danach die Band einzeln vorstellte waren die Fans sofort wieder da und feierten alle einzeln nach einander.
So kann man mit fug und recht sagen das dieser Auftritt von AVATARIUM ein geiler Auftritt war wo alle Beteiligten auf ihre Kosten kamen.
Setlist:
1. Into The Fire
2. Pearls and Coffins
3. Kiss from The End of The World
4. Starless Sleep
5. Run Killer Run
6. In my Time of Dying
7. Medusa
8. Girl with The Raven Mask
9. Deep Well
10. Sky of The Bottom of The Sea
11. Moonhorse
12. When Breath Turms to Air
13. Avatarium