2017 startet doppelt düster: EIN Abend, ZWEI Headliner-Shows! Die Goth-Rocker LACRIMAS PROFUNDERE verbünden sich mit den Elektro-Rockern A LIFE DIVIDED. Zwei Bands, die für atmosphärische, energetische und emotionsgeladene Konzerte stehen. "Jede Band wird eine volle Show spielen, es gibt keine Vorband. Eine ganz besondere Tour für alle Fans. Wer zuerst spielt, wird von Stadt zu Stadt entschieden", erklärt Jürgen Plangger, Frontmann von A LIFE DIVIDED. LACRIMAS PROFUNDERE präsentieren nach Tourneen in 29 Ländern und mehr als 100'000 verkauften Alben ihr neues Werk "Hope is here". Die Band um Frontmann Rob Vitacca hat nach ihrer 23-jährigen Geschichte längst Kultstatus. Oliver Niklas erklärt: "Mit unserem ersten Konzeptalbum und dann noch so guten Freunden durch die Clubs zu ziehen, wird ein neues Highlight und wir können es kaum erwarten bis der Startschuss fällt." A LIFE DIVIDED kommen mit ihrem chartplatzierten und hoch gefeierten Album "Human" zurück. Nach ihrer Stadien-Hallentour mit "Unheilig" vor 150'000 Besuchern und ihrer erfolgreichen "Human" Tour setzen die vier Jungs zum neuen Höhenflug an.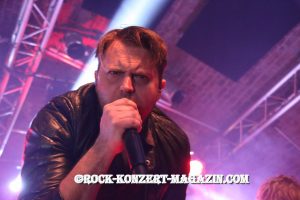 Beide Bands teilen sich außer den Bühnen auch Gitarrist Tony Berger, der sich auf seine Doppelschicht freut: "Die Idee geistert schon lange durch unsere Köpfe. Wir kennen uns alle schon seit vielen Jahren – da wird es sicher die eine oder andere spontane Überraschung auf der Bühne geben!"
An diesem Abend waren die Bands in der Matrix in Bochum zu Gast. Begonnen hat an diesem Abend A LIFE DIVIDED.  Ohne Keyboarder und Gitarristen Eric Damköhler waren A LIFE DIVIDED pünktlich um 20:00 Uhr zum Intro auf die Bühne gekommen. Leider war die Matrix nur zu gut ¾ gefüllt und die Hardcore Fans standen in der ersten Reihe, wobei man feststellen musste das es wohl nicht so viele waren wie für LACRIMAS PROFUNDERE. Trotzdem fing A LIFE DIVIDED an mit starkem Ausdruck und Gefühl in den Songs. A LIFE DIVIDED haben nicht nur eigene Songs sondern haben auch ein gutes Cover von keiner geringeren Band als von DEPECHE MODE´S Song "Walking in my Shoes". Die Frage ist ob der Song dazu beigetragen hat das Bassist Tobi Egger ab diesem Zeitpunkt doch die ein oder anderen größeren Schwierigkeiten mit der Akustik hatte. Er flüsterte Sänger Jürgen was in s Ohr und verschwand kurz von der Bühne, was aber dann länger dauerte. In der Zeit improvisierte Jürgen in dem er seine Gitarre holte und ein Akustik Song den Fans präsentierte. Immer wieder gab es kurze Verzögerungen aber es wurde weiter gemacht als wäre nichts gewesen. Es gab ja die Ansage das beide Bands eine volle Show spielen und so war es dann auch fast. Nach 1 Stunde und 20 Minuten war die Show von A LIFE DIVIDED zu Ende und die Fans hatten Gefallen daran gefunden und freuten sich auf LACRIMAS PROFUNDERE.
Setlist:
Intro
The Lost
Drive
Change
Right where i Belong
Walking in my Shoes
On the Edge
My Apology
Own Mistake
Anyone
Other Side
Doesn´t Count
Perpetual
Inside me
Words
Last Dance
Space
Heart on Fire
Lay me down
Eine Neuerung war hier gegeben: Es gab keine große Umbaupause sondern es wurde nur das Banner getauscht und die Set Liste gewechselt, dann ging es auch schon los für LACRIMAS PROFUNDERE. Dunkel, Intro etwas Nebel und schon kamen LACRIMAS PROFUNDERE um die Fans an diesem Abend mal ordentlich ein zu heizen. Nun legte auch Gitarrist Tony Berger seine zweite Schicht hin.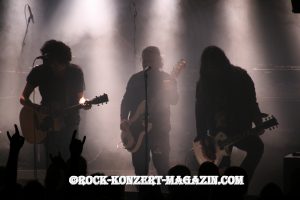 Andere müssen auch hart für Ihr Geld arbeiten. Mit einem Hut bekleidet kam Rob auf die Bühne und zeigte seinen Fans was Sie an diesem Abend erwarten können. Eine begeisternde Show die leider schon nach anderthalb Stunden beendet war. In dieser Zeit wurde den Fans eine bunte Mischung aus alten und neuen Songs präsentiert, die begeistert von den Fans gefeiert wurden. Eine gute Show de man sich in den nächsten Tagen z.B. in Nürnberg, Aschaffenburg oder Berlin anschauen kann.
Setliste:
Intro
Antiadore
Her Occasion of Sin
The Worship of Counting Down
My Halo Ground
My Velvet little Darkness
Rememberance Song
A Sigh
Hope is here
Black Moon
Again ist Over
Amber Girl
Mescaline
My Release in Pain
Pageant
DAD
Dear Amy
A Pearl
Ave End