"That's me, designed to piss you off" – wenn Peter Tägtgren aus den Untiefen seines legendären Abyss Studios kriecht,
um sich selbst wieder hinter das Mikro zu klemmen, sind kleine Revolutionen vorprogrammiert. So auch auf der "Coming Home" Tour die er jetzt im Herbst macht. Der Death Metal-Veteran von HYPOCRISY, der gleichzeitig mit PAIN poppigen Industrial spielt, jongliert mit den Extremen und lässt sich nicht bändigen. Auf seiner "Coming Home" Tour begleiten Ihn SAWTHIS aus Italien und CORRODED die auch aus Schweden stammen.
SAWTHIS durften den Abend eröffnen und knallten den Fans mal so richtig harten melodischen Trash Metal um die Ohren. Sänger Alessandro Fala ging dabei richtig gut ab. Seine Growls unterstreichen die Musikalische Richtung noch mehr.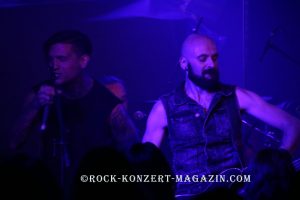 Leider konnte Drummer Michele Melchiorre nicht mit spielen da er krank zu Hause ist. Er wurde durch einen anderen ersetzt, der seine Sache auch sehr gut gemacht hat. Songs wie "My Return" oder "Through Hell" gingen ins Ohr. Halbstündiger Auftritt von SAWTHIS, die hier zu Lande doch noch recht unbekannt ist, obwohl es sie schon seit 1997 gibt und Sie auch schon mit Größen wie VADER, DESTRUCTION oder ANATHEMA unterwegs waren.

Etwas ruhiger kamen dann CORRODED daher. Mit Ihrem Heavy Metal Hard Rock zogen Sie aber gleich die Fans in Ihren Bann. Damit auch jeder wusste wer jetzt spielt hatten Sie Cutten mit dem Namen der Band hinten aufgenäht an. Knackiger alternative Metal dröhnte aus den Boxen. Ja auch wenn es die Band erst seit 2004 gibt merkt man das Sie spielen können und wollen. Kraft und Druckvoll war das was aus den Boxen kam.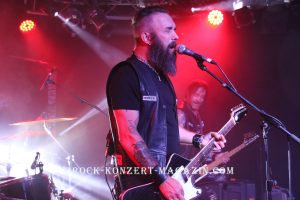 Jetzt waren auch mehr Fans an der Bühne als zuvor bei SAWTHIS. Sänger Jens Westin Verstand es die Fans zum Mitmachen zu überzeugen. "Dead on Arivel", "Beautiful Revelation" oder "Retract and Disconnect" waren nur einige der Song die CORRODED den Fans auf die Ohren drückten. Absolute Stimmungsmacher von denen man gerne auch mehr sehen und hören kann.

Letzte auf räum Aktionen dann ging das Licht aus und BILLI IDOL's Song "Rebel Jell" wurde gespielt. Jetzt war es also soweit und PAIN um Sänger Peter Tätgren kamen auf die Bühne. Das die Band fast ein Familien Unternehmen ist weiß wohl nicht jeder, denn an den Drums sitzt kein geringerer als Peter's 18 Jährigem Sohn Sebastian Tätgren. Ohne sich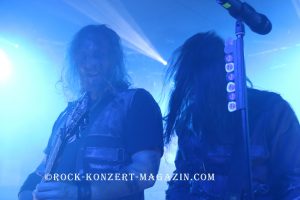 großartig mit Worten auf zu halten spielten PAIN den ersten Song block runter, ehe Peter die Fans begrüßte. Dann ging es auch schon weiter mit dem zweiten Song block. Nachdieseln war dann auch mal Zeit um die Band vor zu stellen mit denen Peter auf Tour ist. Klarer deutlicher Sound, gutes Licht und eine prächtige Stimmung unter den Fans war das Resultat. Die Fans feierten und klatschen immer wieder mit. Die Fans tauchten ab in eine Welt voller Industrial Metal, pompösem Orchesterklang, spannenden Verschwörungstheorien –
und Schweden, die einem gern mal in elegantester Weise ans Bein pieseln. So verging dieser Gig wie im Flug und die Fans gingen Glücklich und zufrieden nach Hause.
Setliste:
1. Dancing with The Dead
2. Monkey Business
3. Black Knight Satellite
4. Suicide Machine
5. Dirty Woman
6. Great Pretender
7. Hate me
8. Zombie Zlan
9. Call me
10. Same old Song
11. End of The Line
12. Nailed to The Ground
13. Coming Home
14. On and on
15. You only live twice
16. Eleanor
17. Shut your Mouth