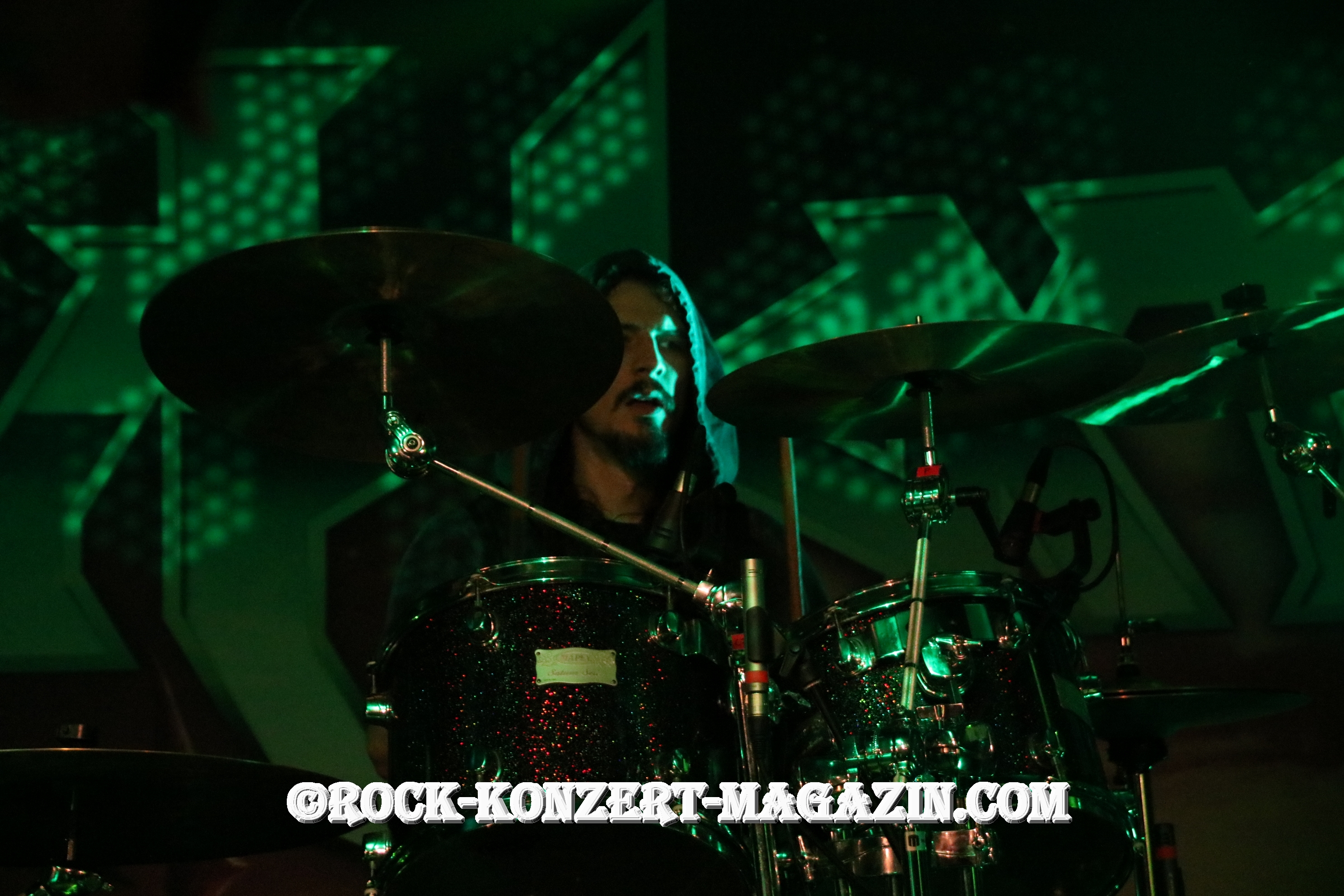 Wenn man zu einem Konzert der Metal Band GLORYHAMMER geht, weiß man worauf man sich einlässt. Nicht immer ganz ernst gemeinter Metal in reiner Form garniert und mit ganz viel Spaß serviert.
Schon weit bevor die erste Band auf die Bühne kam, war die Luft und die Stimmung im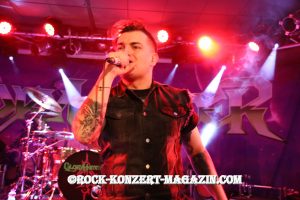 Kubana richtig geil, denn das Kubana meldete ausverkauft, nichts geht mehr. Los ging es mit der ersten Band an diesem Abend. DENDERA kamen auf die Bühne um die Fans, die schon etwas im Bierrausch waren, wieder wach zu küssen. Der Metal den uns DENDERA präsentieren ist eine Mischung aus Klassischem mit harten Riffs und dicken Drums unterlegten Heavy Metal, der die Fans auf Ihre ganz besondere Art und Weise aus der Reserve lockte. Frontman Ashley Edison begeisterte dabei mit seiner unglaublichen Stimme und seiner Ausstrahlung und so war ein guter Grundstein für den Abend gelegt.
Nach einer kurzen Umbaupause kamen CIVIL WAR auf die Bühne. CIVIL WAR steht für schwedischen Power Metal. Die Band die größtenteils aus ehemaligen SABATON Mitgliedern besteht, kamen mit Ihrem neuen Sänger Kelly Sundown ins Kubana.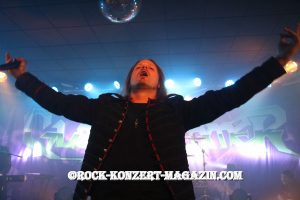 Kelly der seit Juni 2017 in der Band ist, wirkt aus meiner Sicht her wie ein kleiner Fremdkörper in der Band. Vielleicht habe auch ich nur diesen Eindruck an diesem Abend gehabt, man weiß es nicht. Musikalisch war das was CIVIL WAR boten echt geil und mit Power drin. So war es nicht verwunderlich das die Fans ihren Spaß hatten und die Stimmung immer mehr den Siedepunkt erreicht.
Die Stimmung wird leider immer wieder unterbrochen durch die Umbaupausen, die leider da zu gehören. Dann ist es soweit und das Licht geht aus. Lautes Geschrei macht sich unter den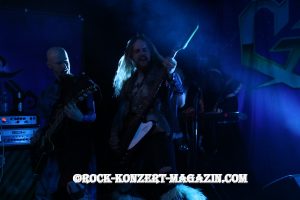 Fans breit. Epische Musik erklingt und eine Stimme erzählt irgendwas von Space und so als Intro und dann kommen 6 Jungs auf die Bühne in Ihren "Weltraum Kostümen" und fangen gleich mal an mit "Rise of the Chaos Wizard". Die Fans grölen und verbreiten gute bis geile Stimmung denn GLORYHAMMER haben das Album "Rise of the Chaos Wizard" im vollen Umfang dabei und präsentieren es den Fans. Mit dem zweiten Song "Legend of the Astral Hammer" war es um die Fans geschehen. Es wurde getanzt, geschrien und sich in Ektase versetzt, was in diesem kleinen Kubana noch mehr zum Vorschein kommt als in einer anderen größeren Halle. Interessant ist es das auch versucht wurde ohne Security, Crowd Surfing zu machen, und eine Dame wurde von Sänger Thomas auserkoren sich durch das Kubana tragen zu lassen, um an der Bar ein Bier zu organisieren und wieder zu Ihm zurück zu kommen und Ihm das Bier zu übergeben. Man soll es nicht für möglich halten aber es hat funktioniert.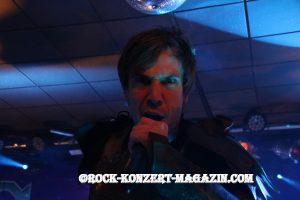 Zwischen den Liedern werden blumige Ansprachen verkündet, Goblins werden mit Plastikhämmern verdroschen und Bierflaschen werden mit wenig Grazie, aber dafür sehr viel Einsatz geleert.
Nachdem das gesamte Album durchgespielt wurde gingen die Jungs mal eine kurze Verschnaufpause machen um dann wieder zu kommen und noch ein paar Zugaben zu spielen. Mit "Angus McFife", "Magic Dragon und vor allem "The Unicorn Invasion of Dundee", wurde auch bei den Fans nochmals eine große Kraftreserve losgelöst, was allen von GLORYHAMMER ein breites Grinsen ins Gesicht zauberte.
Was für ein geiler Abend mit 3 Bands die es verstehen, musikalisch und stimmungsvoll einen geilen Gig hin zu legen, wo auch die Fans Ihren Spaß hatten. 
Setliste:
Intro (Infernus Ad Astra
Rise of the Chaos Wizard
Legend of the Astral Hammer
Goblin King of the Darkstorm Galaxy
The Hollywood Hootsman
Victorious Eagle Warfare
Questlords of Inverness, Ride to the Galactic Fortress
Universe of Fire
Heroes (of Dundee)
Apocalypse 1992
Intro (Anstruther's Dark Prophecy
The Unicorn Invasion of Dundee
Magic Dragon
Angus McFife